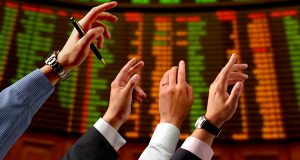 Want to buy penny stocks the smart way?
Interested in smart investing in penny stocks?
Let me show you two things to do.
First, expand your horizons.  Look at a few things most penny stock investors never pay much attention to.  Here's what I mean.
A lot of people will see that a penny stock they like is trading at a 52-week low.  They figure it's a pretty good deal, and they jump on it.
But hold on.  Just because a penny stock is trading at a 52-week low, why should that mean it's about to start heading back up?
All you know for sure is that it's cheaper today than it was this time last year.  You don't know if it will be higher this time next year than it is today or if it's going to keep on skidding.
Sure, it's always smart to buy penny stocks when prices are low, but put the low price in perspective.  Know why it's low.  Pull back the curtain.  Find the dirty laundry.
Don't limit your view of the stock to a one-year timeframe.  Go back as far as you can.
Let me show you how to do this, and why it can give you something priceless…
A Big Leg Up When You Buy Penny Stocks
When you're looking for penny stocks to invest in, you want to look for penny stocks to avoid.
Narrow your focus.  Find reasons why you should NOT invest in a company.
When those reasons are stronger than the reasons why you should invest, move on.
Weak management, lame products, an unproven market, these are all good reasons not to invest.
Another one is a doomed and dilapidated business model.
Why invest in a business that can't possibly make a go of it and turn a profit – no matter how talented its management team is?
The product can be just fine, but if nobody wants it, who cares?
Use your own common sense to find penny stocks where the company hitches its wagon to a doomed business model.
Want an example?
Here's a company you may have done business with a few years ago.
But I've got a hunch you probably haven't done business with them lately.
Groupon $GRPN is the penny stock poster child for a company with a doomed business model.
This Is NOT One Of The Penny Stocks To Buy Now
When you look at Groupon from a long-term perspective, and not just from the narrow lens of the past year, you'll get the message loud and clear.
Stay away.  Don't hang around wishing and hoping for a money-making second act, because with Groupon, it's not going to happen.
Here's why.
Think about the Groupon business model.
You send a salesperson to a restaurant.  The salesperson convinces the restaurant owner to do a Groupon offer, to slash his price, wipe out his profit margin, and hope that the people  who came in for the heavily discounted dinner will come back again and pay full price.
Well, too many restaurant owners have discovered that Groupon people aren't interested in coming back to pay full price.  They're just hungry for savings.
So the restaurant doesn't do business with Groupon anymore.  It's not a good deal.
And because Groupon can't build up repeat business, it never becomes wildly profitable.
Those Groupon salespeople might work hard, but they're expensive.  During the second quarter of 2015, each Groupon employee contributed $69,000 in revenue.  At Amazon, the number is $127,000.
No wonder Groupon has fired 10% of its employees, and no wonder it's sold off its majority stake in Ticket Monster.
In 2014, Groupon lost $73 million.  In 2012, it lost $54 million.
A Once Hot IPO Turns Into A Battered Penny Stock
Nobody was thinking penny stocks when the Groupon IPO came out in 2011.
The stock was priced at $20.  Look at what happened…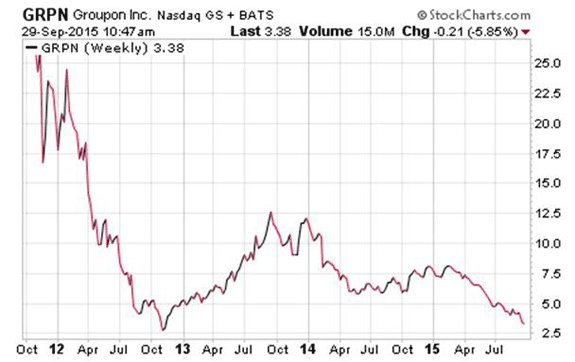 A new CEO was brought in two years after the IPO.  His arrival sparked some hopes, as you can see in the chart.
But things didn't pan out.  CEO Eric Lefkofsky still owns 700,000 shares of the stock.
And the stock is going nowhere.  This is a penny stock in search of a viable business model.
This Is How You Buy Penny Stocks The Smart Way
Groupon is a great example of what to look for when you want to buy penny stocks the smart way.
Look back beyond one year.  Sharpen your focus and find reasons NOT to buy the company.
You see a very good reason not to buy when you look at Groupon… it can't figure out how to make money.
Does the penny stock you're looking at know how to make money?
Does it pass your common sense test?
So there you go… a couple of penny stock tips that can help you make money.
If you have a question about a stock or investment idea, shoot us an email or leave us a comment on the website.
Better yet, if you own any of these stocks… or are planning to buy… shoot me an email and let me know why!
Good investing…
Brian Kent
Note:  If you're interested in learning more about Brian Kent's Penny Stock All-Stars premium service… and learning about the stocks we're trading for profit… you can get the inside scoop on penny stocks here.
Category: Penny Stock Tips