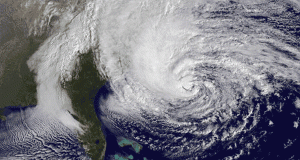 I have to say, the human psyche never ceases to amaze me.
Yesterday morning I hopped on the phone to check up on some friends back home.  After talking to a few, I was shocked to hear what some of them had planned for the storm.
Let me take a step backward.
For those of you who don't know me, I used to live in the NYC suburbs and moved out to Scottsdale, Arizona about two years ago.  And after making the move to the "Valley of the Sun", I can say with absolute certainty I should have made the move years prior.
But I digress…
I was on the phone with one of my old neighbors who lives in a "mandatory evacuation zone" on the shoreline of Connecticut – and he's actually staying to ride out the storm.
After I read him the riot act he said,
"Brian, you know they always over-hype these storms.  We've been through them before, and I'm sure this one will be no different.  Besides, what happens if I get water in the house?  I'll have to turn the generator on and run the sump pumps."
After figuring out I couldn't change his mind, I wished him good luck and hung up.
There's no doubt my friend is taking a huge risk by staying in his house – in effect gambling with his life.  And he's not alone.
There are many more people taking the very same risk by acting on a primal urge to defend their property.   I get it.
But the reality is they could end up stranded for weeks with only the little fresh food and water they've stored.  Streets can be blocked or flooded for days, if not longer.  Downed trees, power lines, phone, etc…
It's not a pretty picture.
One of the things I tried to use to get to my buddy to leave his house for higher ground was the fact that even the NYSE and NASDAQ are shutting down for two days.
"And the markets shut for almost nothing", I added…
If you'll recall, the last time the markets closed was for 9/11.  It was over 11 years ago when the markets shut down for four days, and only because the attacks were proximate to Wall Street.
This point brings me to the latest market closure.
Not only are investors and traders stuck holding what investments they have, but they can't get in position to take advantage of the potential volatility that will come from the natural disaster.
As you can imagine, stocks like Home Depot (HD), Lowes (LOW), and other home improvement stores are certain to rally once the markets open.
On the flip side, stocks such as Traveler's (TRV), The Hartford (HIG), and Allstate (ALL) will no doubt take a hit.
My biggest fear is what will come in the first few hours of trading…
I see the pent up trading demand moving the markets far more than anything else.
Now add to that the slew of corporate earnings reports that will be released on Wednesday (many were being held back until the market re-opens).  Also, we're sure to have international economic news releases out while the markets are closed.
That's even more headlines that markets can't digest.
And finally, and most importantly, mix in the volatility that will be created by electronic trading, "dark pools", and other high frequency trading algorithms.
It's not hype to say we're looking at the ingredients for a "perfect storm" in the stock market!
As investors, you will no doubt have the urge to take action.  My suggestion is to do what many living in the path of this storm are doing – hunker down and ride it out.
When the dust settles, many good things can come from a natural disaster like this.  There will be plenty of rebuilding and recovery spending that will certainly spur on the US economy.
While there will be casualties, many more opportunities will arise from this storm.
Until next time,
Brian Walker
Category: Breaking News