Hot Penny Stocks: PetroQuest Energy Inc. (PQ)
Today I uncovered a hot penny stock – PetroQuest Energy (PQ).  But my question is simple… Is PetroQuest a hot penny stock, or is something else driving it higher?
Let's look at the markets.
Yesterday was quite the day.  All three major markets (the Dow Jones Industrial Average, The S&P 500, and the NASDAQ) opened sharply lower.
The Dow, for example, opened more than 100 points lower… and spent the rest of the day slowly climbing out of its hole.
Believe it or not, the NASDAQ actually turned positive on the day!
Why is this important?
Because with such negative market action, you'd expect most of the stocks out there to follow suit.  With the major indices down, you wouldn't expect to see a hot penny stock like PetroQuest jump by 23%.
But that's exactly what happened.
Check out the chart.
Why Is PetroQuest A Hot Penny Stock Today?
With a stock jumping like that, you've got to pay attention.
A 23% move in one day can't be ignored…
So we started our penny stock research. 
We started with the company website and the sec filings at SEC.gov.  Believe it or not, yesterday was a great day for the company.
The company announced – in their words –  "A Significant Discovery At Its Thunder Bayou Prospect"
They're expecting to extract "approximately 25,000 – 30,000 Mcf of gas plus associated oil and natural gas liquids" from the well in the second quarter of 2015.
You can read the whole press release on their website.
Sounds like a nice little well to me… Congratulations to the team over at PetroQuest.
But there's a problem…
As you know, oil prices have been dropping like a rock… it's all over the news.  Well, natural gas prices are down too.  Just look at this spot price chart.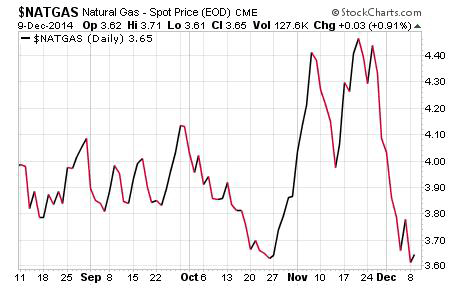 The volatility in this energy product is enough to give the elderly a heart attack!  In less than 30 days, the price of natural gas is down 18%… and who knows if this is the bottom!
But the real question is…
Should You Buy A Hot Penny Stock Like PetroQuest?
Here's the issue…
Management and the company are performing.  Their job is to drill wells, find gas, and bring it to market.  And according to the press release they just put out, all systems are go!
But you've got to look at any penny stock investment in a broader light.
What's the market doing?  Where are commodity prices heading right now?
Unfortunately the answer is… prices are heading lower.  When you trade stocks, you'll hear the same adage over and over again… the trend is your friend.
And in this case, the trend is lower… and that doesn't bode well for the company.
As a result, I'd keep a close eye on the markets, once you see prices stabilize and start to trend higher… that would be the time to look at adding a stock like PetroQuest to your portfolio!
Profitably Yours,
Brian Kent
Penny Stock Research
Brian Kent has been trading the markets for more than 2 decades and now writes and edits for PennyStockResearch.com.  You can sign up for the newsletter and get a free research report – http://pennystockresearch.com/free-reports/.  We are a trusted source for the truth about penny stocks!
Category: Hot Penny Stocks