Is It Safe To Buy Penny Stocks Now?
Stock investors are clearly happy that September is over.  After the late August correction in US stocks, September really didn't offer much of a reprieve.  However, October has been great so far for bulls.
In fact, the S&P 500 is up about 3.5% already this month.  Even better, the Russell 2000 (a good proxy for small and micro cap stocks) is up just as much – actually over 3.6%.  That's a very good sign for penny stock investors looking to get back in the game.
Here's a quick look at what the Russell 2000 has done: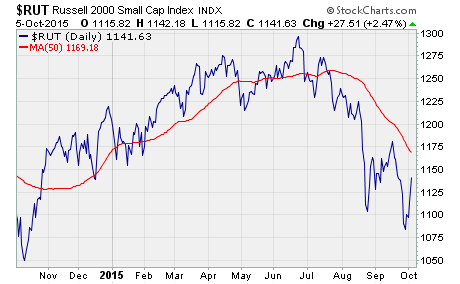 You can see the big rebound in the small cap index over the last week.  The Russell 2000 is making a run at the 50-day moving average.  If it can breakthrough, the index may be able to make a run at going positive for the year.  Currently, it's down about 4% in 2015.
So is now the time to buy penny stocks?
The question of course is, can penny stocks go positive as a group this year?   It's clearly been a volatile last month or so.  The uncertainty and selling has spooked penny stock investors who have moved on to higher ground (safer stocks).
But, with the market stabilizing, there's a very good chance we could see interest return to penny stocks.  Keep in mind, small and micro cap stocks tend to provide the most value over time.  So, savvy investors will want to have this asset class in their portfolio.
If volatility has settled down, then there's no reason to believe a buying surge in penny stocks isn't around the corner.
But has volatility settled down?  It's only been a few days of stock gains.  How do we know?
Let's look at the factors.
First off, the original spooking of the market back in August was primarily due to China and the emerging markets slowdown.  Concern over demand from China's flailing economy suddenly became a concern for many investors.
Ultimately though, investors seem to realize that there's only so much business the US has done with China.  It's not nearly as much of an impact as many people assumed.  As such, the main concern turned to when the Fed would raise interest rates.
Primarily, the worry was the Fed would be too quick to raise rates.  Obviously, market confidence has been more fragile than many assumed, as seen by how quickly we corrected in August.  Given the concern over emerging markets, a rate hike at this time could be a serious blow to bulls.
Fortunately, the Fed seemed to realize what was at stake and declined to raise rates in September.   Nevertheless, Yellen and the FOMC did not give a lot of guidance as to when they planned to make the first hike.   And, they appear intent on getting the first increase done in 2015.
The market responded to the Fed's uncertainty with more volatility of its own.  But, volatility is like a wild fire – eventually it runs out of fuel.
On one hand, investors finally realized the selling has been overdone considering the variables in play.  On the other hand, a few economic reports have come in worse than expected.  That means the Fed will have even more pressure to not raise rates in October, and possibly even December.
What's more, a rate hike of the quarter point variety should mean very little to many penny stock companies… at least the ones I would recommend buying.  Considering I recommend shying away from small companies with a ton of debt, there really shouldn't be too much concern over rates.
As such, now may be an excellent time to find great values in penny stocks.  As always, be sure to do your research first before making any purchasing decisions.
Good investing…
Brian Kent
Note:  If you're interested in learning more about Brian Kent's Penny Stock All-Stars premium service… and learning about the stocks we're trading for profit… you can get the inside scoop on penny stocks here.
Category: Penny Stock Tips