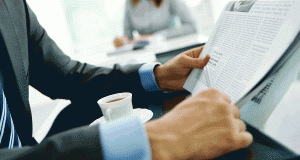 Want to buy penny stocks the smart way?
Use the news.
I'm not talking about devouring every page of the Wall Street Journal or Investor's Business Daily.
This approach isn't nearly so time consuming.  And it follows some remarkably simple rules of thumb.
When you see that Company A gets in trouble, try to find the Company B that will benefit.
Companies get in trouble all the time.  And they manage to get in all kinds of different trouble.
When you follow the news, even when you're not paying close attention, you can't help but notice this.
Or maybe you keep a watchful eye on financial news and you notice that a company turned in a disappointing earnings report.
Remember Newton's Third Law?
For every action, there is an equal and opposite reaction.
When it comes to penny stock investing, Newton's Third Law doesn't hold true with complete precision.
But it sure does aim you in the right direction.  When McDonald's sells fewer hamburgers, an outfit like Five Guys sells more.
So use the news to help you find the best penny stocks to buy.
Let me show you how, and why using the news can give you something priceless…
A Huge Advantage When You Buy Penny Stocks
Remember the news that came out last week about Volkswagen rigging the software on its diesel vehicles to trick emissions testing?
That got me interested in diesel technology, so I poked around to see if I could turn up any interesting penny stocks… a good penny stock to buy for a company that could profit from the Volkswagen scandal.
I came across a company called Clean Diesel Technologies, Inc. $CDTI.
It's a small outfit in Oxnard, California that's been under the radar since it opened for business in 1996.
I saw the stock was trading at $1.41.  A year ago it was at $3.47.
Clean Diesel is in the business of manufacturing and selling light duty vehicle catalysts and heavy-duty diesel emissions control systems.
Sounds like something every Volkswagen owner would want, right?
Maybe even VW dealerships would buy a bunch of gadgets from Clean Diesel and install them for VW owners.
Or somehow, in some way, the company could capitalize on Volkswagen's deception.
You'd think this stock could be back up at $3.47… or even better, in no time flat.
Well, here's where it gets pretty interesting.
Sure enough, there was a nice spike when the VW news came out.  On September 22, the stock was at $1.68.  The next day, it spiked to $2.20.
But dreams of overnight diesel fortunes quickly went up in smoke.
On September 25th, $CDTI was down to $1.67.
The traders in penny stocks who made money on Clean Diesel Technologies, Inc. obviously got in and out in a hurry.
Hindsight is 20/20.  It's too late to make quick money on $CDTI.
But this approach is a great way to buy penny stocks the right way.  Just keep an eye on the news and use it to spark your thinking.
How To Avoid Being Burned When You're Investing In Penny Stocks
You're not the only one thinking this way, and you're probably nowhere near the front of the line of investors watching the news.
When you think you have turned up a hidden gem of an opportunity, like a company nobody's ever heard of, check your ego.  Somebody else has already stumbled on the stock, even if it's flying under the radar.
This means you always want to take a look at volume when you're trying to swoop in and make a timely buy based on news.
What happened with Clean Diesel was fascinating.  Right after the Volkswagen news broke, the stock started going up.
And as the price kept rising, volume suddenly soared.
Check out this chart…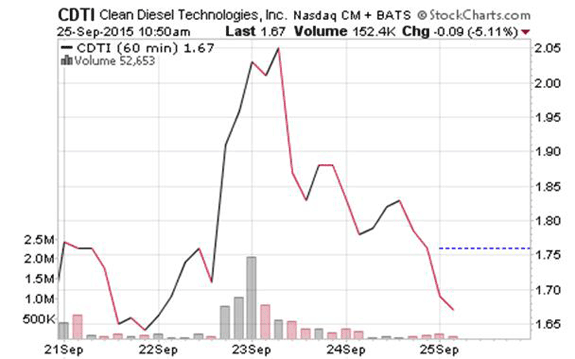 On September 23rd, when the stock broke the $2.00 mark, volume soared.
Then the stock fell back to earth.  Volume vanished.
Looks like people who had been holding the stock for awhile figured this was a good time to get out, while new investors looking for an opportunity rushed in.
Notice how short the timeframe was for the new investor to make money.  The window slammed shut in a hurry.
So you might be wondering…
Why didn't the stock price for $CDTI stay high after the spike, or give back just a little of its surge instead of swooning?
It's tough to know for sure, but here's something to consider.
(And the timing of all this is fascinating.)
On September 24th, the day the stock sank back down, the company released an official statement.
It said…
"We believe our proprietary technologies offer vehicle manufacturers superior emission reduction performance at substantially lower cost. We intend to accelerate commercialization of our breakthrough compliance-enabling technologies."
Not a word of any specific deals in the works.  Nothing substantive, nothing to let investors know that VW's troubles would provide an immediate opportunity to profit.
So what happens next?
Now that the stock price is back down to earth, is $CDTI something to consider?
Put me down as skeptical.  The balance sheet is a mess.  There's lots of debt.  And revenues keep skidding, year after year.
So that's the story on Clean Diesel.  And a reminder that keeping an eye on the news is a great way to find the best penny stocks to buy.
Let me know what you think.
Shoot us an email or leave us a comment on the website.
And when you use the news, don't forget about our other insights for you, like the three easy ways to find awesome penny stocks.
Good investing…
Brian Kent
Note:  If you're interested in learning more about Brian Kent's Penny Stock All-Stars premium service… and learning about the stocks we're trading for profit… you can get the inside scoop on penny stocks here.
Category: Penny Stocks to Buy