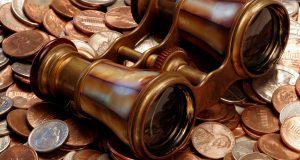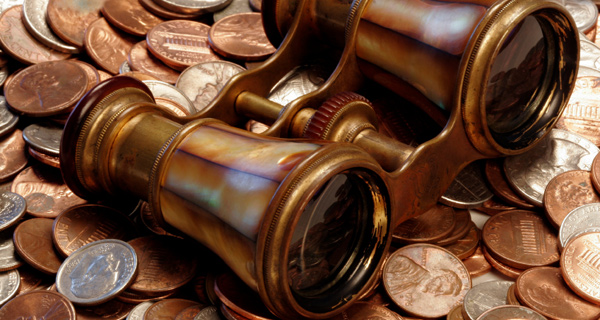 Want some more penny stock tips so you can make the most of your watch list?
Focus on a category, one business sector.
For instance, we've been providing some valuable information lately for penny stock investors interested in getting in on the ground floor of the legal marijuana business.
Here's your list of cannabis stocks to research.
In a minute, I'll introduce you to a tech penny stock that you might find interesting.
One of the good things about turning yourself into an expert in a category is that you have a way of comparing penny stocks.
You'll get a feel for industry trends and patterns.  And you won't be spread so thin trying to keep up with too many penny stocks.  The focus will pay off… you'll have time to take a look at an income statement and a balance sheet.
You can see how individual penny stocks, the best penny stocks perform when it comes to financial indicators such as profit margins, how much money they invest in their own growth, and what business strategies they follow.
One of the discoveries you'll make is that the prices of penny stocks in the same industry tend to move in the same direction.
This happens a lot.  You'll see the stock price of a strong company pushed down alongside the stock price of a weak company (and vice versa).
Does a rising tide lift all boats when it comes to penny stocks?
It's not unusual for this to happen.  But don't forget that financial results come into play as well.  That's why you see so much movement around the time of quarterly earnings reports.
One category of penny stocks I've been avoiding lately…
Penny stocks in the energy business.  It's just too tough to tell who's going to survive the downturn in crude oil prices.  The risks are extreme.
But one category of penny stocks I've been interested in lately… Technology.
Let's take a closer look at a couple of tech penny stocks to get a feel for how some of these small, under the radar stocks perform, and what these companies are doing to try and become tomorrow's Intel $INTC or Apple $AAPL.
2 Hot Tech Penny Stocks
One of the tech penny stocks we'll look at is in the Wi-Fi business and the other builds equipment for companies that manufacture tech components.
Amtech Systems Inc. $ASYS sells production equipment.  If you're in the business of manufacturing solar panels or semiconductors, you go to a company like Amtech for your equipment.
There's always been an appeal to companies like this… it's the time-honored approach of making money by selling buckets and tools to the gold prospectors instead of actually prospecting for gold.
As long as somebody's manufacturing computer chips or solar panels, there's an opportunity for a company like Amtech.
Is Amtech a good tech penny stock?
For starters, it's not making money, never a good sign.
But at least losses are trending down.  If things keep moving in this direction, it might not be long before Amtech is turning a profit.
You'll see revenues have been bouncing around.  There are significant swings quarter to quarter.
When you go through the income statements for tech penny stocks like Amtech, take a look at the line item for "Selling General and Administrative".
Lots of expenses can be buried in here and there may be expenses that as a shareholder, you're not too happy to see.
Fancy office furniture, fat salaries and bonuses, luxury hotel rooms and lavish restaurants for business trips… this is the line item on the budget where these extravagances usually show up.
And when you look at the "Selling General and Administrative" expenses for Amtech, you see they're high.  For instance…
In the quarter that ended June 30th, 2015, the company delivered total revenue of $40.0 million.  The "Cost of Revenue" brought this down to $10.1 million.
And then came the big $10 million bite of "Selling General and Administrative" expenses.
Modest Research and Development costs ate up the rest, so what could have been a tidy profit turned into a $1.6 million loss for the quarter.
A tech penny stock can talk all it wants about repeat orders, gross margins, the size of its backlog, and new investments.
If it can't control its expenses, or chooses not to control its expenses, move on.
It would have been better to see Amtech losing $1.6 million for the quarter because of a $10 million investment in research and development.  That could have been understandable.
Take a look at other tech penny stock income statements and you'll see all sorts of ways companies manage to lose money.
Ipass Inc. $IPAS is in the commercial Wi-Fi business.  It operates over 20 million hotspots in airports, hotels, airplanes, and public areas in more than 120 countries and territories.
It hasn't always been a penny stock.  Eleven years ago it traded for $18.
Ipass lost its way and never made the transition from dial-up internet service to broadband and Wi-Fi.  The stock plunged and it's never recovered…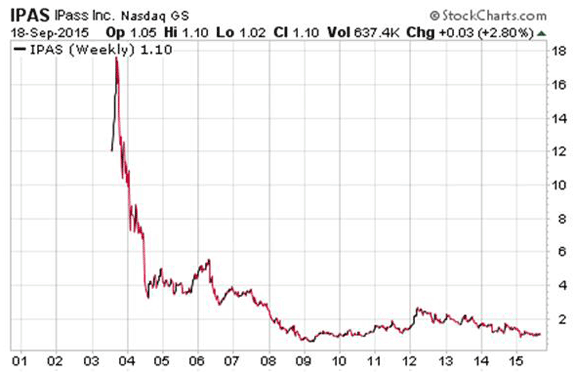 This is what happens when a company can't make money.  When expectations are high and the performance isn't there, you wind up with a tech penny stock on your watch list that looks like this.
Is Ipass worth checking out?
CEO Gary Griffiths is saying all the right things…
"Change has been realized across all elements of the company, from a new board of directors, a new sales model, a new expense structure, and a new product roadmap. Moreover, we have a new and significantly smaller executive team that has done more than simply reduce expenses. Our streamlined operating structure has made us more nimble and decisive, moving closer to the culture of the startup we should and will be."
Sounds good.  But the proof will be in the pudding.
This is why a watch list is a great way to be ready to pounce on good opportunities.
And how you can make good decisions by steering clear of Pump And Dump scams.
You're all set, ready to fine tune your penny stocks watch list and turn it into a highly profitable investing tool.
Any questions?
Send us an email or leave us a comment on the website.
Better yet, if you own any of these stocks… or are planning to buy… shoot me an email and let me know why!
Good investing…
Brian Kent
Note:  If you're interested in learning more about Brian Kent's Penny Stock All-Stars premium service… and learning about the stocks we're trading for profit… you can get the inside scoop on penny stocks here.
Category: Penny Stocks to Watch