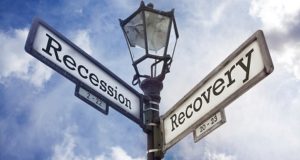 Last week, I wrote about QE3 and its potential impact on the market.  If the Fed announces another round of stimulus at this week's FOMC meeting, stocks could be off to the races.
I also mentioned a European bank/government rescue plan as another major catalyst for a stock market rally.
Sure enough, right after I wrote the article, ECB President Mario Draghi sent the markets soaring.  He (with apparent support from France and Germany) said the ECB would do whatever is necessary to save the Euro.
So now we're seeing very bullish action in the markets based on the prospects for stimulus in the US and Europe.  But what about the domestic economy?  Is it really as bad as it seems?
In a nutshell, while the US economy is showing signs of weakness, it doesn't look like a recession is right around the corner.
Here's why…
Let's start with GDP.  With the most recent update released last Friday, we now know the US economy is growing at 1.5%.  Okay, that's not very good.  However, it's not awful either.
It still shows the economy is growing, albeit at a frustratingly slow pace.  What's more, the number was slightly better than the 1.4% expected by analysts.
That's not to say 1.5% is exciting.  In 2010, when we thought the recovery was really taking hold, GDP was over 4%.  Clearly, we have long way to go.
The problem is household spending – it grew at the slowest pace in a year.  That's important because household purchases make up 70% of GDP.  Consumer confidence is down and job opportunities are few and far between.  And, there are still too many unemployed and underemployed people out there.
On the bright side, durable goods purchases (big ticket items) picked up last month.  In certain parts of the country, home buying has picked up dramatically.  And more importantly, jobless claims dropped substantially last week.
It could be a sign the job market is finally gaining some steam.
Here's the bottom line…
While no one's going to mistake domestic economic growth as robust, there's no recession lurking right around the corner.
More importantly, the economy is sluggish enough at this point that Fed stimulus seems a certainty.  And, with the ECB already pledging to aid Europe in whatever way possible, the stock market could have the ingredients in place for a central bank induced bull market.
Yours in profit,
Gordon Lewis
Category: Bank Stocks, Financial Stocks