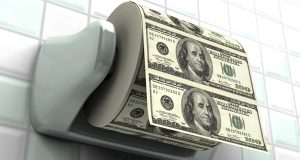 This week we're exposing these three popular Pump & Dumps:  AGR Energy Holdings (AGRT), Daulton Capital (DUCP), and HyperSolar (HYSR).
That said, welcome to Pump and Dump Friday, where every week we identify a few of the potentially "bogus" promotions going on in penny stocks today.
If you don't know how these schemes work, be sure to check out this free report that exposes the whole thing.
Without further ado, here are today's "disasters waiting to happen":
AGR Energy Holdings (AGRT)
Boy, sometimes these penny stocks schemes are all sorts of confusing.   But it's worse when the company being pumped is even more confusing!
First things first…
Research Driven Alerts (aka RDI) was paid $30,000 by Awareness Consulting Network LLC to pump shares of AGRT for one day.  That's a pretty hefty take for a single day's work.
Unfortunately, the pumpers are the only ones making out in this deal.  The potential investors who get lured into buying shares of this company are the ones who I feel bad for.  Why's that?
Well, after digging into my research on AGRT, I was thrown a curveball.  I pulled up their ticker symbol on one of my research sites, and the name said AGR Tools.  I go to my next site for more detailed info, and the same ticker symbol pulls up AGR Energy Holdings.
What's going on here?
I decided to shoot over to Yahoo Finance to see what they had to tell investors about the company.  Here's what I found…
"AGR Tools, Inc. engages in manufacturing and selling tooling and accessories to the construction, building, maintenance, and demolition industries in the United States and Canada."
So they are a tool company.  Hang on a second… that's the problem -they were a tool company just over a month ago – now they're into energy!  You see, on May 25th the company announced the formation of a new subsidiary, AGR Energy Holdings to explore for oil and gas.
That's not a good sign when a company needs to bail on their business plan and jump into a totally unrelated field to try and generate revenue.  Big red flag…
Another red flag I found on AGRT is their financial statement (not surprising).  For the first quarter of the year, AGR Tools (because they weren't into energy yet) lost over $250,000 on $0 revenue. 
It also looked pretty bad to see AGRT selling product in 2011, and $0 this year.  Something went wrong for sure!
My final warning for anyone looking to pick up shares is this… AGRT, prior to becoming AGR Energy Holdings, conducted a 500 for 1 reverse stock split!
Just think… this stock is trading around $0.06 right now.  Before the split, shares were worth $0.0001 each.  Now that's what I call "micro" cap!
Daulton Capital (DUCP)
Another developmental stage exploration "champ" is involved in a pump and dump scheme.  Shocked aren't you?  It looks like the pumper, 007 Stock Chat, cashed in for a quick $10,000 to hype up this company.
And they've done a fair job at running the share price up.  Take a look…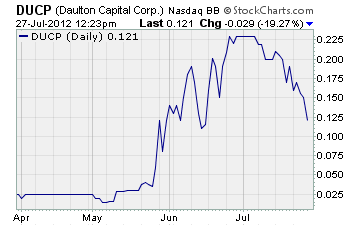 Oh wait… the pumping didn't happen until just yesterday.  So it looks like someone ran the price up, only to have it come crashing back down.  And now they're desperately looking for any way possible to get the share price back up!
At least, that's my take on it…
Unfortunately for them, the stock continued to fall today… down a mere 20%.  That's what you get for trying to pump a stock fellas.  You've just dumped another $10K in the hole, congrats.
The company itself is no peach either…
For starters, DUCP has just $1,341 in cash.  I don't think that'll even buy you a drill bit – never mind run an entire exploration company.  What's more, the company is sitting on over $1.1 million in accumulated deficit.
To make matters worse, Daulton has lost over $104,000 in the last nine months ending January of this year.
My question to you is this… what exactly are we investing in here?
You know the answer –so just walk on by.
HyperSolar (HYSR)
I've saved the best for last today… an old favorite.  For long time subscribers, you know we've exposed multiple pump and dump schemes on HyperSolar in the past… once in November last year, and again this past May.
We'll they're at it again and it's all sorts of ugly.  It's pretty desperate in my opinion.  Some would even argue it's completely unethical.
The big pumping outfit, Blue Wave Advisors, was paid both cash and shares to tout this stock.  In total, this group raked in $62,500 in cash for their pumping.
But that's not what's ugly…
What has me fired up is that the company itself, HyperSolar, handed Blue Wave over 1.9 million shares to pump up their stock!  Is that even legal?
Well, even if it is… any company CEO that's caught pumping his own shares should be sitting behind bars!
There is a bit of karma happening, and if you look at the chart, you'll see what I'm talking about…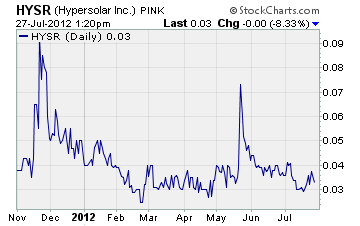 As you can see, the pumping in the past worked short term… both in November 2011 and May 2012.  This time, it appears to have been just a little bump up – not even a penny's gain.  That leaves the company insiders holding exactly what they held before – a virtually worthless company.
Remember, HyperSolar is sitting on a $2.2 million accumulated deficit.  And they're still not bringing in any revenue.  That means they've no choice but to lose money from continuing operations.  To make my point, HYSR lost over $159,000 in the first quarter alone this year.
Of all the penny stocks that get pumped… I always take the greatest pleasure in exposing the slimiest of the bunch.  Clearly you'll avoid buying any shares of this penny stock!
A final word (and warning).
These are just a few of the potential "pump and dumps" we've seen lately.  Remember, there's a lot more of this going on than we can highlight here.  As you know, penny stocks are a great place to invest your money.  You just have to do your due diligence to stay away from all the schemes and scams out there these days!
***Editor's Note***  Our colleague and friend over at Hyperion Financial just released a new penny stock recommendation that I had to tell you about.  Even though it's not ours, it's a great penny stock that has a TON of potential.  To get it, just sign up for their Penny Speculator newsletter.  Details here.
Until next time,
Brian Walker
Category: Pump & Dump Alerts