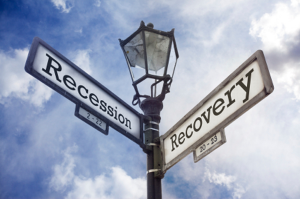 It's amazing how prevalent group-think is among the so-called financial experts.  Glance at just about any mainstream financial publication and you'll find most pundits are calling for a double-dip recession.
If you just go by what these "experts" are saying, you'd assume another recession is a foregone conclusion.
But is that really the case?
Don't count on it.
As a matter of fact, there's plenty of reason to believe we're in very little danger of another recession.  That's not to say the economy is doing fine – it's not.  But there's a big difference between a little economic growth and negative economic growth.
Here's the deal…
Of the multitude of economic indicators available, there's a surprising amount of positive news. 
What's more, the economic improvement has been across the board.  From June to July, some of the economic indicators showing improvement include retails sales, jobless claims (4-week average), existing home sales, new home sales, consumer confidence, and industrial production.
Now that's a pretty broad-based recovery if you ask me.  Granted, we're talking about small advances in many cases… but improvements nonetheless.  And in a time of major economic uncertainty, any positive economic news is good to see.
Okay, so the economy may not be headed for a double-dip recession after all.  Now what?  And more importantly, how can we use this knowledge to our advantage?
Well, as I've said many times before, penny stocks have gotten pummeled in recent weeks as investors flee to safer investments such as gold and bonds.  And that's left several good, small companies at very attractive valuations.
But since we know the economy probably isn't as bad as what the mainstream believes, we shouldn't be afraid to take on some risk… and load up on some cheap penny stocks with huge upside potential.
One place to start looking for good deals is in the retail sector.  Industries like retail clothing, restaurants, and sporting goods have taken it on the chin recently.
However, retail sales are actually improving.  The average consumer can only go so long without spending money on retail goods.  People need clothing… kids need sporting goods as school starts… and everyone likes to eat out now and then.
There's a good chance we'll see a revitalization of the retail industry in the second half of 2011.
And you have the chance to buy in at rock bottom prices.
Double-dip recession?  I don't think so.  All I see is opportunity.
Yours in profit,
Gordon Lewis
Category: Investing in Penny Stocks, Retail Stocks