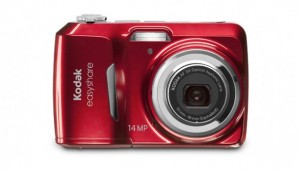 Here's an eye-opener…
Eastman Kodak (EK) is a penny stock!
Yes, Kodak has been on its way down every since digital cameras hit the mainstream.  The writing has been on the wall for some time – but it's still hard for me to fathom.
I mean, we're talking about a former Dow Jones Industrial Average component.  As a matter of fact, the former blue chipper was removed from the DJIA in 2004 – after 74 years of membership.  And just this past December, EK was removed from the S&P 500 as well.
But just over two years ago, EK shares were still trading over $10.  (And two years before that the stock was nearly $30 per share.)  All the same, I was shocked to see the shares trading at $2.60 today.  Wow… how the mighty have fallen.
But, all hope is not lost.  And the company might have one more chance to shine.
Here's the deal…
EK management recently announced they'd be open to selling some or all of their 1,100 patents.  The company claims these patents are "fundamental to the digital imaging industry".
Believe it or not, it might not be an overstatement.
MDB Capital Group believes Kodak's portfolio of patents may be worth as much as $3 billion.  To put it another way, the patents may be worth more than 4x the company's current market cap!
While some investors are skeptical of the patents' value, the majority believe it is bullish news.
Since the company announced last week they'd explore the sale of their patents, the shares are up an impressive 30%.  What's more, although EK is down 56% from 52-week highs, the stock is up a solid 50% off the lows.
Perhaps there's still some hope left for Eastman Kodak.
Scenarios like this can be hard to gauge.  On one hand, EK is a former blue chip company which has been around for nearly a century.  On the other hand, the company has been decimated over the last decade due to lack of innovation.
Still, patents can be a big deal.  Look no further than Google (GOOG), who just shelled out $12.5 billion for Motorola Mobility (MMI) and their hoard of 17,000 patents.
Bottom line… if Kodak's patents are worth anywhere near $3 billion, then the stock is extremely undervalued at the current price. 
It may be worth it to add EK to your portfolio for the chance at significant upside.  But  as with mots penny stocks…there's also a lot of risk involved.  I think the return potential is worth the risk, but I wouldn't hesitate to sell out of the position if the story changes even one bit.
Yours in profit,
Gordon Lewis
Category: Penny Stocks On The Move