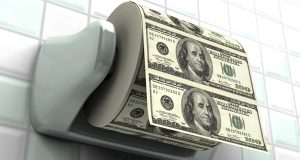 Welcome to Pump and Dump Friday, our weekly feature where we identify potentially "bogus" promotions going on in penny stocks.
Today we're exposing one of the most extensive penny stock pump and dump campaigns of the week… Inspiration Mining Corp. (OTCPINK: IRMGF).
If you don't know how these schemes work, be sure to check out our free report that exposes the whole thing.
Without further ado, here is today's disaster waiting to happen:
Inspiration Mining Corp. (OTCPINK: IRMGF)
While there were only a handful of emails hyping IRMGF this week, it looks like a huge promotion campaign for this stock is about to begin. According to the fine print in an email from Penny Stock Heroes this week, its publisher Victory Mark Ltd. expects to receive half a million dollars for its efforts to pump IRMGF.
You know what that means. We can expect to see a flurry of emails from Victory Mark's numerous penny stock pumping newsletters in the weeks ahead. And every one of them will be urging investors to snap up shares of IRMGF.
But is the company really worth an investment?
Inspiration Mining Corp is a Canadian junior mining company out of Toronto, Canada. Since 2005, it has been engaged in the acquisition, exploration, evaluation and development of mineral resource properties in Canada and the US. The company primarily explores for nickel, gold, copper, and molybdenum.
However, after eight long years, the company is still mired in the development stage of its business.
It hasn't produced any minerals from its properties in any meaningful quantities. It hasn't generated a penny of revenue. And the company has racked up nearly $13 million in losses just since September 2010.
And here's the most shocking part of the story…
In the most recent quarterly report (March 2014), management announced that all exploration programs on its mineral properties have been suspended due to adverse market conditions. And there is no definitive time frame for when these programs will be restarted.
I don't see how it makes sense to invest in a mining company that isn't doing any mining.
Despite all this bad news, IRMGF is performing fairly well…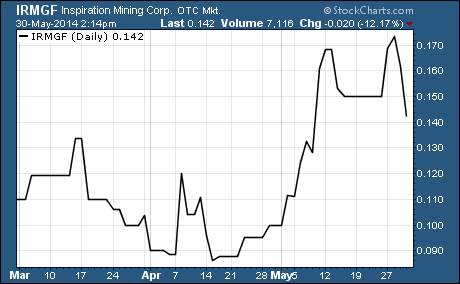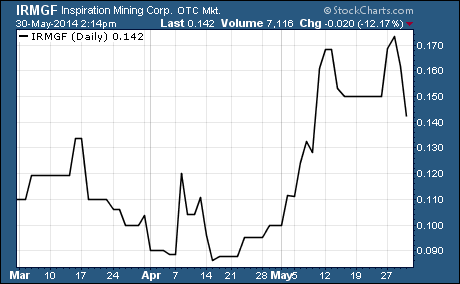 As you can see, the stock has traded up from a low of 9 cents in mid-April to around 14 cents today. And earlier this week, IRMGF hit a high of 20 cents per share. All in all, the shares are up more than 55% in just a little over six weeks' time.
It will be interesting to see if a new $500,000 pump campaign can continue to drive this stock higher. But even if it does, you know it won't last once the dumping begins.
Profitably Yours,
Robert Morris
Other Penny Stocks Being Pumped This Week
Definitive Rest Mattress Company (OTCPINK: DRMC) – 27 promoters with 144 newsletters have been paid more than $94,000 to hype DRMC this month.
PetVivo Holdings (OTCQB: PETV) – 17 promoters with 93 newsletters have been paid over $177,000 in May to plug PETV.
Category: Pump & Dump Alerts