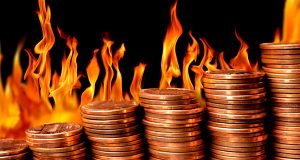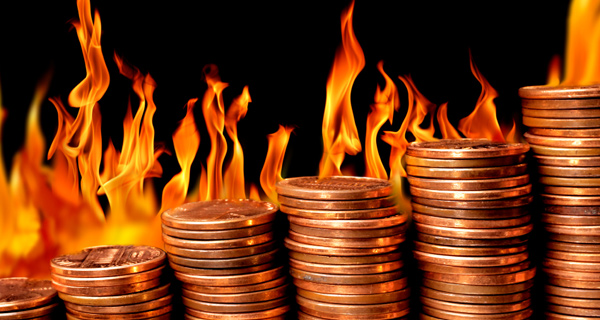 Editor's Note: After today, our office will be closed the rest of the week for summer break. You will receive your next article on Monday, June 9th.
It's an exciting time for penny stocks, especially hot penny stocks like LiveDeal (LIVE), China Gerui Advanced Materials Group (CHOP), and Ambient (AMBT)…
LiveDeal (NASDAQ: LIVE)
LIVE is soaring!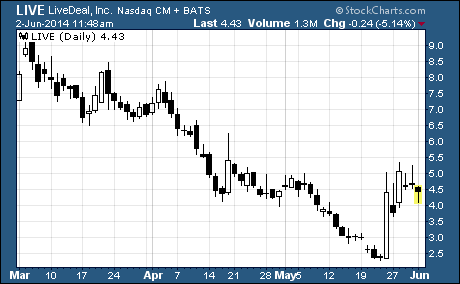 Shares of this Groupon (NASDAQ: GRPN) copycat took off last week after suffering a steep three-month decline. As you can see, the stock has traded up from a low of $2.27 hit on May 22nd to a current price of $4.43. That's a stunning 95% gain in just five-plus trading days.
What's going on?
First off, the company announced on May 23rd that its cash position has improved from $1.3 million a year ago to $10 million today. Management says it plans to use this cash hoard to further its growth by acquisition strategy.
And second, the company reported on May 27th that its stock has been added to the Morgan Stanley Capital International MicroCap Index. Inclusion in this popular stock index should help LiveDeal attract institutional investors to its shares.
No question about it, these positive news announcements have provided a major boost to the company's share price.
LiveDeal operates a geo-location based mobile marketing platform that enables restaurants to publish "real-time" and "instant offers" to nearby consumers. As of May 29th, the company's mobile platform had 10,000 restaurant deals available at over 8,000 dining locations in 35 major US cities.
China Gerui Advanced Materials Group (NASDAQ: CHOP)
CHOP is another penny stock that has jumped recently on positive news…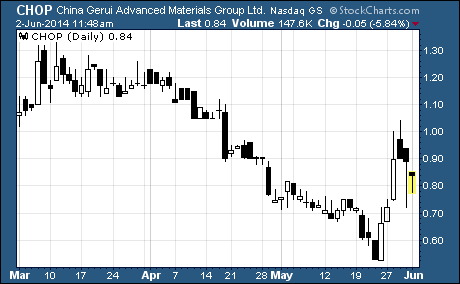 After hitting a low of 52 cents on May 23rd, the stock surged to a high of $1.04 last Thursday. And while it has since dropped back to a recent price of 84 cents, CHOP has gained 62% in little over a week.
What's going on?
The stock raced higher following management's announcement on May 23rd that it will resume the company's share repurchase program. China Gerui has repurchased approximately $6.1 million worth of its ordinary shares under a $10 million share repurchase program authorized in April 2011.
What's more, investors were encouraged by this statement from the company's CEO Mingwang Lu…
"The resumption of the share repurchase program reflects management's belief that the Company is severely undervalued in the equity markets and considers the share repurchase to be an effective use of cash with a book value of $4.81 per share."
China Gerui Advanced Materials Group operates a steel processing business in China. It produces ultra-thin, high-strength cold-rolled steel products tailored to their customers' exacting requirements.
While the company had a difficult first quarter, management has reiterated its revenue guidance of $175-$180 million for the year. Built into this estimate is an expectation for sequential improvement in the second through fourth quarters.
Ambient (NASDAQ: AMBT)
AMBT is moving higher as part of a larger rally in utility stocks.
The sector, as measured by the Utilities Select Sector SPDR (NYSE: XLU), has gained 3.5% since May 20th. And the ETF comprised of leading power utility stocks is now up more than 13% for the year.
By comparison, the SPDR S&P 500 (NYSE: SPY) has increased by just 4.8% since the beginning of 2014.
Ambient is a US-based provider of a communication and application platform called Ambient Smart Grid®. This platform enables utilities to deploy and integrate multiple smart grid technologies, in parallel, on a single communications infrastructure. The company's top customers include Duke Energy and Consolidated Edison.
Both AMBT and the utility sector took off last week on exciting news for the industry.
According to a report from Investor's Business Daily, "payments to electricity producers will rise to $120 per megawatt per day from $59.37 in the previous 12-month period." The positive pricing outlook is based on a recent auction to procure power supplies in 13 states and Washington, D.C.
Here's how AMBT reacted to the news…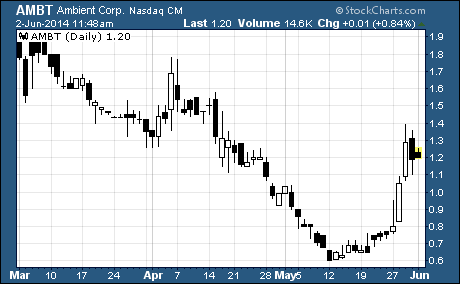 As you can see, the stock surged from the prior week's close of 75 cents to a high of $1.39 last Thursday. That three-day rise provided investors with an outstanding 85% gain in short order.
And while AMBT has slipped back to the $1.20 level today as I write, the stock is still up 60% in little over a week's time.  
If utility stocks continue to climb, this latest upturn in AMBT could be just the beginning of a longer rally. The stock has traded as high as $4.15 in the past 12 months.
Profitably Yours,
Robert Morris
Category: Hot Penny Stocks