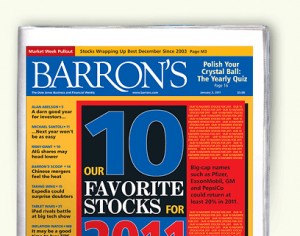 No one ever claimed it was easy to make money picking stocks.  But lately, so-called experts are making 'positive returns' seem like a fantasy.  And they're giving stock picking a bad name. 
Of course, penny stock investors like us know better.
I'll get back to that in a minute.  First, let's talk about Barron's…
As an investor, you're probably familiar with Barron's.  It's an extremely popular source of financial and market news.  As a matter of fact, it's been around since the 1920s!
But apparently, the magazine's stock picking team hasn't learned much in the last 90 years.  You know, like how to pick winners.
You see, at the end of every year, Barron's publishes their top ten favorite stocks for the upcoming year.  This portfolio of big name companies is supposed to outperform the overall market.  For instance, they claim their 2012 picks should earn returns of 15% to 20%.
That sounds nice in theory.  Too bad their 2011 portfolio was an unmitigated disaster.
There's really no way to sugarcoat it.  Of Barron's ten favorites for 2011, seven are down for the year, including General Motors (GM) sinking a hefty 45%. 
As a whole, the 2011 portfolio is down over 8% year to date.  That's significantly worse than the overall market.  As of this writing, the S&P 500 is down 3% for the year, while the Dow Jones Industrial Average is up 3%.
In other words, the "experts" picked ten very large – and supposedly safe – companies… and somehow managed to underperform the market by a considerable margin. 
Great work guys. 
Seriously… their analysts could've thrown darts at the Wall Street Journal and constructed a better portfolio than that!  (We can only hope they used the dartboard method for 2012's picks…)
Here's the thing…
If you just want to own large cap, blue chip stocks, just buy an index fund or ETF.  Their cheap, easy, and sector diversified.
But why waste your time with large caps to begin with? 
If you actually want to earn decent returns, particularly in a down year, penny stocks are the way to go.
Often times, penny stocks aren't strongly correlated with the overall market.  So, you can see positive returns even if the overall market is falling.  These days, that's simply not possible with large caps… they're all so highly correlated with each other.
What's more, penny stocks receive little, if any, analyst coverage.  That means most investors don't realize these companies even exist.  And it's very possible to find a gem of a stock before others pile in.  All you need is a little time to do some research.
Besides, what's the alternative… relying on Barron's?  Hey, if that's what you want to do, I have a nice set of darts I can loan you.
Yours in profit,
Gordon Lewis
Category: Investing in Penny Stocks, Penny Stocks to Buy