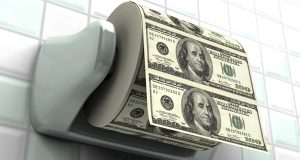 Welcome to Pump and Dump Friday, our weekly feature where we identify potentially "bogus" promotions going on in penny stocks.
Today we're exposing one of the most extensive penny stock pump and dump campaigns of the week… iBrands Corp. (OTCPINK: IBRC).
If you don't know how these schemes work, be sure to check out our free report that exposes the whole thing.
Without further ado, here is today's disaster waiting to happen:
iBrands Corp. (OTCPINK: IBRC)
IBRC is one of the most heavily hyped penny stocks of the past week.  According to our sources, more than 20 promoters have pumped the stock through over 100 newsletters.  And nearly $60,000 has been paid to many of these pumpers for their services.
However, the promotion appears to be a complete flop.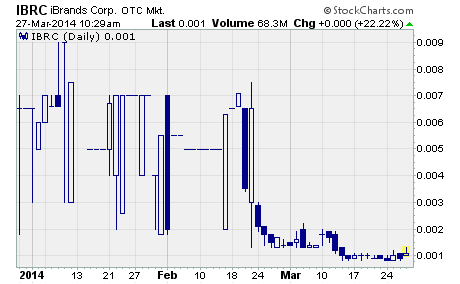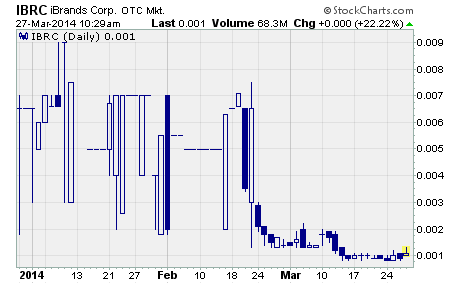 As you can see, the stock has declined from $0.0014 at the end of February to the recent price of $0.001 per share.  That's a drop of 29% so far in March.  And the month's not over yet.
I can't say I'm surprised the promotion has failed. 
There doesn't appear to be much evidence the company is poised to grow anytime soon.
First off, the company's own business description is disturbingly vague.  In its press releases, iBrands describes itself as a holding company that "acquires and operates niche market brands having unique market positioning with substantial upside."
My interpretation… iBrands buys businesses with products to sell and tries to help them grow their businesses.
As of the company's most recent quarterly report (September 2013), iBrands had just a single business, which operates under the name iSoftware, Inc.  Apparently, iSoftware markets a proprietary online ordering system for restaurants.
Unfortunately for iBrands, the business is struggling mightily.
The quarterly report shows iBrands' cash position stood at just $100 at the end of September.  However, the company had current liabilities of $31,705 and long-term liabilities of $820,602.
And to make matters worse, the company had a shareholder deficit of nearly $3.2 million.
One look at the income statement and you'll see why the balance sheet is so weak.  The company had no revenue during the quarter, and it racked up a loss of almost $44,000.
In fact, the company didn't generate a penny of revenue during any of the first three quarters of fiscal year 2013.  And through the first nine months of the fiscal year, iBrands had produced a total net loss of nearly $133,000.
To make matters worse, it looks like 2013 turned out pretty much like 2012 did for iBrands.  In 2012, the company also had no revenue but compiled a net loss of over $240,000.
Clearly, iBrands has been struggling for a couple of years now.
But you have to give management credit for trying to pump up their brand (and share price).
With the online ordering system failing to generate any interest, management tried to stir up interest in IBRC with a stunning announcement.  They announced in February that iBrands is getting into the legalized marijuana sector.
No doubt, they hoped to jump aboard the bull market in marijuana stocks.
But since that press release, there has been no word about whether the acquisition of the marijuana business has closed or is even still proceeding.  And the stock not only failed to jump on the announcement, it has lost more than 50% of its value.
At this time, I can't find one fundamental reason that would support buying even one share of IBRC.  And if a promotion campaign is unable to boost the shares, I'm not sure anything can.
Stay away from IBRC if you value your money.  This stock appears to be dead in the water.
Profitably Yours,
Robert Morris
Other Penny Stocks Being Pumped This Week
Strategic Global Investments (OTCPINK: STBV) – 29 promoters with 87 newsletters have been paid over $40,000 this month to hype STBV.
Everlert (OTCPINK: EVLI) – 34 promoters with 80 newsletters have been paid over $200,000 in March to plug EVLI.
Category: Pump & Dump Alerts