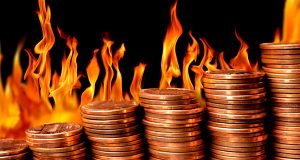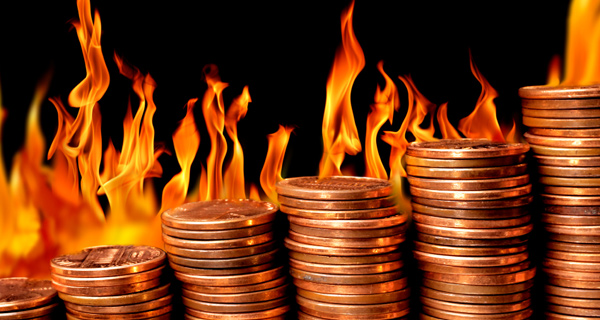 It's an exciting time for penny stocks, especially hot penny stocks like Fuwei Films (FFHL), Arotech (ARTX), and Perma-Fix Environmental Services (PESI)…
Fuwei Films (NASDAQ: FFHL)
FFHL is surging to new heights…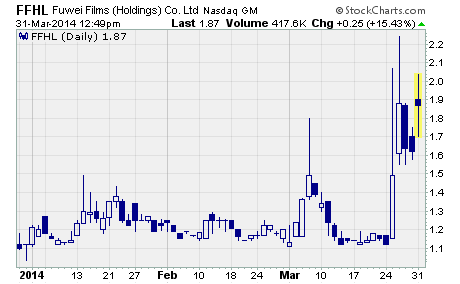 The stock registered a solid 41% gain for the week thanks largely to a 30% jump on Tuesday followed by a 26% rise on Wednesday.  And the shares notched their highest weekly close in nearly six months.
What does the company do?
Fuwei is a Chinese manufacturer of plastic films using the biaxially-oriented stretch technique (BOPET).  The company's films are used to package foods, medicines, cosmetics, tobacco, and alcohol as well as in the imaging, electronics, and magnetic products industries.
Why is the stock taking off?
FFHL soared after it was reported that an auction of a controlling-interest in the company (52.9% of outstanding shares) had fetched a price $16.6 million or $2.40 per ordinary share.  The successful bid represents a 114% premium to the stock's closing price on the day prior to the announcement.
Fuwei is scheduled to report fourth quarter and full year 2013 earnings on April 11, 2014.
 

Arotech (NASDAQ: ARTX)
Arotech is an Ann Arbor, Michigan based company that provides defense and security products to the military, law enforcement, and homeland security markets.  Its products include multimedia interactive simulators as well as advanced zinc-air and lithium batteries and chargers.
Last week, the company's stock jumped on positive news and a bullish article on Seeking Alpha.
As you can see, ARTX surged 51% on Tuesday when the Seeking Alpha article hit the wires.  And while the stock pulled back over the following days, it still finished the week with a respectable 38% rise.
The Seeking Alpha article provides an in-depth look at Arotech's business and its recent financials.  But perhaps the most compelling part for investors was the $16 price target set for the shares.
What's more, the article came on the heels of very good news from the company itself.
On Monday, Arotech announced it has received orders totaling more than $2 million for batteries and chargers.  The orders apparently came from two existing customers who are leading defense companies and manufacturers of military equipment.
It probably didn't hurt that one of the orders was for the development and manufacture of lithium-ion based batteries.  Shares of several lithium-ion battery makers like Highpower International (NASDAQ: HPJ), China BAK Battery (NASDAQ: CBAK), and Plug Power (NASDAQ: PLUG), have soared over the past couple months. 
The customer intends to use the batteries as replacements for lead-acid batteries used in military vehicles.
ARTX is continuing to move higher today as fourth quarter and full year 2013 earnings are expected after the close.  The stock is up 5.7% intraday at $6.15 per share. 
Perma-Fix Environmental Services (NASDAQ: PESI)
PESI is climbing rapidly…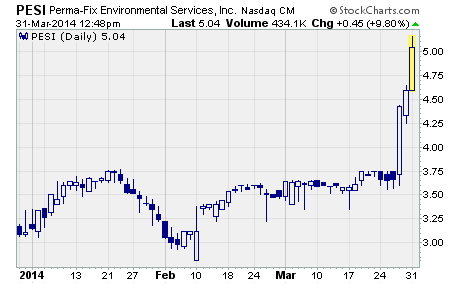 The stock's up nearly 10% today after a solid 22% gain last week.  And it's now trading at the highest level seen in over a year. 
Perma-Fix provides nuclear and mixed waste management services to hospitals, research labs, federal agencies, and the commercial nuclear industry.  The company operates four nuclear waste treatment facilities and provides nuclear services at the Department of Energy, Department of Defense, and commercial facilities.
Why is the stock rocketing higher?
Last week the company announced successful validation of its process to produce Technetium-99m (Tc-99m) from Molybdenum-99 (Mo-99) using standard reactors.  This is huge news.  You see, Tc-99m is the most widely used medical isotope in the world.
According to CEO Dr. Louis Centofanti…
"We believe the new process is a less expensive process and does not require the use of government-subsidized, weapons-grade materials.  We believe our process also addresses important issues associated with current production methods."
Tc-99m is used in 80-85% of the 25 million diagnostic nuclear medical procedures each year in the US alone.  Common procedures using Tc-99m include cardiac imaging, cancer detection bone scans, gastrointestinal scans, as well as imaging of the brain, kidney, spleen, and infections.
It's no wonder then that the radioisotope market in Europe alone is expected to reach $1.6 billion in 2017.
Despite PESI's recent rise, it appears that the stock is still undervalued with respect to the company's new market opportunity.  Perma-Fix has a market cap of just $56 million, it's price-to-sales is a mere 0.59, and the stock's trading below book value per share of $6.99.
Based on these metrics, the rally in PESI could have long legs.  
Profitably Yours,
Robert Morris
Category: Hot Penny Stocks