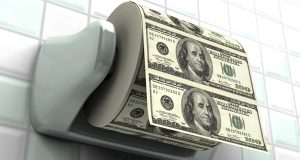 This week we're exposing this pair of popular Pump & Dumps:  Hi Score (HSCO) and Greenway Technology (GWYT).
That said, welcome to Pump and Dump Friday, where every week we identify a few of the potentially "bogus" promotions going on in penny stocks today.
If you don't know how these schemes work, be sure to check out this free report that exposes the whole thing.
Without further ado, here are today's "disasters waiting to happen":
Hi Score (HSCO)
Here we go, yet another "green" company being touted by the pumpers…
Hi Score operates through its subsidiaries- Green LED Technology, EcoGreenBulb, and REPCO.   They make eco-friendly replacement light bulbs to reduce energy use in your home.
Sounds pretty good, right?
Well, that's where the good news ends.  You see, the notorious pumper Stock Mister is touting these shares as a high risk day trade.  Of course they were paid $15,000 by ACN, LLC to do the pumping.
I hate to agree with the pumper, but HSCO shares are a very high risk trade.  You see, this sub penny stock is trading at $0.0001.  That means you'll pick up 10,000 for just $1.
But the real issue is with the trading on the stock.  At such low levels, risk runs very high.  A simple move from $0.0001 to $0.0002 can get investors a 100% return.  But a drop in the stock by just 1 tick will cost investors 50%!
I'd say the trade itself is ridiculous.  But the fundamentals on HSCO are even worse.
For starters, the company lost $97,000 over the past three months, and more than $296,000 over the past nine!  Apparently the light bulb business isn't all that profitable.
If that's not enough to keep you away from shares of this company, try this on for size- there are over 1.2 billion shares outstanding.  And… the company hasn't filed a single document with the SEC since 2003!
Talk about ugly.  The only thing worse is the stock's performance over the past nine months.  Take a look at the chart for yourself…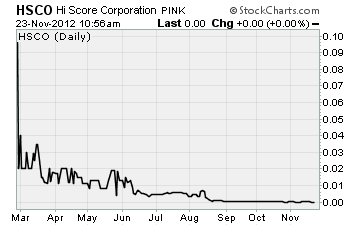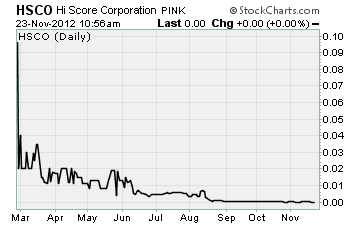 Obviously things haven't gone well for HSCO shareholders.   We're looking at a 99.99% loss from March.
Given the scary-low stock price, the pumping going on, and the very sad fundamentals… I'd say the last thing you want to do is become a HSCO shareholder!
Greenway Technology (GWYT)
Here we are, another sketchy "green" penny stock, and another ridiculous pumping campaign by the guys over at Stock Mister.  (Yep, that's two in a row for them today!)
The pumper must have their finger on the pulse of "green" penny stock pumping, because Stock Mister was paid $32,500 by Belmont Group, LTD to tout shares of GWYT.  You see, Greenway is a company in the oil recycling business.
Unfortunately, business hasn't been so good for them…
For starters, GWYT has $0 revenue– so I guess there's not too much oil being recycled.  In addition, the company posted a $27,000 loss in their past quarter.  But the real scary part is that from 2008 until now… Greenway Tech has lost over $1.1 million!
Of course, we can't expect a stock that's being pumped will be a safe investment.  But GWYT gives investors less security in this department- their stock is no longer registered with the SEC.  And it hasn't been since 1999.
Moreover, no one knows how long this company will be around.  Greenway has just $1,250 in cash on hand- and I can't see how far that's going to get them.
If you're looking for green investments, there are plenty of great ones out there.  Unfortunately, I can't see how anyone would consider this $0.06 stock a great investment- and you shouldn't either.
Other Penny Stocks Being Pumped This Week
WSHE – EquityTradingAlert was paid $20,000 by RDI, LLC
SCFR – The Lightning Picks, aka Blue Wave Advisors, was paid $20,000 by Crème Consulting
A final word (and warning).
These are just a few of the potential "pump and dumps" we've seen lately.
Remember, there's a lot more of this going on than we can highlight here.
As you know, penny stocks are a great place to invest your money.  You just have to do your due diligence to stay away from all the schemes and scams out there these days!
Until next time,
Brian Walker
Category: Pump & Dump Alerts