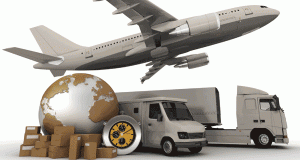 Black Friday has long been an important day for retailers.  For decades, it has been one of the busiest shopping days of the year as millions of consumers use the Friday after Thanksgiving to begin their holiday shopping. 
And for many retailers, Black Friday is the day they register their highest single-day sales.
But for retailers selling their goods online, the Monday after Thanksgiving has become their Black Friday.
The day is now affectionately known to internet retailers as Cyber Monday.  It's the day employees return to their offices after the long holiday weekend and use their work computers to purchase holiday gifts online.
Last year, Cyber Monday sales increased 15% from 2011 levels to a record $1.5 billion.  And this year, they should be similarly robust as Shop.org is forecasting online holiday sales to increase by $82 billion.
That's great news for online retailers.
But it's also great news for companies that will be shipping all those goods.
In fact, FedEx (NYSE: FDX) announced today that it expects Cyber Monday to be the busiest day in its 42 year history.  The shipping giant says it will likely deliver more than 22 million packages that day all over the world.
If FedEx is poised for a record-setting holiday season, that bodes well for tiny Radiant Logistics (NYSE: RLGT).
Radiant is a transportation and logistics services company based out of Bellevue, Washington.  The company provides domestic and international freight forwarding and door-to-door delivery services.
The interesting thing about Radiant though is that it doesn't own any trucks, ships, or airplanes.  The company provides its services through a network of independent carriers and international agents positioned strategically around the world.
As you might imagine, Radiant has saved a lot of money by not having to purchase its own fleet of vehicles.  And it doesn't have to contend with hefty ongoing maintenance and service costs.
Thanks to this ingenious business model, Radiant is making money hand over fist.
For fiscal year 2013 (ending in June), revenue increased 4.6% year-over-year to more than $310 million.  Net income increased by an impressive 92% to $3.6 million.  And earnings came in at $0.10 per share… double last year's total.
What's more, analysts are expecting another strong year of growth in fiscal 2014.
They're projecting a revenue rise of 10.7% for the year to over $344 million.  And they're forecasting an earnings increase of 30% to $0.13 per share.
No question about it, Radiant's producing nice annual gains in its financials.
With the holiday shopping season just around the corner, a rally in retail and shipping stocks could happen at any moment.  RLGT is one penny stock that will likely benefit from any such rally.  And the stock has good long term growth potential to boot.  
Profitably Yours,
Robert Morris 
Category: Penny Stocks to Buy