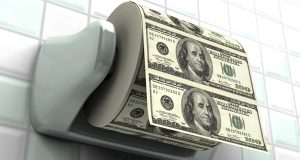 Welcome to Pump and Dump Friday, our weekly feature where we identify potentially "bogus" promotions going on in penny stocks.
Today we're exposing one of the most extensive penny stock pump and dump campaigns of the week:  ITonis (OTCPINK: ITNS).
If you don't know how these schemes work, be sure to check out our free report that exposes the whole thing.
Without further ado, here is today's disaster waiting to happen:
ITonis (OTCPINK: ITNS)
ITNS is one of the most heavily hyped penny stocks of the past week.  According to our sources, 18 promoters with 47 newsletters have been paid more than $120,000 to pump the stock so far this month.
ITonis is a holding company based in Orange County, California that was formed in 2005 to acquire high growth entrepreneurial companies.  However, the company's most recent annual report shows that ITonis has not had much success, if any, in pursuing its stated mission. 
The report shows the company re-entered the development stage in December 2009.  Since then, ITonis has generated zero revenue while racking up cumulative net losses of $10.8 million.
However, that small detail is not stopping the company from promoting itself.
The company's website claims that ITonis is now "undergoing a company-wide transformation", which includes the installation of a new executive management team.  The website assures investors that the new management team is "well positioned to steer the company into a profitable future…"
We're not so sure…
You see, one of the new management team's initial executive decisions was to launch a new division called ITonis Pharmaceuticals.  This new division is intended to produce and market over the counter and prescription homeopathic products.
Now, we don't take issue with the company's decision to enter the lucrative homeopathic product business. But we find it a bit disconcerting that this new division is headed by Dr. Charles Hensley.
Dr. Hensley is best known for creating the Zicam® cold remedy, a point made crystal clear on ITonis' website and in its many recent press releases.  But what the company doesn't tell you is that several Zicam® products were the subject of an FDA investigation in 2009.
I won't go through all the dirty details, but ultimately, the FDA warned consumers in 2009 to stop using certain Zicam cold products.  The FDA issued the warning because it believed the products could cause permanent loss of smell. 
In fact, in a warning letter to Matrixx Initiatives, the manufacturer of the Zicam products, the FDA said it "has concluded that these products may pose serious risk to consumers who use them."
While Matrixx never admitted liability, the company settled lawsuits with over 2,000 people who alleged loss of smell and/or taste arising out of their use of Zicam Cold Remedy and other products.  Under the settlement agreement, Matrixx agreed to pay a total of $15.5 million in exchange for voluntary dismissal of the lawsuits.
The scandal heavily tarnished the reputation of Matrixx Initiatives and led to the company being acquired and taken private by HIG Holdings in February 2011.
But that wasn't the end of Dr. Hensley's legal woes…
In June 2011, the good doctor was arrested on federal charges of illegally marketing a drug as a cure for bird flu. 
The drug, Vira 38, had not received FDA approval, but Dr. Hensley marketed it as a "prevention and treatment" for the disease.  Dr. Hensley faced up to 20 years in federal prison for the crime. 
But in April 2012, he pled guilty and received just three years probation, 400 hours of community service, and a $5,000 fine.
Now, Dr. Hensley is back in the homeopathic drug game as the head of ITonis Pharmaceuticals.  And he's attempting to bring to market a new product for nausea relief.
Given Dr. Hensley's past problems with the FDA, we suggest you give ITonis a wide berth.  There are lots of other penny stock health care companies out there more deserving of your investment dollars.
Other Penny Stocks Being Pumped This Week
American First Financial (OTCPINK: AFRS) – 11 promoters with 44 newsletters have been paid at least $70,000 this month to hype AFRS.
Baroma (OTCPINK: BRMA) – 14 promoters with 42 newsletters have been paid more than $70,000 in October to plug BRMA.
As you know, penny stocks are a great place to invest your money.  You just have to do your due diligence to stay away from all the schemes and scams out there these days!
Profitably Yours,
Robert Morris
Category: Pump & Dump Alerts