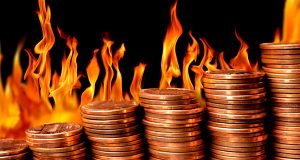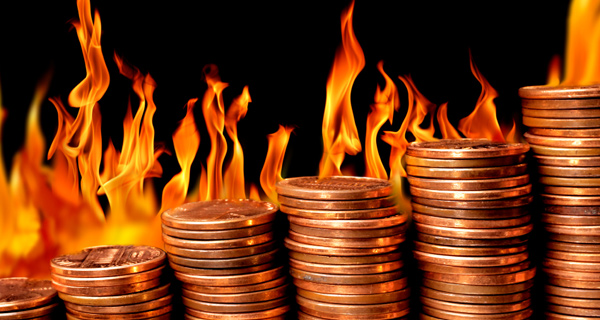 It's an exciting time for penny stocks, especially ParkerVision (PRKR), Astrotech (ASTC), and Ossen Innovation (OSN).  Let's take a closer look at these three hot penny stocks…
ParkerVision (NASDAQ: PRKR)
PRKR's on fire!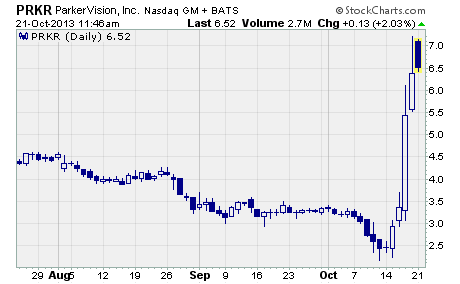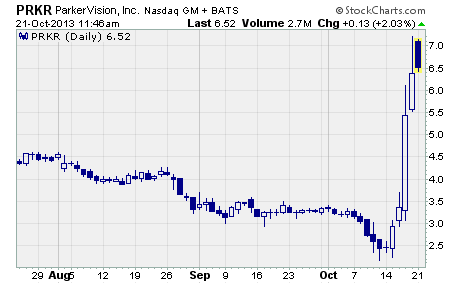 The stock soared last week from $2.45 to a high of $7.20 for a mind-boggling 194% gain to the high.  And while the stock failed to hold on to the high, it finished the week at $6.39 for an impressive 161% gain.
Not too shabby.
Why's the stock surging?
The company just won a huge victory in federal court over Qualcomm (NASDAQ: QCOM), the 300 pound gorilla of the wireless communications equipment industry.  On Thursday, a jury found that Qualcomm directly and indirectly infringed patents owned by ParkerVision.
ParkerVision designs, develops, and sells proprietary radio frequency (RF) technologies for use in wireless communications products.  These technologies are incorporated into 3G and 4G mobile handsets, tablets, data cards, femtocells, machine-to-machine, and embedded applications.
The jury will now decide this week just how much Qualcomm will have to pay for the patent violations.  ParkerVision is seeking approximately $500 million in damages.
Astrotech (NASDAQ: ASTC)
Astrotech is a commercial aerospace company based in Austin, Texas.  The company provides pre-launch services to government and commercial satellite and spacecraft customers in the US.
As you might have guessed, ASTC is making a strong upside move…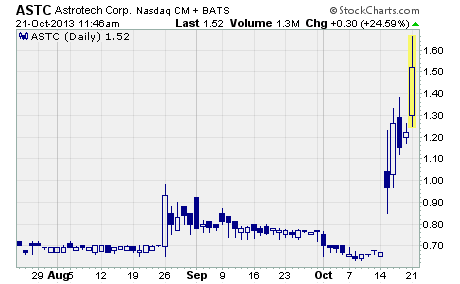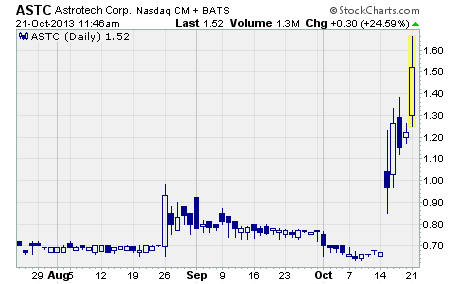 The stock skyrocketed from just $0.68 to $1.22 for an outstanding gain of 79% for the week.  And at one point, the stock hit $1.38, its highest price in the past two years.
Why the sudden growth spurt?
ASTC's rallying after the company posted its "best earnings report in over three years."
For the fourth quarter, revenue jumped 21% year-over-year to $9.2 million.  Net income improved from a loss of $1.3 million to a profit of $2.2 million.  And the bottom line went from a loss of $0.07 to earnings of $0.11 per share.
The company's strong performance was due to the processing of two important US government missions.  And it was aided further by the near completion of a multi-year Ground Support Equipment contract.
What's more, the good times should continue…
Astrotech is sitting on an 18-month rolling backlog of $25.5 million.  This includes contractual backlog, scheduled but uncommitted missions, and the design and fabrication of ground support equipment.
In fact, the stock's up another 27% this morning to $1.56 per share.  There's no telling just how high this aerospace stock can soar.
Ossen Innovation (NASDAQ: OSN)
OSN is another penny stock rapidly climbing up its stock chart…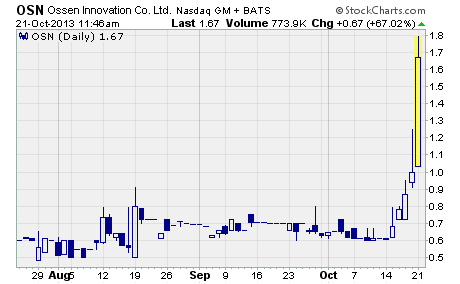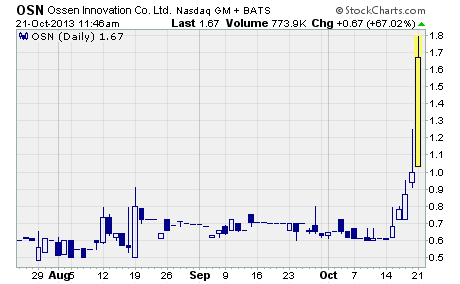 The stock traded up from around 61 cents to a high of $1.25 before settling in at just under a dollar for the week.  That translates to a 62% gain in just five days' time.
Ossen is a Chinese company that manufactures and sells a wide variety of plain surface pre-stressed steel materials.  But that's not all.  The company also makes rare earth-coated and zinc coated pre-stressed steel materials.  Its products are used primarily in the construction of bridges, highways, and other infrastructure projects.
The stock's cruising higher on major good news…
Ossen was just awarded a contract to supply 15,000 tons of plain surface steel strands.  The buyer is a construction company responsible for building the new Jiujiang express loop highway in Jiujiang City.
The steel strands will be used in the construction of bridges and elevated highways that will be part of the new express loop highway.
According to Ossen's CEO Dr. Liang Tang, the company plans to begin delivery of the plain surface steel strands in the first quarter of 2014.  And he hopes to announce "additional supply contracts for other China-based infrastructure projects in the near future."
The stock has picked up this morning from where it left off on Friday.  As I write, OSN is up more than 48% to $1.49 per share.
Profitably Yours,
Robert Morris
Category: Hot Penny Stocks