Two Important Things To Look For When Buying Penny Stocks
Buying penny stocks isn't the easiest thing to do in the world… at least not if you want to be successful.  Sure, you can go out and buy the latest penny stocks getting pumped like crazy.  But, that's bound to end badly.
You could also buy penny stocks based on their narratives.  This one is a gold producer and gold's going up!  That one is a rare earth miner, and we need those minerals for cell phones!  Sometimes buying the hot industry/product can work – but it too will usually result in losing money.
So then, what can we do to improve our chances of finding a good penny stock company?
First off, let's look at what not to do.
Here's a look at what gold has done over the last five years: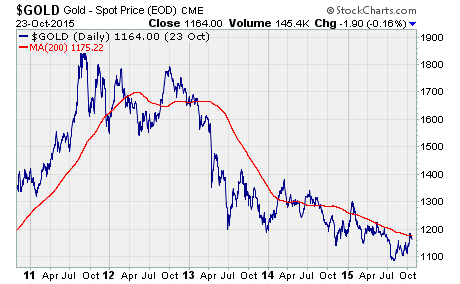 As many of you probably remember, gold spiked to all-time highs in 2011-2012.  There was a major gold buying frenzy among institutional and retail investors alike.  Even central banks were loading up on bullion.
Once the financial crisis stabilized and the US economy began to recover, gold prices fell to pre-crisis levels.  And, they've been hovering around $1,200 ever since.
Here's the thing…
Back during gold's peak, there were countless penny stock companies claiming to be the next big gold miner.  It seemed like every new company out there owned property which may contain a mother lode.
Funny thing is, many of these companies were doing nothing remotely related to gold mining before the price spike.  Some of these companies were "social media experts" and others were selling non-stick cookware.   Basically, there was no reason to believe these companies could mine gold, even if their properties contained the precious metal.
And, if you invested in any of these "gold companies", chances are you lost big.
So what do you look for when buying penny stocks?
Like most any other type of investing, you need to do your research before buying penny stocks.  Fundamental analysis is equally important on small companies as it is on large ones.
You just need to shift your expectations to take into account the size and age of the company.  For instance, a newer, smaller firm isn't likely to be very profitable – if at all – early on.  That's especially true for a development stage company.
By the same token, a small firm shouldn't have a big debt load either.  Some debt is normal, but a ton of debt early on is certainly a red flag for a penny stock company.
Here are two things you should look for when researching penny stocks
First off, it's always a good idea to find a company with cash.  A company that has raised/saved a fair amount of cash is usually well managed, and not a fly-by-night type firm.
Cash can be used to grow, expand, take on reasonable debt, withstand slow periods, etc.  It's obviously a vital asset for a small company.  Typically, I like to see a reasonable amount of cash versus no debt, or a lot of cash versus moderate debt.
The other thing to look for is a positive operating margin.
Operating margin is revenue minus cost of goods sold, minus expenses.  Unlike profit margin, operating margin includes expenses such as admin and marketing.  After all, you can't run a business without those things, so why look at metrics which don't include them?
On the other hand, for a small business, paying attention to net profit is not that important.  Taxes, interest, etc. just don't mean that much at this stage (unless we're talking about a huge debt load, as I mentioned earlier).
Meanwhile, operating margin does a very good job of showing if the core business is producing good results.  And, that's by far the most important thing to consider for a penny stock company.
By paying attention to cash and operating margin, you can go a long way towards finding penny stocks worth buying.  It can also help you avoid the pitfalls of having the really bad penny stocks end up in your portfolio.  Investing in companies with a decent cash holding and positive operating margin will help direct you to the best-in-class penny stock companies.
Good investing…
Brian Kent
Note:  If you're interested in learning more about Brian Kent's Penny Stock All-Stars premium service… and learning about the stocks we're trading for profit… you can get the inside scoop on penny stocks here.
Category: Penny Stock Tips