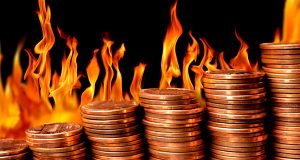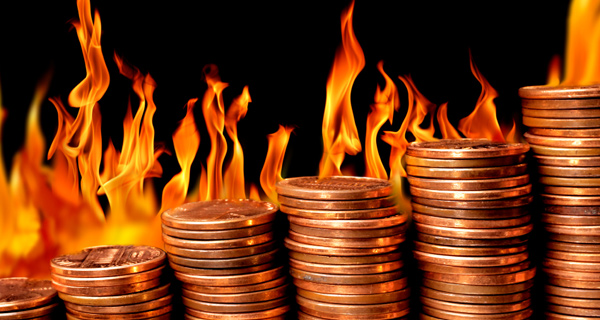 It's an exciting time for penny stocks, especially Zhone Technologies (ZHNE), USEC (USU), and ReneSola (SOL).  Let's take a closer look at these three hot penny stocks…
Zhone Technologies (NASDAQ: ZHNE)
ZHNE soared 138% last week!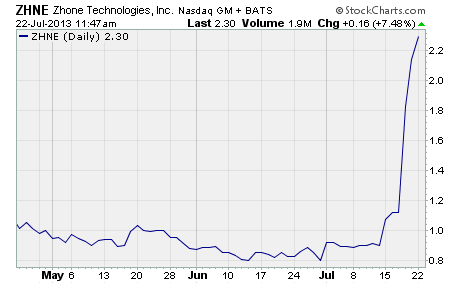 I'll explain why in a moment… but first, a few words about this exciting company.
Zhone Technologies supplies communications network equipment to telecom, wireless, and cable operators worldwide.  The company is a global leader in all IP multi-service access solutions, serving more than 750 of the world's most innovative network operators.    
Why's the stock jumping?
That's an easy one. 
Zhone's second quarter earnings beat analysts' estimates.  For the three month period ending in June, the company reported net income of $1.1 million and earnings of $0.03 per share. 
Analysts were expecting just $0.02 per share.
Nothing ignites a rally in a stock like a 50% upside surprise!
What's more, management issued a bullish forecast for the remainder of the year.  CEO Mory Ejabat said, the company "continue[s] to focus on profitability as our number one financial objective and expect[s] to improve that profitability in the second half of 2013."
Investors clearly liked the news.
ZHNE had finished the prior week at just $0.90 per share.  But after earnings came out, it surged to a high of $2.18 before closing out the week at $2.14.  And this morning, ZHNE is up another 7.5% to $2.30 per share.   
USEC (NYSE: USU)
USEC supplies low enriched uranium for commercial nuclear power plants in the US, Japan, and internationally.  The company's low enriched uranium is a component in the production of nuclear fuel for reactors to produce electricity.
Prior to last week, USU had been mired in a steep two-year downtrend.  The stock had declined from a high of $87.50 in August 2011 to a low of $2.60 on July 8th, 2013.
And a whopping 97% of the stock's value had simply evaporated into thin air.
But that all changed last week when USU skyrocketed 73%!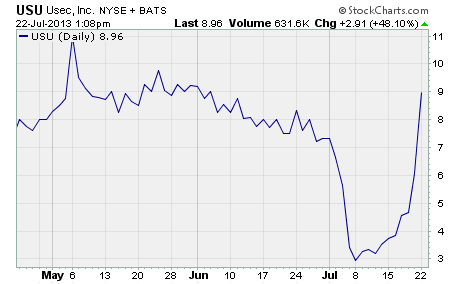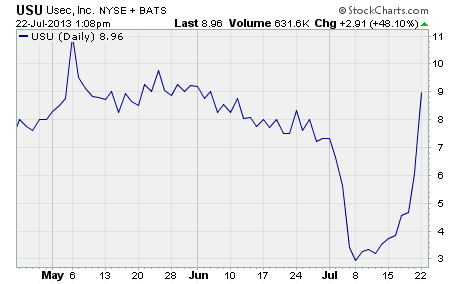 What happened?
It looks like USU is benefitting from a major short squeeze. 
The most recent data show the stock had a short ratio of 28.2 at the end of June.  That's extremely high.  It means short sellers of USU would need 28 days to cover their positions if the stock started to move higher.
A short ratio of more than eight days is considered risky for short sellers. 
The heavy short interest in USU is the most likely reason for the current rally.  With very little downside left in the stock, short sellers are scrambling to cover their positions.  And as they buy back shares, USU is moving higher and higher.
After finishing the prior week at $3.50 per share, USU closed last week out at $6.05.  And the rally's not done yet.  The stock's up a stunning 40% so far today to $8.96 per share.
ReneSola (NYSE: SOL)
ReneSola is a Chinese solar company.  They supply polysilicon, mono-crystalline, and multi-crystalline silicon wafers as well as photovoltaic cells and modules for commercial, agricultural, and large-scale projects.  Their primary markets are the US, Europe, China, and Australia.
Chinese solar stocks have taken investors on a roller-coaster ride in 2013. 
After soaring early in the year, many of these stocks plunged on a negative outlook for the industry.  The downbeat forecast followed the imposition of steep anti-dumping tariffs on a number of Chinese solar companies by the US and Europe.
But it looks like analysts' fears may have been overblown.
Last week SOL jumped 43%!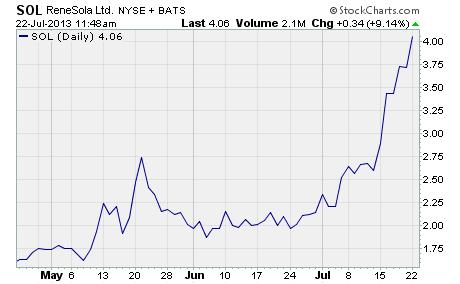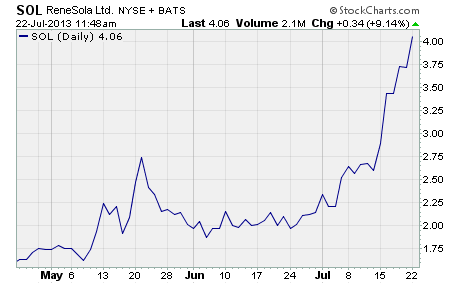 What's going on?
The company upped its guidance for the second quarter and the year. 
Specifically, management said it expects second quarter revenue to be between $365 and $375 million.  That's up from the prior forecast of $310 to $330 million.  And it's well above analysts' estimates of $317 million.
What's more, management said total solar wafer and module shipments for the year should be between 2.8 GW and 3.0 GW.  That compares to the prior estimate of between 2.7 GW and 2.9 GW.    
The improved forecast was certainly music to investors' ears! 
They drove SOL up from the prior week's close of $2.60 to a high of $3.86 before letting it finish the week at $3.72.  And they're continuing to push the stock higher today.  SOL is up 9% intraday as I write.
Profitably Yours,
Robert Morris
Category: Hot Penny Stocks