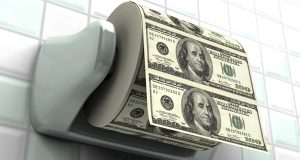 Welcome to Pump and Dump Friday, our weekly feature where we identify potentially "bogus" promotions going on in penny stocks.
Today we're exposing one of the most extensive penny stock pump and dump campaigns of the week:  Eco-Tek Group, Inc. (OTCQB: ETEK).
If you don't know how these schemes work, be sure to check out our free report that exposes the whole thing.
Without further ado, here is today's disaster waiting to happen:
Eco-Tek Group, Inc. (OTCQB: ETEK)
ETEK is one of the most heavily hyped penny stocks of the past week.  At least 83 different promoters have pumped the shares through 232 newsletters.  And over $400,000 has been paid in July so far to plug the stock.
Here's a short list of the promoters leading the pump…
Too Nice Stocks… pulled down $170,000

Stock Appeal LLC… raked in $80,000

Future Money Trends… received $30,000

Penny Pick Finders… was compensated $30,000

Penny Stock Chief… has been paid $18,000
 And there are many more hyping ETEK for a lot less.
Despite all the promoters involved, the pump didn't work all that well…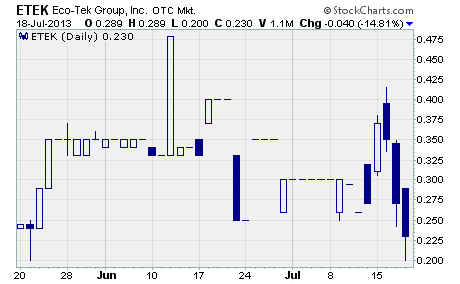 As you can see, ETEK ended the prior week at $0.27 per share.  When the pump began this week, the stock jumped to $0.37 and then reached a high of $0.415 the following day. 
That's a quick 53% gain.  However, you can bet the promoters and those funding their campaign were hoping for a lot more.
But it wasn't meant to be. 
After hitting that $0.415 high, the stock started to reverse course.  And just two days later the stock had plunged all the way down to $0.23 per share.
That's a nasty 45% drop in short order! 
So, what's the story on Eco-Tek?
The company was initially formed in Nevada in April 2007 under the name Sandalwood Ventures.  Its business was the acquisition and exploration of mineral properties.  However, the company never undertook any mineral exploration activities.
Why am I not surprised?
Then in June 2012, the company acquired Eco-Tek Group, Inc., an Ontario corporation, through a share exchange.  And in October 2012, the company's name was changed to its current moniker. 
After the acquisition, ETEK's business was changed to its current operations.  It is now a distributor of oil lubrication products to the automotive aftermarket and outdoor power equipment market.
However, it seems ETEK is struggling to sell its products.
According to the most recent annual report, the company had revenues of just $282,175 for all of 2012.  But it managed to post a net loss of $868,195.
The balance sheet isn't any better. 
The company finished 2012 with total assets of $86,143 but total liabilities had mushroomed to $1,006,313.  And after the most recent quarter, the company has just $9,500 in cash compared to $565,000 in debt.
With numbers like those, you can see why a pumping campaign became necessary.  I doubt the stock price would increase any other way.
Other Penny Stocks Being Pumped This Week
North American Oil & Gas Corp. (OTCQB: NAMG) – 23 promoters with 86 newsletters have been paid over $90,000 so far this month to hype NAMG.
Amplitech Group (OTCQB: AMPG) – 12 promoters with 58 newsletters have been paid over $50,000 in July to plug AMPG.
As you know, penny stocks are a great place to invest your money.  You just have to do your due diligence to stay away from all the schemes and scams out there these days!
Profitably Yours,
Robert Morris
Category: Pump & Dump Alerts