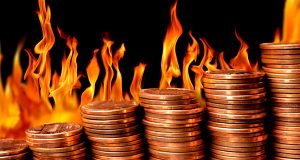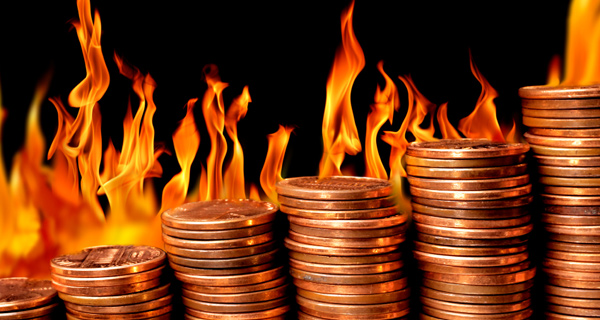 It's an exciting time for penny stocks, especially hot penny stocks like Verso Paper (VRS), LiveDeal (LIVE), and Plug Power (PLUG)…
Verso Paper (NYSE: VRS)
VRS is skyrocketing this week!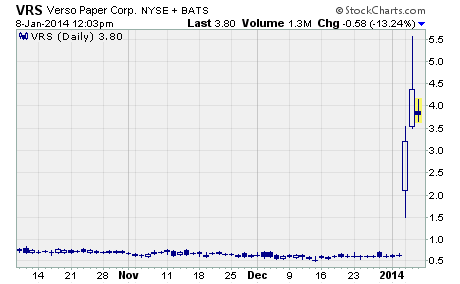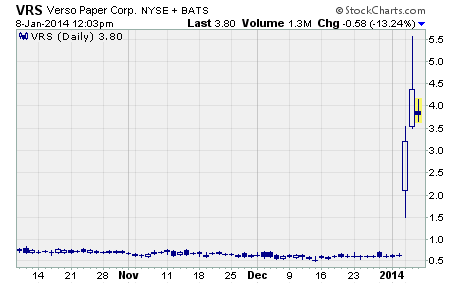 As you can see, the diminutive paper company's shares soared from $0.63 to a high of $5.55 over the past week.  That's a mind-boggling gain of 781% in short order.  And while VRS has pulled back to around $3.80 today, the stock is up more than 500% in just the last five trading days.
What's going on?
The company announced on Monday that it will buy privately owned NewPage Holdings for about $900 million in cash and bonds.  Management believes the combined company will be more cost-efficient and better able to compete with digital media.
Verso produces coated paper in the US that is used primarily in catalogues and magazines. 
The deal is expected to save $175 million or more in pre-tax costs over the first 18 months after closing.  And annual revenues for the combined company are projected to be in the $4.5 billion range.
LiveDeal (NASDAQ: LIVE)
LiveDeal provides online deals similar to those you'll find on Groupon and Living Social, but the company believes it has a distinct advantage over the competition.  Its platform uses geo-location, which enables businesses to communicate real-time, instant offers to nearby consumers.
Here's how CEO Jon Isaac recently described the service…
"LiveDeal works because it was developed with both the business and the user in mind.  For restaurants, they want a cost-effective way to attract traffic on days they need business and ideally the right amount of traffic.  For livedeal.com users, especially mobile users, they're ready to eat, and looking to save money, so that impulse plays a big role in the platform's success.  LiveDeal.com is the online marketplace where both businesses and consumers can communicate and interact in real-time."
The company launched LiveDeal.com in September 2013 and is initially targeting the $660 billion dining industry.  So far, they've captured about 1,000 dining establishments or 20% of the restaurants in San Diego.  And they recently launched the service in Los Angeles county, which is home to more than 22,000 restaurants.
Thanks to this early success, LiveDeal now plans on launching its innovative platform in cities across the US.
As you might have guessed, LiveDeal.com's rapid acceptance among restaurants and consumers has not gone unnoticed by investors.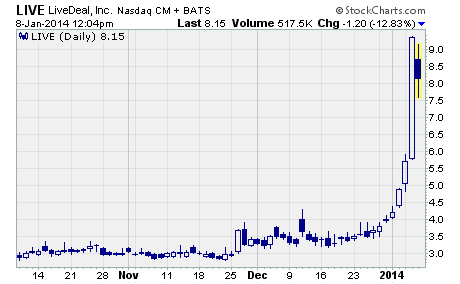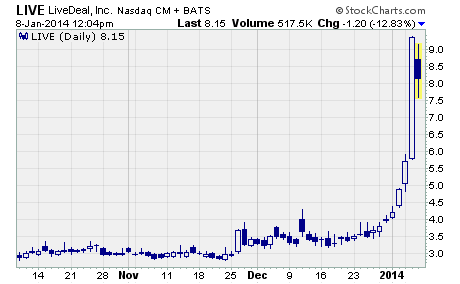 They drove the company's shares up from $3.98 to a high of $9.37 so far this week.  That move was good for a stunning one-week gain of 135%.  Now, the stock has since pulled back to around $8.15, but it still sports a year-to-date gain of 105% as I write.
Plug Power (NASDAQ: PLUG)
PLUG was featured several times last year as one of the hottest penny stocks of the week.  But after a big surge in early December, the stock finished the year with a bit of a pullback.  Now the stock is off and running to start the new year. 
Take a look at the chart…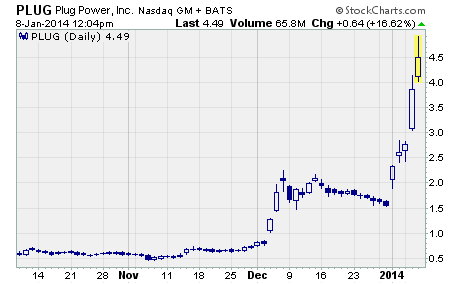 As you can see, PLUG surged this week from its 2013 closing price of $1.55 to an intra-day high of $4.90.  This parabolic move produced an impressive one-week gain of 216% to the high.  And even though PLUG has retreated a bit to $4.49, the stock is currently up 20% for the day and 190% for the year.
Why is PLUG soaring?
The company announced yesterday that it will develop hydrogen fuel cell range extenders for 20 FedEx Express electric delivery trucks.  This innovative technology is expected to nearly double the amount of territory these vehicles can cover with one charge.
While this specific deal is worth only $3 million, it's a golden opportunity for the company to showcase its new technology.  Management says the range extender solution will not only increases delivery fleet efficiency to over 50% but will also decrease fuel expenses by 35% to 40% compared to diesel trucks.
This exciting news follows the company's announcement in late 2013 that it expects to finally turn a profit in 2014.      
Profitably Yours,
Robert Morris
Category: Hot Penny Stocks