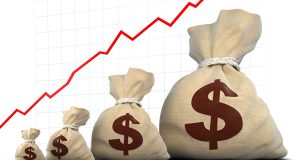 The US stock market had a banner year in 2013.  The Dow Jones Industrials climbed 26.5% to give the blue chip index its highest return since 1995.  And not to be outdone, the S&P 500 delivered its best performance in the past 16 years by rising 29.6%.
Clearly, the market's largest companies made big strides in 2013.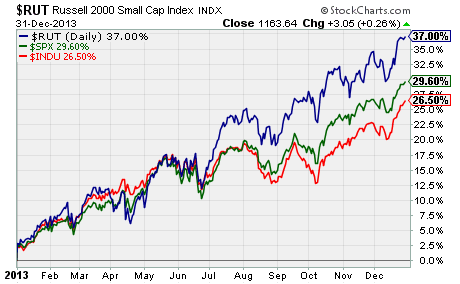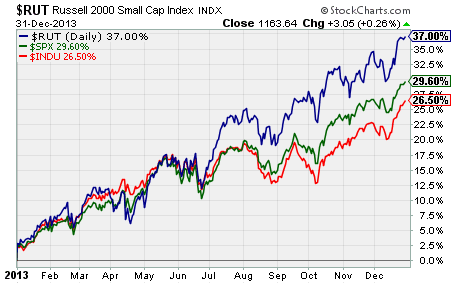 But even with their best single-year gains in nearly two decades, the major large-cap indices were unable to keep up with small-cap stocks.  As you can see on the above chart, the Russell 2000 finished 2013 with a stunning gain of 37%.
This strong overall performance provided a hefty tailwind for my highly popular Penny Stock All-Stars portfolio.
For those of you that don't already know, Penny Stock All-Stars is an investment advisory newsletter focused on discovering small companies with the potential to become the market's next Blue Chips.  As I'm so fond of saying…
"A small, fundamentally sound company with big growth potential and an undervalued stock price is where fortunes are made."
Every month I bring my readers a detailed recommendation on a penny stock that I believe is destined to become "the next big thing".  In short, my team and I are constantly looking for penny stocks that we think can grow into the market's next Apple, Google, MacDonald's, or Starbucks.
The best part is… our research is 100% independent.
Every single recommendation we make must pass through our rigorous selection process.  And we refuse to accept payment from anyone to pump a specific penny stock.
What's more, our assistance doesn't end with the recommendation…
Each issue of Penny Stock All-Stars includes a portfolio review section where we follow what's happening with our open positions.  We keep you up to date on the significant events impacting our recommended penny stocks.  And we tell you whether a particular holding is a buy, sell, or hold.
Now I know what you're thinking…
Anyone can say their investment advisory is the best, but the proof is in the pudding.  Well let me tell you… our portfolio made some awfully tasty pudding last year.
Now I can't reveal how our open positions are doing as that wouldn't be fair to our paying subscribers.  But I can tell you about the positions we closed out during the year.
In April, we captured huge gains in Pizza Inn Holdings (NASDAQ: PZZI) and TravelCenters of America (NYSE: TA).  When we recommended selling these penny stocks, PZZI was up 142% and TA had increased by a whopping 187%.
Not a bad way to begin the year!
But we were just getting started. 
In our May issue, we told subscribers to lock in their 68% profit in Stein Mart (NASDAQ: SMRT).  And we had them cash out an amazing gain of 142% in L&L Energy (NASDAQ: LLEN).  The trade in LLEN was probably our most exciting of the year as it nearly tripled in the two months after we told subscribers to buy it.
Of course, not every recommendation is going to be a winner.  Anyone who tells you they never have a losing position is blowing smoke up your you know what. 
So in the interests of full disclosure, we did in fact have a few unsuccessful trades last year.  Our investments in Great Panther Silver (NYSE: GPL), IEC Electronics (NYSE: IEC), Hudson Technologies (NASDAQ: HDSN), Noranda Aluminum (NYSE: NOR), and Art's-Way Manufacturing (NASDAQ: ARTW) didn't quite work out as planned.
However, we were careful to limit our losses on each of these trades.  And the profits we made on the winning trades more than made up for this handful of disappointments.
Speaking of winning trades…
We had a few more before year's end.
In November, we not only captured an eye-popping gain of 136% in Fortress Investment Group (NYSE: FIG), we doubled our money on Edgewater Technology (NASDAQ: EDGW).  And in December, we locked in a huge profit of 114% on Omega Protein (NYSE: OME).
No question about it, we had a lot of happy subscribers in 2013. 
And that happy feeling is continuing in 2014. 
For one thing, 13 of our 15 holdings are currently in the green.  To put that another way, 85% of our open positions are posting a profit. 
And for another, we have four positions that are up more than 50% each while four more have gains of 10% to 50%.  But what's even more impressive is that we have two positions sitting on monster triple-digit gains.
What's in store for the year ahead?
As I said in my article on Friday, I believe 2014 will be another good year for specific penny stocks.  However, it's going to be a stock picker's market, so it's more important than ever to find a penny stock investment advisory that you can trust.
We hope you'll give us a chance to show you what we can do.  If you'd like to learn more about Penny Stock All-Stars, please click here for all the details.       
Profitably Yours,
Robert Morris 
Category: Investing in Penny Stocks