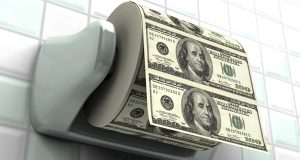 Welcome to Pump and Dump Friday, our weekly feature where we identify potentially "bogus" promotions going on in penny stocks.
Today we're exposing one of the most extensive penny stock pump and dump campaigns of the week:  Frontier Beverage Company (OTCQB: FBEC).
If you don't know how these schemes work, be sure to check out our free report that exposes the whole thing.
Without further ado, here is today's disaster waiting to happen:
Frontier Beverage Company (OTCQB: FBEC)
FBEC is one of the most heavily hyped penny stocks of the past week.  According to our sources, 24 promoters have been paid over $50,000 this month to pump the stock through nearly 49 newsletters.
And it appears the promotion was a huge success…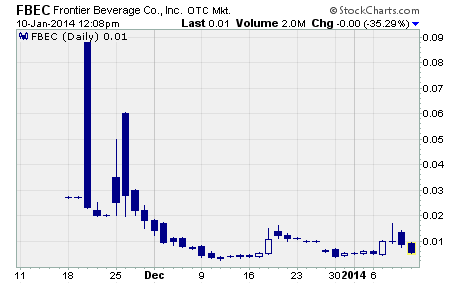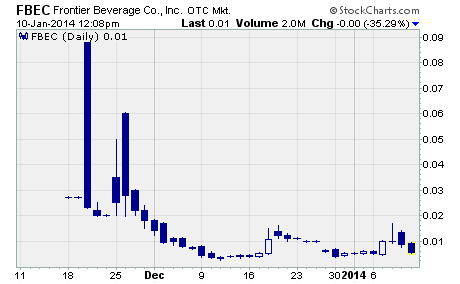 As you can see, the stock started the week at $0.005 and quickly climbed to a high of $0.015 per share on Wednesday.  That move generated a 200% gain in the blink of an eye.
However, the stock's rapid rise also provided those behind the pump with an opportunity to dump their shares.  And dump them they did.  Over the past two days, FBEC has dropped all the way back to $0.005.
Anyone buying FBEC at Wednesday's high is now sitting on a gut-wrenching two-day loss of 67%.
The thing I'm trying to wrap my head around is why anyone would buy this stock in the first place.  You see, Frontier Beverage is a company in complete disarray.
From 2010 through the first nine months of 2013, the company was engaged in the business of developing and marketing alternative beverage and snack products.  But perhaps the word business is a bit of a stretch. 
Through the first nine months of 2013, Frontier Beverage had generated no revenue and racked up a loss of over $81,000.  That may not sound like much, but the losses increased the company's accumulated deficit to a whopping $2.3 million.
In fact, the company was doing so poorly that it suspended operations!
Then, in November 2013, Frontier announced it's going in a completely new direction by entering the entertainment business.  With the acquisition of holding company, 22 Social Club Productions Inc., the company now plans to do live event and festival productions, artist signings, and film and music production and distribution.
Of course, the announcement of the company's new direction was accompanied by a six-figure stock promotion campaign.  That marked the beginning of the current campaign, which is now finishing up its sixth straight week.
Like I said earlier, I can't understand why anyone would risk their hard-earned money on such a speculative stock. 
The company failed miserably with its four-year effort in the beverage and snack food business.  It completely suspended operations because it couldn't find anyone to supply the funds it needed to keep going.  And then it folded up shop, acquired some unknown holding company, and announced a vague plan for becoming the next mogul of the music and film industries.
Forgive me for being skeptical, but I just don't see it happening.
Frontier Beverage is a company on life support right now.  And while they've made some changes and bold predictions, I'd need to see some evidence of success before I'd risk a penny of my money on this adventure.    
Other Penny Stocks Being Pumped This Week
Rising India (OTCPINK: RSII) – 34 promoters with 124 newsletters have been paid more than $50,000 so far this month to hype RSII.
Hear AtLast Holdings (OTCPINK: HRAL) – 18 promoters with 55 newsletters have been paid over $45,000 in January to plug HRAL.
As you know, penny stocks are a great place to invest your money.  You just have to do your due diligence to stay away from all the schemes and scams out there these days!
Profitably Yours,
Robert Morris
Category: Pump & Dump Alerts