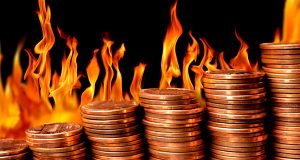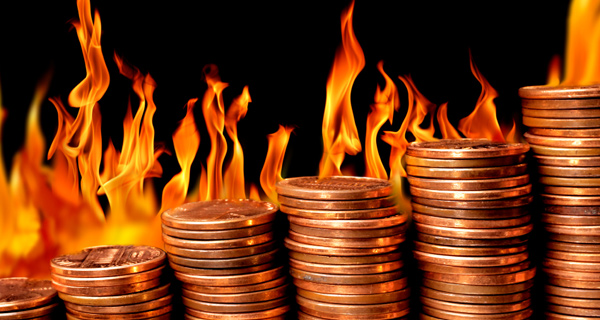 It's an exciting time for penny stocks, especially Chinese penny stocks like VisionChina Media (VISN), Altair Nanotechnologies (ALTI), and Recon Technology (RCON). Let's take a closer look at these three hot penny stocks…
VisionChina Media (NASDAQ: VISN)
VISN took off like a rocket last week!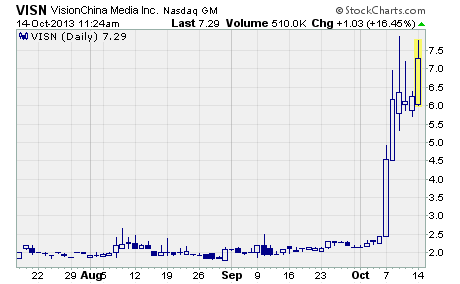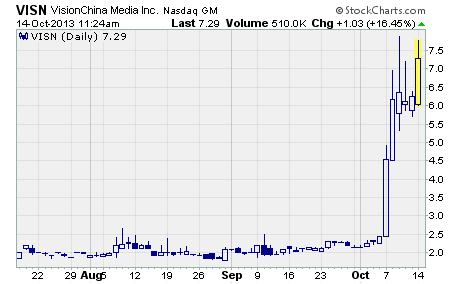 As you can see, the stock soared from $2.45 to a high of $7.87 before finishing the week at $6.26. The stunning rally produced an amazing one-week gain of 156%. And at the week's highest price, VISN was up by more than 220%!
That's an impressive rally to say the least.
VisionChina Media operates an out-of-home advertising network that includes 111,063 digital television displays on mass transit systems in 19 Chinese cities. The company delivers real-time, location-specific broadcasting, including news, stock quotes, weather, traffic reports, and other entertainment programming.
Why's the stock surging?
It looks like investors are snapping up shares ahead of the company's third quarter earnings release scheduled for November 12th. After VisionChina's strong second quarter numbers, investors are expecting more of the same this time around.
Last quarter, the company reported a gross profit of $4.5 million on $26.7 million in revenue. That compares with a gross loss of $5.1 million and revenue of just $17.1 million in the first quarter.
And while the company posted a net loss of $5.1 million, the loss was far less than the $6 to $7 million analysts were expecting.
What's more, investors are encouraged by these comments from CEO Limin Li…
"Despite uncertainty in the advertising market, our substantial financial improvements in the second quarter reflect the company's progress in returning to profitability. Moreover, we are encouraged to see demand for our advertising products, along with good execution by our sales force, and we have great confidence as we look to finish 2013 with an even better performance."
For the third quarter, management is expecting a net loss of less than $4 million on revenue of $27 to $28 million. With losses shrinking since the first quarter, it appears VisionChina is moving ever closer to profitability.
Altair Nanotechnologies (NASDAQ: ALTI)
Altair is a leading provider of high-power, energy storage systems for the electric grid, industrial equipment, and transportation markets. The company's lithium titanate technology is built on a proprietary nano-scale processing technology that creates high-power, rapid charging battery systems with industry leading performance and cycle life. Altair is headquartered in Reno, Nevada and maintains operations in Anderson, Indiana, Zhuhai, China, and Wu'an, China.
Last week, ALTI surged to a new 52-week high…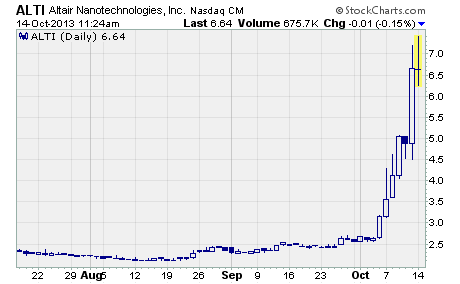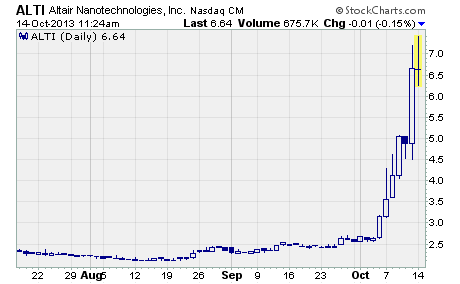 As you can see, the shares rose from $3.16 to a high of $7.20 before closing the week at $6.65. That's a phenomenal gain of 110% for the week. And the stock registered a gain of 128% when it set the new 52-week high on Friday.
The rally appears to be a delayed reaction to the company's strong second quarter numbers…
Revenue increased by a stunning 540% year-over-year to $3.2 million. Net loss shrank from $4.9 million in the year ago quarter to $3.0 million. And loss per share improved from $0.42 to $0.26.
The improvements in Altair's financials are a direct result of the company's efforts to cut costs and drive revenue opportunities.
Since January 2012, the company has reduced its operating expenses by 36%. And in April 2013, the company completed a contract with Hawaiian Electric Light Company and Hawaii Natural Energy Institute for a 1.0 megawatt ALTI-ESS system.
What's more, it looks like these trends will gather momentum now that Altair has moved its manufacturing from Reno to a new facility in Wu'an, China.
According to CEO Alexander Lee…
"Our business development efforts in China are gaining traction, and we expect to launch several new projects there over the course of the next year. We are also encouraged by the many significant opportunities we have identified and are pursuing in Europe and the Americas. Our top-line revenue performance continues to gain momentum and we expect to post strong results in the second half of the year."
It's clearly an exciting time for Altair Nanotechnologies. And investors are expecting more good news when the company reports its financials for the third quarter of 2013.
Recon Technology (NASDAQ: RCON)
Recon Technology is a non-state-owned oil field service company in China. The company has been providing software, equipment, and services designed to increase the efficiency and automation in oil and gas exploration, extraction, production, and refinery for Chinese oil and gas fields for more than 10 years.
At the end of September, the company reported exciting news.
CEO Yin Shenping said the company is expanding its business into China's fast growing shale gas and mine gas industries. What's more, he announced the company had recently acquired a 32.33% interest in a US based oil and gas company.
This one-two punch of positive news followed the company's release of solid numbers for its fiscal year 2013.
For the year, revenue increased by 1.4% to $12.4 million. Net income improved by half a million dollars to $6,415. And the company posted a profit of $0.07 per share.
As a result, RCON surged last week.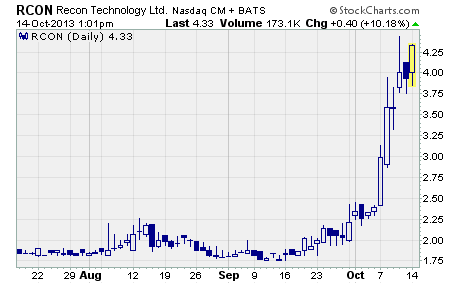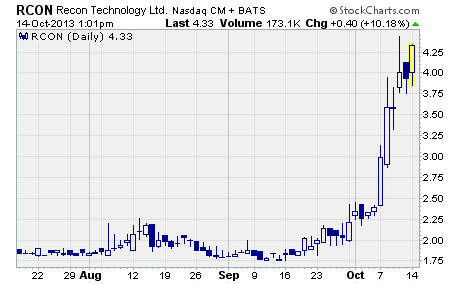 As you can see, the stock rose from $2.39 to a high of $4.43 before closing out the week at $3.93. That move was good for a one-week gain of 67%. And the stock set a new 52-week high in the process.
Investors are clearly excited about the company's new foray into China's shale gas industry.
They're expecting Chinese government subsidies to drive demand for Recon's newest product, an automated well monitoring and control system. This system is designed specifically for shale gas fields and can detect well production disruptions as they occur. As such, well operators can deal with these disruptions before they cause the complete failure of a well.
It's hard to see how any shale gas well operator would choose not to have such a system in place to protect its investment.
RCON is continuing to move higher so far this week. As I write, the stock is up just over 10% at $4.33 per share.
Profitably Yours,
Robert Morris
Category: Hot Penny Stocks