When insiders make big purchases of their company stock, it's often a sign the stock is a good buy.  After all, no one knows more about the company than its officers, directors, and major shareholders.
What's more, a flurry of insider purchases after a stock has tanked could be a signal the shares are poised for a rally.  A lot of investors follow in the footsteps of company insiders and mirror their trades.
In other words, heavy insider buying often leads to heavy buying from other investors following those insiders.
With that in mind, I've found a penny stock that has suffered a significant decline in recent weeks but is experiencing heavy insider buying.  If you're looking for a penny stock that could be gearing up for a rally, this one is definitely worth a look.
The company is none other than Cosi (NASDAQ: COSI)…
Cosi is a national, fast-casual restaurant chain with 72 company-owned and 49 franchise restaurants operating in 16 states and the District of Columbia.  Each restaurant offers a warm, urbane atmosphere geared toward sophisticated, upscale, urban and suburban guests. 
The restaurant's claim to fame, however, is a menu built around a secret, generations-old recipe for crackly crust flatbread.  This artisan bread is freshly baked in front of customers throughout the day in open-flame stone-hearth ovens prominently located in each restaurant.
Despite the company's alluring restaurant concept, its stock price has suffered of late.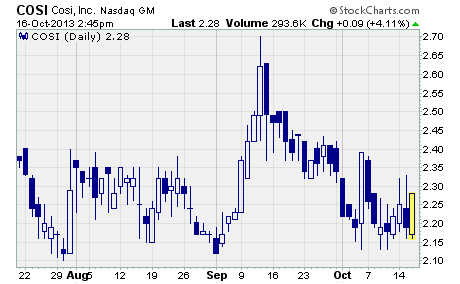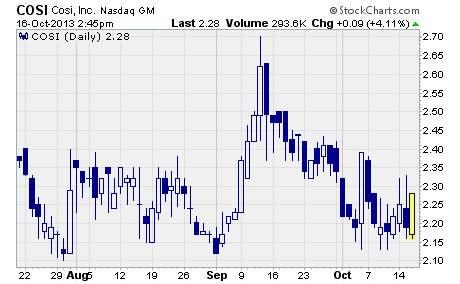 As you can see, COSI declined from a high of $2.70 on September 12th to a low of $2.13 on October 9th.  That's a 21% drop in less than a month.  Investors sold the shares off after a brief rally on news the company had replaced its CEO.
But perhaps the stock is now ready to make another upside move…
A certain company insider has been snapping up shares of COSI in recent days.  His name is Lloyd Miller III, and he's a 10% owner of the company.  So far this month, Mr. Miller has purchased a total of 369,339 shares of COSI. 
The total cost of the purchases is $807,600 or about $2.19 per share on average.
But that's not all…
Mr. Miller has been actively buying shares of COSI for months.  From June through September, he bought 502,873 shares for $1,076,900.  That works out to about $2.14 per share on average.
All in all, Mr. Miller has purchased 872,212 shares of COSI since June for a total cost of $1,884,500.  And his average purchase price is approximately $2.16 per share.
No question about it, Mr. Miller clearly believes COSI is a bargain between $1.99 and $2.23 per share.  And with the shares currently trading around $2.28, you have an opportunity to grab shares of COSI just outside Mr. Miller's recent buy range.
Take a closer look at COSI for your own portfolio.  The buying binge by one of the company's 10% owners could be a sign COSI is poised for a rally.
Profitably Yours,
Robert Morris 
Category: Penny Stocks to Buy