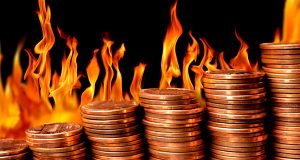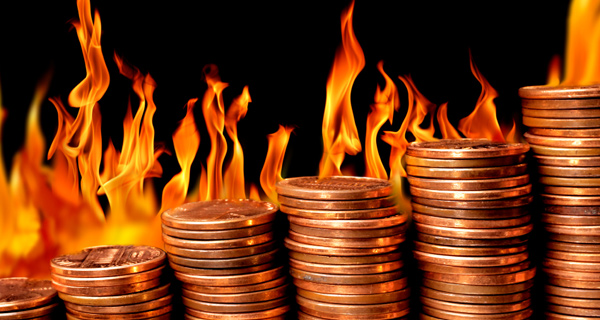 It's an exciting time for penny stocks, especially SGOCO Group (SGOC), Ceres (CERE), and CardioNet (BEAT).  Let's take a closer look at these three hot penny stocks…
SGOCO Group (NASDAQ: SGOC)
SGOC soared 142% last week!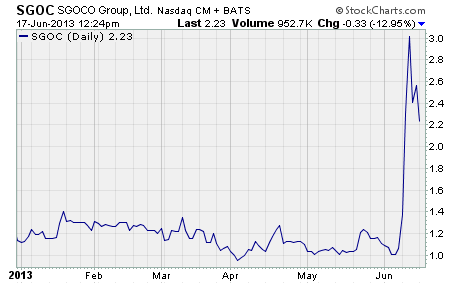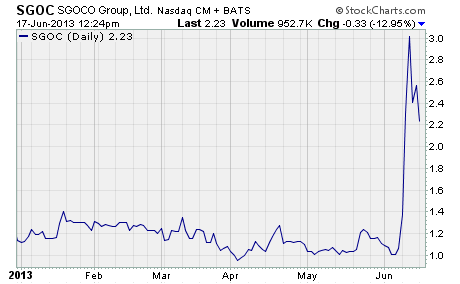 SGOCO Group is a Chinese company that offers LCD/LED monitors, TV's, tablet computers, e-reader notebooks, and other such products for the flat-panel display market in China.  The company is also developing LCD/LED systems for educational institutions, government departments, and corporate offices.
Why's the stock surging?
SGOCO recently reported blowout first quarter earnings. 
Revenue increased 58% year-over-year to $54.5 million.  Net income rose by a whopping 87.5% to $1.7 million.  And earnings doubled in value to $0.10 per share.
A terrific quarter any way you slice it!
Management cited two reasons for the company's strong performance in the first three months of this year.  SGOCO signed up a few large, local distributor clients during the quarter.  Plus, the company boosted sales of other application products and larger-sized monitors with higher sales prices.
Will the rally continue?
After posting big declines in revenue and earnings last year, it looks like SGOC is on track for much better performance this year.  Check out these bullish comments by CEO Burnette Or taken from the April press release announcing SGOC's fourth quarter and full year 2012 results…
"In response to the increased competition in China's rapid-changing display market, SGOCO chose to transition from the manufacturing-based business model to the R&D and distribution-focused model, to develop and distribute its own branded products…. We believe that focused distribution of these higher-margin products will create a foundation for establishing SGOCO as a leading supplier in China's flat-panel display market for years to come."
It's too soon to tell if the company's change in business model will ignite a new cycle of growth.  But given the company's strong performance in the past two quarters, it's worth adding SGOC to your watch list.
Ceres (NASDAQ: CERE)
Ceres is an agricultural biotechnology company based in Thousand Oaks, California.  They develop and sell energy crops to produce renewable biomass feed stocks in North America. 
The company's crops include sweet sorghum, biomass sorghum, switch grass, and miscanthus x giganteus.  Ceres sells it seed products to ethanol mills, utilities, independent power producers, cellulosic biofuel companies, individual growers, and grower cooperatives.
Over the past week, CERE has jumped by an amazing 92%!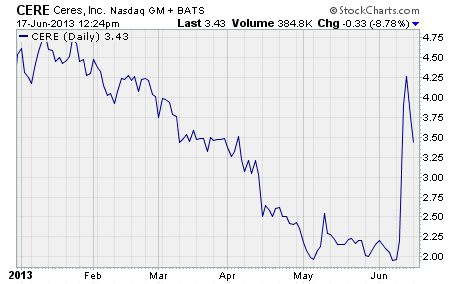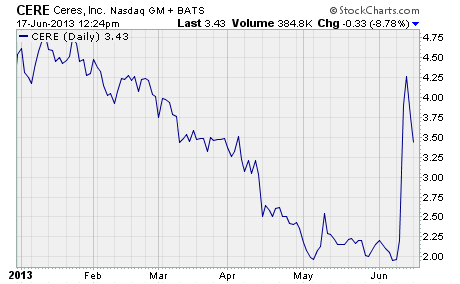 Here's why…
Last week, a Raymond James analyst issued an exciting outlook for the stock. 
The analyst said he expects CERE to move higher after it reports important crop data in the next few weeks.  He's counting on the company reporting a bumper crop of sweet sorghum after last year's crop was decimated by a drought in Brazil.
The analyst has an "Outperform" rating on CERE and a price target of $7 per share.  If he's correct, the stock could double from its recent price of $3.43.
CardioNet (NASDAQ: BEAT)
CardioNet is the leading wireless medical technology company focused on diagnosing and monitoring cardiac arrhythmias.  They provide cardiac monitoring, cardiac monitoring device manufacturing, and cardiac core laboratory services. 
The company's primary product is the CardioNet Mobile Cardiac Outpatient Telemetry (MCOT) system.  It's the first to provide real-time ECG monitoring and 24/7/365 analysis and response for patients at home, at work, or traveling. 
Here's the thing… shares of BEAT have jumped 78% in a week!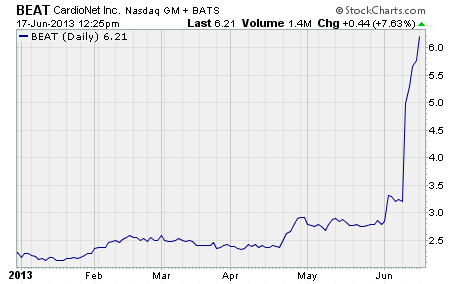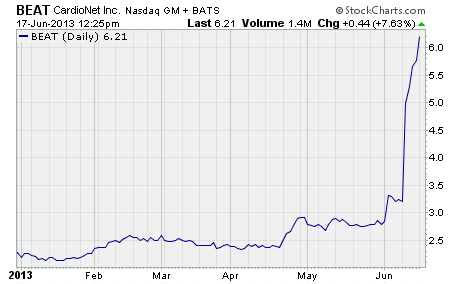 What's going on?
The company announced very exciting news last Tuesday.  Starting July 1st, UnitedHealth Group will begin covering all of CardioNet's monitoring modalities, including MCOT.
This is a huge win for the company.
The deal expands coverage for CardioNet's entire suite of cardiac monitoring solutions to UnitedHealth's more than 70 million members.  As such, the available market for CardioNet's life-saving technologies has just increased dramatically.
No question about it, investors are very excited about CardioNet's future.
After the stock closed the prior week at $3.24, investors sent BEAT soaring to a high of $5.95 last week.  And while the stock gave up some of those gains to finish the week at $5.77, it's up more than 7.6% in morning trade to $6.21.
Profitably Yours,
Robert Morris
Category: Hot Penny Stocks