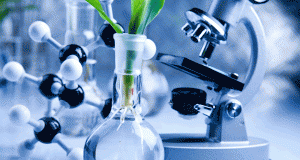 Biotechnology is one industry that is saturated with penny-sized companies.  It's the nature of the industry.  A new technology or a breakthrough in medical research can yield a new drug worth billions of dollars.
It's a siren's song that attracts many top medical researchers, scientists, and of course private equity investors to the field.
And while the road to FDA approval is not an easy one, the potential rewards for bringing a new drug to market are the stuff dreams are made of.
However, many individual investors avoid biotech stocks like the plague.  After all, it's very difficult to understand the science and technology employed by these companies.  You almost need a medical degree to understand how a drug works or what makes it better than an existing treatment.
And that's unfortunate.
By ignoring biotech stocks, these investors are missing out on opportunities to reap amazing profits that aren't available in any other industry.
Take MannKind (NASDAQ: MNKD) for example… 
A few years ago, this former biotech darling traded north of $20 per share.  But a setback with its novel insulin treatment for diabetes, Afrezza, prompted investors to flee the stock.  And as a result, MNKD plunged to lows it had never experienced before.
In fact, as recently as October 2012, you could have grabbed all the shares of MNKD you wanted for as little as $1.82 per share.
Things definitely looked bleak for this once proud biotech.  And many so-called experts were saying the clock was ticking on when it would be forced to file for bankruptcy.
But where others saw a company in ruins, I saw an opportunity for quick profits.  As such, I recommended the stock to subscribers of my Biotech Supertrader investment advisory in January.
What did I see that so many others didn't?
First off, I saw that MannKind had a potential blockbuster product on its hands.  A whopping 26 million people in the US had diabetes in 2011.  And sales of diabetes drugs in the US totaled nearly $20 billion that year.
I also discovered that MannKind had nearly completed the two additional phase 3 trials of Afrezza required by the FDA.  And with a little digging, I found that the trial data were scheduled for release in July.
What's more, I realized that MannKind had plenty of cash to complete the trials.  The company had recently raked in $88 million from a public stock offering.  More than enough to cover their cash burn rate which was running at just $28 million per quarter.
When I recommended MNKD in January, the stock had moved off the lows but it was still extremely cheap at just $2.62 per share.  And as it turns out, we were getting into the stock just in time…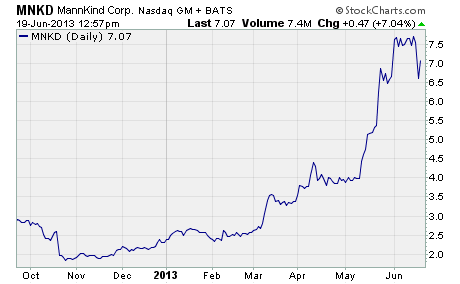 As you can see, MNKD began a climb that has lasted for several months.  Earlier this month, the stock hit a high of $8.05 per share.  That's a phenomenal 207% gain… in just five months' time.
Now, I must admit we didn't quite capture all of those gains. I recommended selling MNKD in early May when it looked like the market was headed for a correction. 
However, many of my subscribers booked gains of 97% on this trade!   And it only took four months for them to nearly double their money!
The point is… there are monster profits to be made in penny biotech stocks… if you know what you're doing. 
Perhaps you've thought about investing in biotech stocks but were unsure how to go about it.  If that's the case, I suggest you check out my Biotech Supertrader investment advisory.
This service employs a simple biotech stock trading strategy that has generated big profits for my subscribers.  My team and I do all the research, we tell you which biotech stocks to buy, and we tell you when to sell your shares.  And as a subscriber, you will gain instant access to all of our past recommendations, position updates, and free reports.
Last but not least, if you sign up today, you can jump on our most recent biotech recommendation.  The stock hasn't taken off yet, but we think it's poised for a major rally over the next few weeks.  And the potential gains from this one pick could easily cover the cost of your subscription for the next year or more.
Profitably Yours,
Robert Morris
Category: Biotech Stocks, Penny Stocks