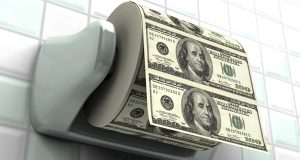 Welcome to Pump and Dump Friday, our weekly feature where we identify potentially "bogus" promotions going on in penny stocks.
Today we're exposing one of the most extensive penny stock pump and dump campaigns of the week:  Ehouse Global (OTCBB: EHOS).
If you don't know how these schemes work, be sure to check out our free report that exposes the whole thing.
Without further ado, here is today's disaster waiting to happen:
Ehouse Global (OTCBB: EHOS)
EHOS is one of the most heavily hyped penny stocks of the past week.  According to our sources, 19 promoters with 89 newsletters have been paid more than $165,000 to pump the stock so far this month.
However, the pump campaign hasn't worked out too well for true investors.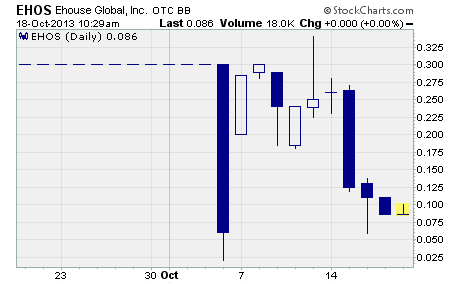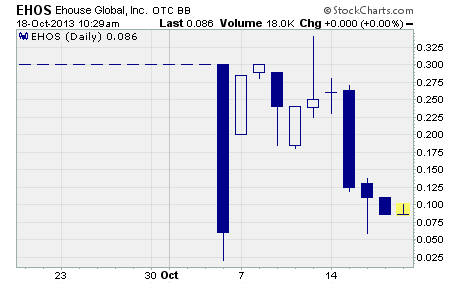 As you can see, EHOS opened for trading on October 7th (the first day of the promotional campaign) at a whopping 20 cents per share.  The stock had closed the prior week at a measly 6 cents. 
Obviously, the pumper emails played a huge role in boosting the share price.   
EHOS finished the day at 28.5 cents for a solid one-day gain.  And over the next few days, it surged to a high of 34 cents before dropping hard to finish the week at 25 cents.
But this week the dumping portion of the campaign unfolded. 
The stock plunged on Tuesday to 12.5 cents and hit a low of 6 cents on Wednesday.  And as I write, the shares are changing hands at just 9 cents per share.
In other words, the stock has lost 65% of its value this week.  And at the low of 6 cents, EHOS was down by a stunning 76%!
No question about it, this is a huge mess for investors who bought the stock last week and are still holding it.  They're sitting on a gigantic loss right now without much hope of ever recovering their money.
Now some of you might be thinking this is the perfect time to grab shares of EHOS at a big discount.  You might also be thinking this stock is poised to make another quick upside move.
If so, I urge you to reconsider.
Ehouse is a risky investment for various reasons.  The most significant one being it's merely in the development stage of its brand new liquid nutritional supplement business.  In other words, the company hasn't generated any revenue, and there's no financial history on which to evaluate management's ability to run a profitable enterprise.
Now I know the promotional emails and press releases paint an exciting picture.  They focus on how the company's going to participate in the $26 billion dietary supplement industry. 
But just because the industry has huge annual sales doesn't mean Ehouse is going to prosper.
Keep in mind, there are hundreds of companies already competing in the nutritional supplement industry.  And heavyweights from related industries like Proctor & Gamble, Pfizer, and Church & Dwight are looking to enter the market.
What's more, some in Congress are making a big push to move the industry under the regulatory purview of the FDA.  If that happens, nutritional supplement products will have to be approved by the agency before they can be sold on the market.
That means nutritional supplement companies will incur huge upfront expenses on clinical testing (like drug makers) to prove their products are safe and effective.  And it will take a much longer time to bring a product to market.
It's possible that Ehouse may have what it takes to become a viable player in the nutritional supplement industry.  But at this point, the company's merely in the development stage of its business. 
As always, I suggest you stick to penny stocks of more established companies that aren't the subject of penny stock pumping campaigns. 
Other Penny Stocks Being Pumped This Week
Urban Ag Corp (OTCQB: AQUM) – 11 promoters with 42 newsletters have been paid over $65,000 so far this month to hype AQUM.
Inscor, Inc. (OTCPINK: IOGA) – 10 promoters with 42 newsletters have been paid more than $45,000 in October to plug IOGA.
As you know, penny stocks are a great place to invest your money.  You just have to do your due diligence to stay away from all the schemes and scams out there these days!
Profitably Yours,
Robert Morris
Category: Pump & Dump Alerts