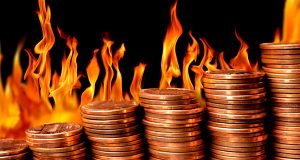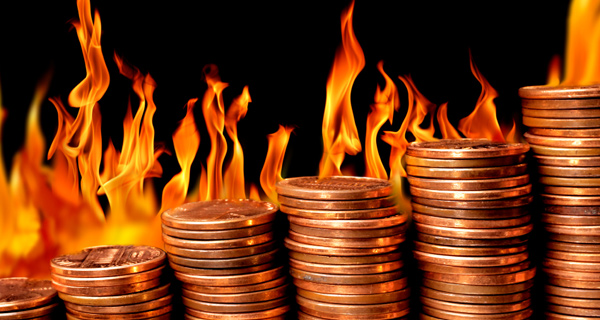 It's an exciting time for penny stocks, especially Netlist (NLST), Ambient (AMBT), and Kandi Technologies (KNDI).  Let's take a closer look at these three hot penny stocks…
Netlist (NASDAQ: NLST)
NLST soared 77% last week!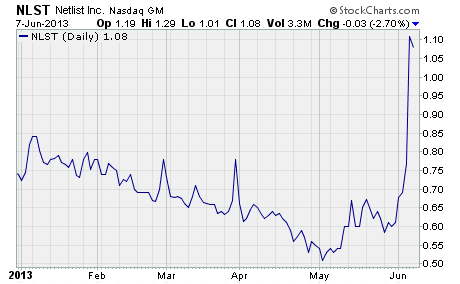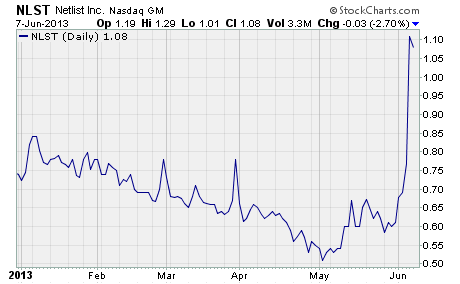 Netlist is a leading provider of high-performance modular memory subsystems for the datacenter server, high-performance computing, and communications markets worldwide.  These memory subsystems consist of dynamic random access memory integrated circuits, NAND flash memory components, application-specific integrated circuits, and other components assembled on circuit boards.
Why's the stock surging?
Netlist received a favorable ruling in its patent litigation with competitor Smart Modular.  Last Monday a federal court denied Smart Modular's motion for a preliminary injunction against Netlist's flagship product, HyperCloud. 
The Court denied the motion because it found Smart Modular was unlikely to succeed on the merits of the case.  Smart Modular's case hinges on a patent that the Court believes may not be valid.
What's more, the Court granted Netlist's motion to stay the litigation pending the results of a reexamination of the patent by the US Patent and Trademark Office.
This is great news for Netlist. 
HyperCloud is the company's new DDR3 memory chip.  The chip has already been qualified by IBM and Hewlett Packard for use in those companies' server products.  As such, it's worth tens of millions of dollars in annual sales to Netlist.
Ambient (NASDAQ: AMBT)
Ambient makes a smart grid communications platform for utility companies.  This platform enables utilities to deploy and integrate multiple smart grid applications on a single communications infrastructure.  It supports smart metering, distribution automation, distribution management, demand response, distributed generation, and other applications. 
Over the past week, AMBT has jumped 54%!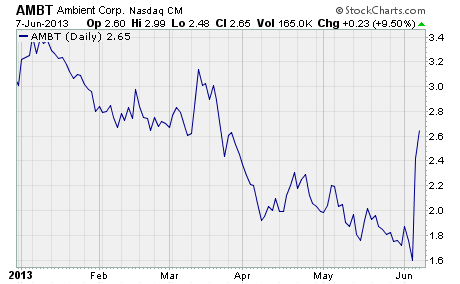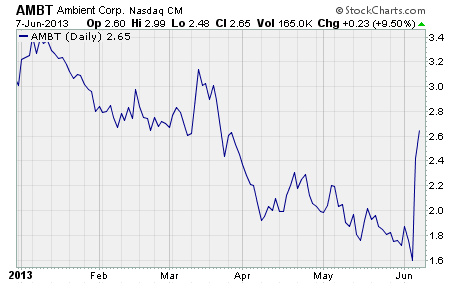 Here's why…
Last Thursday the company announced a reduction in executive compensation as one of a number of cost saving measures.  Under the new compensation plan, Ambient's executive officers will receive a 15% reduction in annual base salary.
There's no question the company needs to cut costs.  Revenue dropped 31% to $42.8 million in 2012.  And the company posted a net loss of $5.4 million or $0.33 per share for the year. 
Investors clearly believe the cut in executive pay is a step in the right direction.
When the news came out, AMBT surged 105% intra-day to a high of $3.29.  While it gave back some of those gains to close the week at $2.65, the stock certainly made a major move higher for the week.
Kandi Technologies (NASDAQ: KNDI)
Kandi Technologies is a Chinese manufacturer of electric vehicles, all-terrain vehicles, go-karts, and specialized automobiles.  The company also makes utility vehicles, three-wheeled motorcycles, refitted cars, super-mini-cars, and various auto generators.  They sell their products primarily in North America, Europe, and China.
Here's the thing… shares of KNDI have jumped 52% in a week!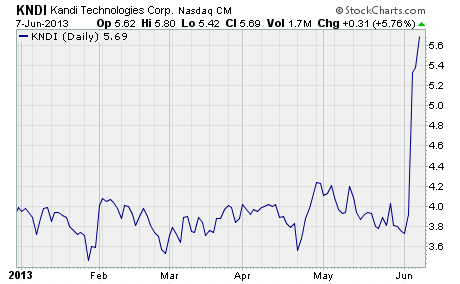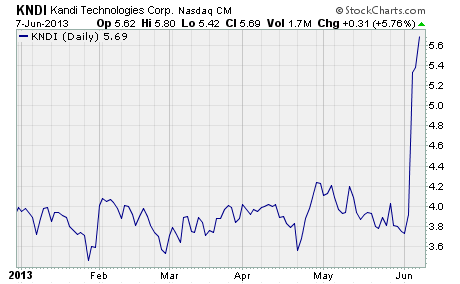 What's going on?
The company announced very exciting news last Wednesday.  The first purely electric sedan jointly developed by Kandi and Geely Automobile was approved by China's Ministry of Industry and Information Technology.
This government approval is key to the vehicle's future market success.  It means the purchasers of these electric sedans will now be qualified to receive all national and local electric vehicle subsidies and incentives.
As you can see, investors are very excited about Kandi's future prospects.
After closing the prior week at $3.75, KNDI soared to a high of $6.95 on the day the news came out.  And while the stock gave up some of those gains to close out the week at $5.69, it's already moving higher in morning trade.  KNDI's up more than 9% today at $6.24 as I write.
Profitably Yours,
Robert Morris
Category: Hot Penny Stocks