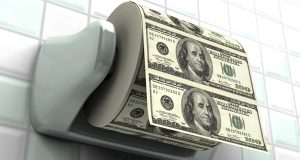 Welcome to Pump and Dump Friday, our weekly feature where we identify potentially "bogus" promotions going on in penny stocks.
Today we're exposing one of the most extensive penny stock pump and dump campaigns of the week:  RJD Green, Inc. (OTCQB: RJDG).
If you don't know how these schemes work, be sure to check out our free report that exposes the whole thing.
Without further ado, here is today's disaster waiting to happen:
RJD Green, Inc. (OTCQB: RJDG)
RJDG is one of the most heavily hyped penny stocks of the past week.  According to our sources, at least 28 different promoters have pumped the shares through 137 newsletters.  And a whopping $775,000 has been paid in June so far to hype the stock.
The pump's being led by the some of the usual suspects…
Stock Mister expects to receive $500,000 for its services.  The Bull Exchange has agreed to pump RJDG for $200,000.  And there are several others involved who expect to receive anywhere from $25,000 to $50,000.
So far, the pump's working like a charm.
The stock chart shows RJDG was worth $0.10 per share just before the pumping campaign began.  Then on June 5th the pump was launched and the stock soared.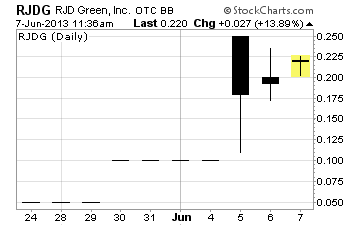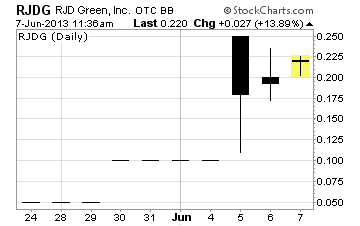 RJDG opened the day at $0.25 to give company insiders a quick 150% gain on their shares.  And the profit-taking began almost immediately.  The stock never climbed above its opening price and closed the day at $0.18. 
On the chart, it looks like RJDG registered a phenomenal one day gain of 80%. 
And it certainly did provide a gain of at least that much for company insiders.  However, many individual investors who bought the stock on the advice of promoters' emails ended the day with losses as high as 28%!
So, what's the skinny on RJD Green?
The big story sucking investors into the shares is a press release touting the company's recent acquisition of privately held Silex Holdings.  The press release states Silex was formed in 2012 to acquire and grow companies in the energy, green-technology based environmental, and specialty niche building material industries.
But the big carrot luring investors into RJDG is an ambiguous statement about the company's post-merger financials. 
The press release states…
"The twelve month pro forma, post merger, is projected to be greater than $17,000,000 with current acquisitions being fully launched."
That certainly sounds like a good thing on its face.  However, the press release doesn't make clear what that $17 million is supposed to represent. 
Is it annual revenue?  Cash flow?  Net income?  Of course, the press release conveniently leaves out this critical piece of information.
If the figure is supposed to be projected annual revenue, it sounds too good to be true. 
According to the most recent quarterly report (filed on May 22, 2013), RJD Green had total assets of $1,423 and total liabilities of $25,980.  What's more, since its inception in 2009, the company has generated total revenue of $500 while racking up a cumulative net loss of $45,557.
Not the picture of success by any stretch of the imagination.
Yet, RJD Green would have investors believe it has just acquired a company poised to generate $17 million per year in revenue going forward.  And all it paid for the company was 375,390,000 shares of RJDG.
If that doesn't set your skepticism meter off… maybe this will.
On May 28, 2013, RJD Green filed an S-1 with the SEC.  This securities registration statement indicates a number of current RJDG shareholders plan to sell 37,980,000 shares of RJDG "as soon as practicable". 
The interesting thing here is…
The biggest intended individual selling shareholder is RJD Green's former sole officer, director, and employee, Mr. Robert Kepe.  The S-1 indicates Mr. Kepe plans to sell all of his personally owned RJDG stock… more than 20 million shares. 
What's more, another shareholder… Alliance Real Estate Development, a company owned entirely by Mr. Kepe… also plans to sell more than 33 million shares.
Mr. Kepe sold RJD Green to Mr. Zahoor Ahmad in March for approximately $273,000.
With RJDG now trading over $0.20 per share (after not trading at all prior to June 5th), Mr. Kepe is enjoying a multi-million dollar payday.  That's a pretty amazing windfall for selling a company that had generated just $500 in revenue!
But here's the key for individual investors…
RJDG is making bold, unsubstantiated claims about its potential future success following its merger with Silex Holdings.  Promoters are hyping RJDG through more than a hundred newsletters.  And you have company insiders poised to dump nearly 38 million shares of RJDG on the market.
This certainly does not look like an attractive investment opportunity to me.
Other Penny Stocks Being Pumped This Week
VizStar, Inc. (OTCPINK: VIZS) – 35 promoters with 152 newsletters have been paid over $65,000 so far this month to hype VIZS.
Ghana Gold Corp. (OTCPINK: GGCO) – 32 promoters with 122 newsletters have been paid over $60,000 in June to plug GGCO.
As you know, penny stocks are a great place to invest your money.  You just have to do your due diligence to stay away from all the schemes and scams out there these days!
Profitably Yours,
Robert Morris
Category: Pump & Dump Alerts