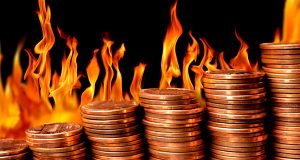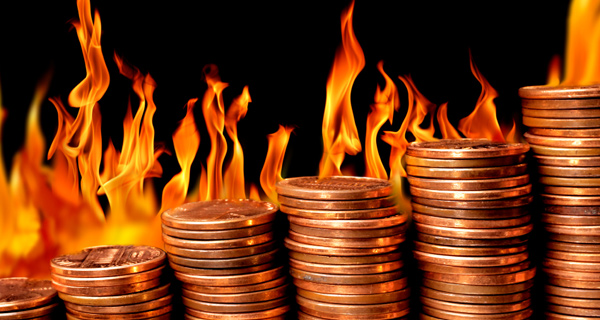 It's an exciting time for penny stocks, especially hot penny stocks like MagneGas (MNGA), Rexahn Pharmaceuticals (RNN), and Ideal Power (IPWR)…
MagneGas (NASDAQ: MNGA)
MNGA's on fire!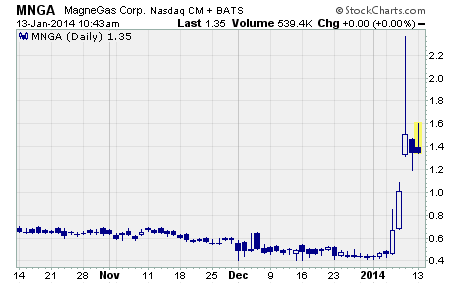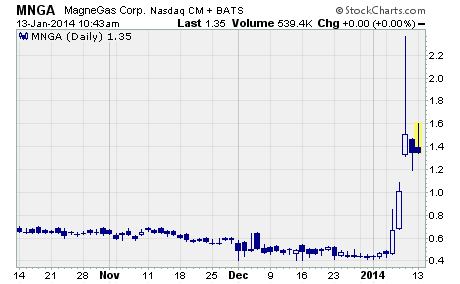 Shares of Magnegas soared from $0.47 to a high of $2.36 before finishing the week at $1.35.  That move was good for a whopping 402% gain to the high and a 187% rise for the week.
What's going on?
The company announced last week that the Italian National Alternative Energy Laboratory will conduct tests on Magnegas fuels.  The CEO of the company's Italian distributor said the tests "will accelerate the validation and acceptance of MagneGas™ fuel at a national and European level."
MagneGas was founded in 2005 and is headquartered in Tampa, Florida.  The company produces MagneGas, which is a natural gas alternative and metal working fuel that can be made from certain industrial, municipal, agricultural, and military liquid wastes.
Rexahn Pharmaceuticals (NYSE: RNN)
Rexahn is a tiny biotech focusing on the discovery, development, and commercialization of treatments for cancer, central nervous system disorders, sexual dysfunction, and other medical needs.  Its leading drug candidates include Archexin for pancreatic cancer and RX-3117 for colon, lung, and pancreatic cancer.
Last week an analyst with Roth Capital Markets initiated coverage on RNN with a "Buy" rating and a $3 price target.  The analyst noted that Rexahn is entering an important year in which it could report key data on several drug candidates.
And the stock's soaring as a result…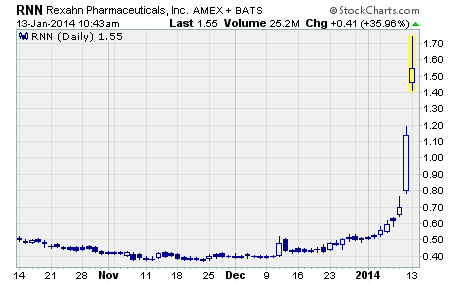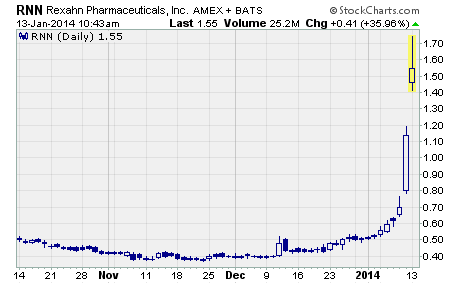 After finishing the prior week at $0.53 per share, RNN took off and surged to a high of $1.19 before closing out the past week at $1.14.  That sensational move produced a one-week gain of 115%.
And it's not done yet.
This morning RNN gapped up to $1.46 at the open and then proceeded to hit an intra-day high of $1.74.  As I write, RNN is changing hands at $1.62 per share for a stunning intra-day gain of 42%.
Ideal Power (NASDAQ: IPWR)
IPWR is rocketing higher!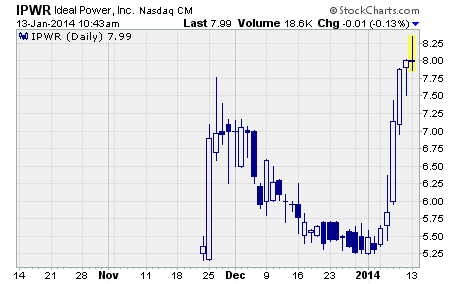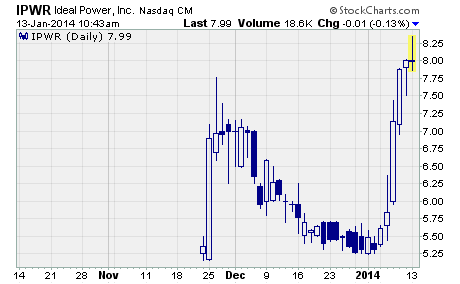 The stock climbed in almost a straight line last week from $5.31 to $8.00 per share.  That's a 51% gain in just one-week's time.  Not too shabby.
Ideal Power has developed a novel, patented power conversion technology called Power Packet Switching Architecture™ (PPSA).  PPSA improves the size, cost, efficiency, flexibility, and reliability of electronic power converters.  And it can scale across several large and growing markets, including solar photovoltaic generation, electrified vehicle charging, and commercial grid storage.
Why's IPWR rising so fast?
The company announced last week it has appointed R. Daniel Brdar as Chairman and CEO.  Mr. Brdar has over 25 years experience in the power systems and energy industries.  Prior to joining the company, Mr. Brdar served as CEO of FuelCell Energy, COO of Petra Solar, and Gas Turbine Product Manager at GE Power Systems.
The stock's big upward move last week suggests investors really like the hiring of Mr. Brdar.  It's a big vote of confidence in his ability to lead Ideal Power into the next phase of its development.      
Profitably Yours,
Robert Morris
Category: Hot Penny Stocks