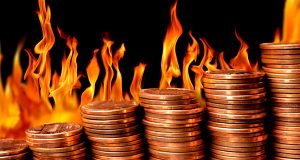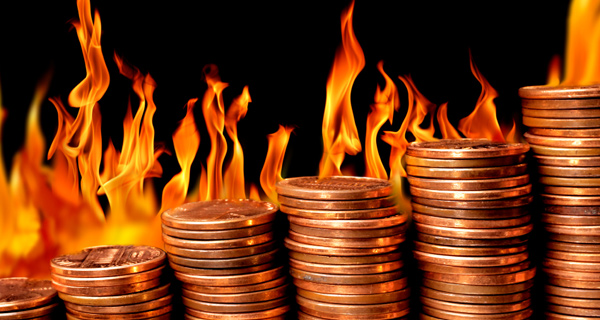 It's an exciting time for penny stocks, especially hot penny stocks like Magnegas (MNGA), IsoRay (ISR), and Vertex Energy (VTNR)…
Magnegas (NASDAQ: MNGA)
MNGA's on fire!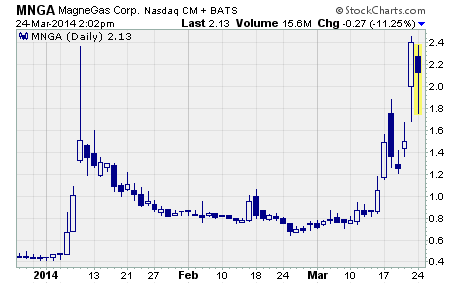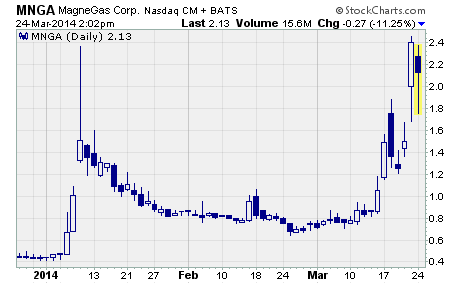 The alternative energy company's shares jumped 60% on Friday after the company reported exciting news.  And the huge one-day pop provided shareholders with a stunning one-week gain of 129%.
What does the company do?
Magnegas is the producer of MagneGas™, a natural gas alternative and metal working fuel.  Upon receipt of appropriate governmental permits, MagneGas™ can be made from certain industrial, municipal, agricultural, and military liquid wastes.
The company's patented Plasma Arc Flow™ process gasifies liquid waste, creating a clean-burning hydrogen-based fuel that is essentially interchangeable with natural gas.  MagneGas™ can be used for metal working, cooking, heating, powering bi-fuel cars and more.
Why is the stock taking off?
The stock took off last week after the company signaled demand is rising for MagneGas™.  According to management, MagneGas™ has been selected as the fuel source for torch cutting in four demolition projects… a bridge in Washington DC, automobile factories in Ohio and Michigan, and a power plant in New York.
These high profile projects are expected to help draw attention to MagneGas™ in the company's target markets.  In fact, the company's Executive Vice President of Sales, Terry Vernille, said last week…
"As word continues spreading in the demolition industry about our superior cutting fuel we expect an increased demand around the country."
MNGA has gained 189% over the past month.  And the stock has increased more than five-fold in value since the end of 2013.       
IsoRay (NYSE: ISR)
IsoRay provides isotope-based medical products and devices for the treatment of cancer and other malignant diseases.  The company's Proxclean Cesium-131 brachytherapy seeds are used for the treatment of many different kinds of cancer.
Last week, the company announced it achieved an exciting milestone in the ongoing advancement of Cesium-131.  A doctor in North Carolina completed the world's first pediatric implant using IsoRay's Cesium-131 brachytherapy mesh.
Cesium-131 is one of the most significant advances in internal radiation over the past 20 years.  It allows for the precise treatment of multiple types of cancer because of its unrivaled blend of high energy and its 9.7 day half-life (its unequaled speed in giving off therapeutic radiation).
Both the FDA and European Union have approved Cesium-131 in seed form for the treatment of certain cancers.
News of IsoRay's latest achievement with Cesium-131 was met with great enthusiasm by investors.  Take a look at the following chart…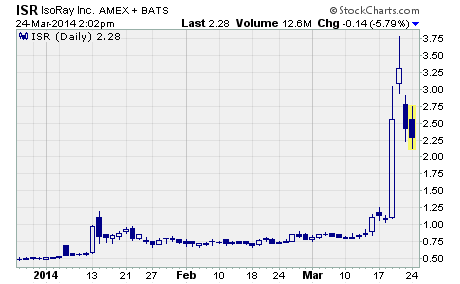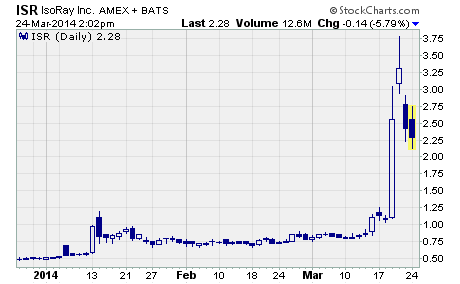 As you can see, the stock soared last week with gains of 134% on Wednesday and 29% on Thursday.  And while the shares pulled back a bit on Friday, ISR finished the week with an impressive rise of 118%.
Not too shabby.
But rather than rush into ISR right now, you might be better off keeping an eye on it for a more attractive entry point. 
The stock has been dropping ever since the company announced a public offering on Friday.  Management said it expects to raise over $14 million through the sale of more than 5.6 million shares of ISR at $2.60 apiece. 
Vertex Energy (NASDAQ: VTNR)
VTNR is climbing fast!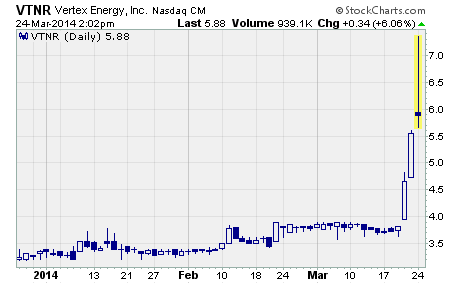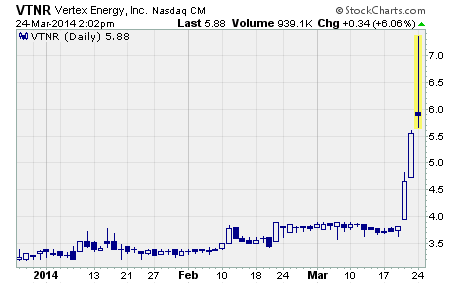 The stock rallied from the prior week's close of $3.70 to a high of $5.60 on Friday before closing just off the high at $5.54.  The sudden spurt was good for a one-week gain of nearly 50%.
Vertex Energy is a leading environmental services company that recycles industrial waste streams and off-specification chemical products.  Its primary focus is recycling used motor oil and other petroleum by-products.  Vertex sells its aggregated petroleum streams as feedstock to other re-refineries and fuel blenders or as a replacement fuel for use in industrial burners.
Why is the stock rocketing higher?
Last week, the company announced it will acquire certain assets from Omega Holdings Company, LLC for just over $42 million in cash, stock, and assumed debt.  These assets are related to the re-refining and processing of used motor oil and the distribution of fuel oils and base lubricating oils.
Despite the high price tag, Vertex management believes the deal will be a huge win for the company. 
They expect the acquisition to be accretive immediately.  And once the acquisition is complete, the company's re-refining capacity will increase to approximately 110 million gallons of used motor oil.
It's not clear just yet what precise impact the acquisition will have on the company's revenue and earnings.  However, analysts have been raising their earnings estimates for both 2013 and 2014 in recent weeks.
Profitably Yours,
Robert Morris
Category: Hot Penny Stocks