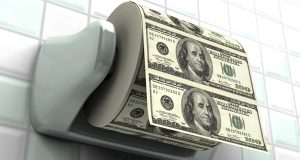 Welcome to Pump and Dump Friday, our weekly feature where we identify potentially "bogus" promotions going on in penny stocks.
Today we're exposing one of the most extensive penny stock pump and dump campaigns of the week… In Media (OTCQB: IMDC).
If you don't know how these schemes work, be sure to check out our free report that exposes the whole thing.
Without further ado, here is today's disaster waiting to happen:
In Media (OTCQB: IMDC)
IMDC is one of the most heavily hyped penny stocks of the past week.  According to our sources, more than 15 promoters have pumped the stock through 50 newsletters, with many of them receiving over $55,000 for their services.
And it appears the campaign is having some success.
As you can see, IMDC quadrupled from the prior week's closing price of two cents to a high of eight cents yesterday.  And while the stock has dropped back to seven cents as I write, it's still sitting on a hefty 250% gain for the week.
The promotion has clearly struck a chord with a number of penny stock investors.  And it's not hard to understand why.  Some of the promotional emails claim In Media's new tablet and smartphone are ready to take on Apple and Samsung.
Of course, I'll believe that when I see it.
In Media is a development stage company that plans to engage in the internet protocol television (IPTV) business.  More specifically, the company hopes to one day implement IPTV systems for cable and satellite TV channels, government organizations, and content owners.
It all sounds very exciting until you review In Media's financials.
Take a look at the company's most recent quarterly report (September 2013).  It shows just $7,057 in cash compared to current liabilities of $866,599.  Plus, there's a long term debt of $368,501 that is owed to a related party.
And the income statement isn't any prettier.
It shows the company has failed to generate any revenue since its inception in 2007.  What's more, it reveals that the business has racked up net losses of over $3.7 million during that same time.
After seeing In Media's shaky financials, I figured the stock price must be factoring in sales of the new products that have occurred since the quarterly report was filed.  But a quick perusal of the company's website showed no means of purchasing any product or service.
Bottom line…
Based on what I've discovered about In Media, I can't see how the company deserves its current stock price let alone its market cap of $4.1 million.  As such, I wouldn't be surprised to see the stock plunge in the very near future.
Profitably Yours,
Robert Morris
Other Penny Stocks Being Pumped This Week
RealBiz Media Group (OTCQB: RBIZ) – 21 promoters with 70 newsletters have been paid over $55,000 this month to hype RBIZ.
Thinspace Technology (OTCQB: THNS) – 9 promoters with 53 newsletters have been paid nearly $90,000 in March to plug THNS.
Category: Pump & Dump Alerts