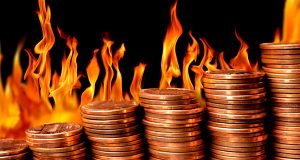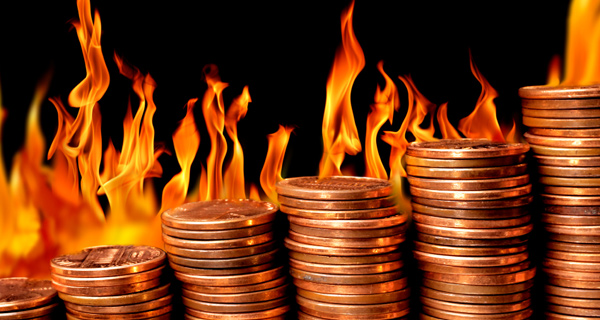 It's an exciting time for penny stocks, especially penny stocks like IntelliPharmaCeutics International (IPCI), Aetrium (ATRM), and Pretium Resources (PVG)…
IntelliPharmaCeutics International (NASDAQ: IPCI)
Huge gains last week for this Canadian generic drug maker!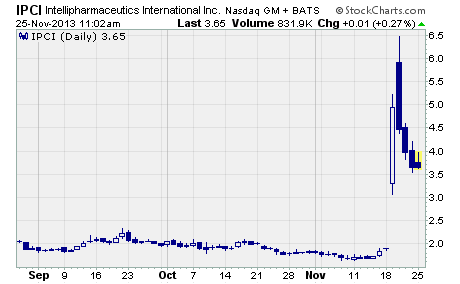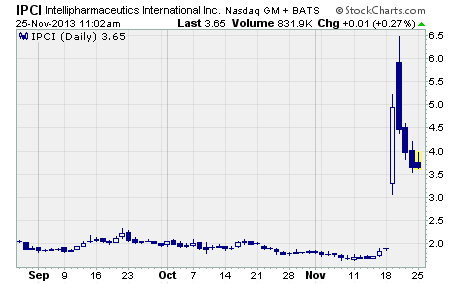 Shares of IPCI soared last week after the FDA approved the company's generic version of Focalin XR for attention deficit hyperactivity disorder (ADHD).  The stock shot up from the prior week's closing price of $1.84 to a high of $6.46 before finishing the week at $3.64.
That's a gain of 251% to the high and 98% for the week!
IntelliPharmaCeutics specializes in developing novel and generic controlled-release and targeted-release oral solid dosage drugs.  Using its Hypermatrix technology, the company has developed several drug delivery systems and product candidates in the areas of neurology, cardiovascular, gastrointestinal tract, diabetes, and pain.
The FDA approved both the 15mg and 30mg strengths of the generic and tentatively approved the 5, 10, 20, and 40mg strengths as well.  As the first filer for the drug in the 15mg strength, IntelliPharmaCeutics was granted 180 days of sales exclusivity for that dosage. 
This is a major victory for the tiny drug maker whose market cap stands at just over $75 million.  Revenues are poised to grow rapidly as the generic eats into Focalin sales, which topped $680 million over the past 12 months.
As a result, it looks like the stock has more room to run. 
At least one analyst has raised their price target from $7.00 to $9.00.  And the median analyst target has increased from $7.00 to $7.50.  Based on these projections, IPCI has upside potential of between 105% and 147% from its current price of $3.65.  
Aetrium (NASDAQ: ATRM)
ATRM finished the week with a bang.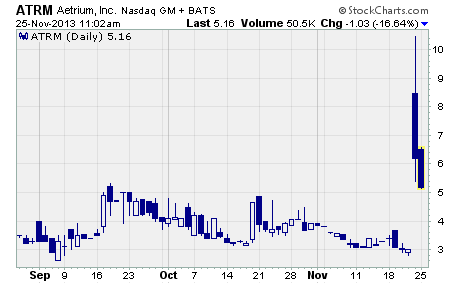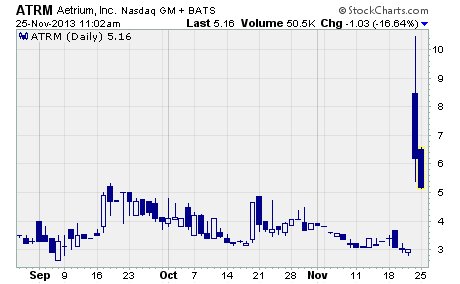 As you can see, the stock soared on Friday to a high of $10.45 before profit taking eased it down to $6.19 at the close.  The massive price spike produced a whopping intra-day gain of 247% and a one-week rise of 88%.
Why did the shares take off?
On Thursday evening, the company reported a slew of orders for its newest product, the VMAX IC test handler.  According to management, orders over the past few weeks from both new and long-term customers amounted to nearly $2.1 million.
Shipments are expected to go out by the end of the first quarter of 2014.
These initial orders represent a better than 10% increase over the company's $1.9 million in revenue over the first nine months of 2013.  As such, it looks like the new product will be a significant revenue driver for Aetrium going forward.
Aetrium is a supplier of handling equipment used by the worldwide semiconductor industry to test integrated circuits.  At its current price of $5.16, the company has a market cap of just over $5 million.  
Pretium Resources (NYSE: PVG)
Shares of PVG were in a three-month long freefall prior to last Friday.  The stock had dropped from a high of $10.14 in August to a recent low of $2.88. 
But that all changed last week…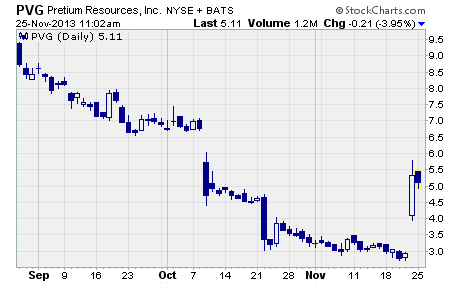 One look at the chart reveals PVG soared on Friday like it had been shot out of a cannon.  The stock climbed from the prior week's closing price of $3.13 to a high of $5.80 before finishing the week at $5.32.
That's a stunning gain of 70% for the week.
Pretium Resources engages in the acquisition, exploration, and development of precious metal resource properties in the Americas.  The company is currently focused on developing its 100%-owned Brucejack Project in northern British Colombia. 
Brucejack is one of the largest and highest-grading undeveloped gold projects in the world.  Its Valley of the Kings hosts a probable mineral reserve of 6.6 million ounces of gold. 
With gold prices hovering around $1,240 per ounce, these reserves are valued at approximately $8.1 billion.
Pretium is advancing Brucejack to production as a 2,700 metric tons per day underground mine.  Commercial production is targeted for 2016.   
Why did the stock surge?
The stock jumped on exciting news about the Brucejack Project.  On Friday, Pretium reported it has produced 4,125 ounces of gold from 8,090 dry metric tons of excavated material. 
Here's the key…
The results have already surpassed the company's production target, and there's still almost 2,000 metric tons of material yet to be processed.  Management was hoping to produce 4,000 ounces of gold from the entire 10,000 metric tons of excavated material.
In other words, the company's finding 16 grams of gold per metric ton compared to expectations of just 13 grams.
This is great news for the company and investors.  The higher concentration of gold means Pretium should be able to generate higher profits than previously thought.
Despite the jump in share price, PVG appears to have more upside ahead.  The lone analyst covering the company has a $10 price target for the stock.  That's upside potential of 96% from here.
Profitably Yours,
Robert Morris
Category: Hot Penny Stocks