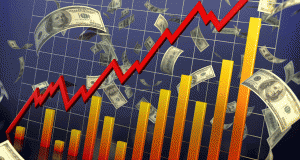 I bet you've heard this bold prediction more times than you can count.  Penny stock investment sites are chock full of articles and investment recommendations claiming a particular penny stock will be 'the next big thing'. 
It's a catchphrase that is thrown around much too liberally in the investment world.
But at Penny Stock Publishing, we take the term 'next big thing' very seriously.
In fact, we take it so seriously that we've created an investment advisory service centered around this concept.  The service is called Penny Stock All-Stars.  And it's dedicated to uncovering penny stocks with the potential to become the next big things in their industries.
To put it another way, the service helps ordinary investors get in on the ground floor before a penny stock grows into an S&P 500 caliber company. 
Take the rags to riches story of Jazz Pharmaceuticals (NASDAQ: JAZZ) for example.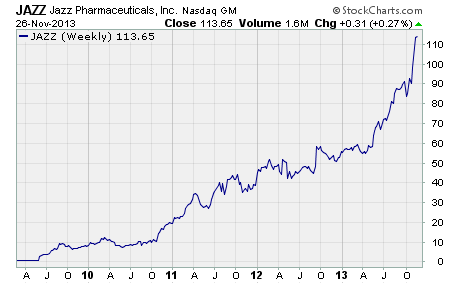 Back in March 2009, you could have bought all the shares of JAZZ you wanted for around $0.60 per share.  It was a true penny stock that very few people knew about and fewer still wanted to own. 
But as you can see, this former unloved and unwanted penny stock has since grown into a multi-billion dollar pharmaceutical company.  In fact, the stock is now trading for nearly $114 per share.
That's a monster gain of 18,842% in less than five years!
While JAZZ has yet to reach the size of an S&P 500 stock, you have to admit this amazing biotech is certainly well on its way.  The point being… there are stocks out there that will grow from their current micro-cap size into much larger companies. 
And investors who are savvy enough to grab them at penny stock prices stand to make huge returns on their money.
Of course, it's not easy to uncover these hidden gems among the thousands of penny stocks that trade on the market daily.  It takes vision and a lot of research to find those that have the potential to deliver gains of 10 or 50 or 100 times their current value.
Most investors don't have the time, expertise, or inclination to even undertake a research effort of this magnitude.
But that's where I can help.
You see, I've recently put the finishing touches on a special report that reveals not one, not two, but three penny stocks that have what it takes to become the next big things in their respective industries.  If just one of these stocks delivers on its potential, you could make enough money to change your life forever. 
Now, I can't reveal the identities of these stocks here, but I can give you a taste of what the report has to offer. 
One of the penny stocks recommended in this amazing report has the potential to become the next big thing in the multi-billion dollar medical waste management industry.
In case you don't know, this particular industry is in the midst of a once-in-a-life time growth phase. 
The US population is growing older by the minute as thousands of Baby Boomers enter their golden years each day.  And since senior citizens require more medical care than younger people, medical waste is increasing at an exponential rate.
As such, demand for medical waste management services is on the rise.  And it's a trend that has potential to last for decades to come!
But what makes me so sure this particular company will capitalize on this trend?
What I really like about the company is that it's already a full-service provider of medical waste management services.  In other words, it has the foundation on which to build itself into a large-cap company.
Another reason is that this company has competitive advantages to give it a leg up.  These advantages should give the company an opportunity to grow faster than the competition.
And finally, the company has a sound strategy for maximizing the company's potential.  I won't go into all the details here, but if the plan is executed well, this company should enjoy many years of strong revenue and earnings growth.
Of course, nothing sends a stock soaring more quickly than consistent revenue and earnings increases.
So how can you get your hands on this report?
It's actually quite simple.  All you have to do is subscribe to Penny Stock All-Stars.  For less than a quarter a day, you'll get a new penny stock recommendation every month, timely portfolio updates, instant sell alerts, access to all of our past issues and updates, and…
Your very own copy of my special report, "The Next Big Thing:  3 Penny Stocks You Must Buy Now!"
Click here now and you can get started on building your fortune today!
Profitably Yours,
Robert Morris
Category: Penny Stock Tips