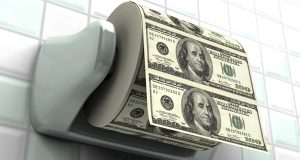 Welcome to Pump and Dump Friday, our weekly feature where we identify potentially "bogus" promotions going on in penny stocks.
Today we're exposing one of the most extensive penny stock pump and dump campaigns of the week:  SGD Holdings (OTCPINK: SGDH).
If you don't know how these schemes work, be sure to check out our free report that exposes the whole thing.
Without further ado, here is today's disaster waiting to happen:
SGD Holdings (OTCPINK: SGDH)
SGDH is one of the most heavily hyped penny stocks of the past week.  According to our sources, 18 promoters have been paid more than $25,000 to pump the stock through nearly 56 newsletters.
And so far, the promotion has gone off like clockwork.
Take a look at the chart…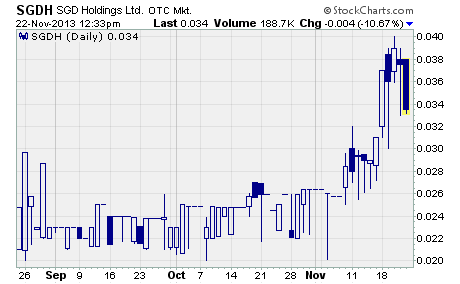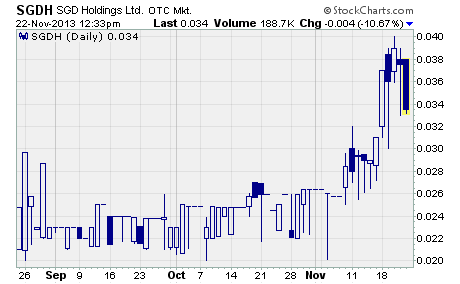 As you can see, SGDH climbed from a low of $0.02 at the end of October to a high of $0.04 this week.  That move produced a stunning gain of 100% in just three weeks' time. 
With that said, the stock is down more than 10% in today's trade to $0.03 per share.  Looks like the dumping phase may be starting to kick in.
SGD Holdings is a development stage company based in Ventura, California.  The company has just two employees that provide executive management, channel development, and marketing services.
After emerging from bankruptcy in 2006, SGD Holdings acquired EcoPaper, Inc. in 2008 for about $1.9 million in stock.  Since then, the company has been engaged in the creation and marketing of treeless paper.
The company's treeless paper is made from natural post-consumer materials like bananas and sugar cane.  As such, it's a more environmentally friendly product than paper made from tree pulp.
But here's the problem…
Tree free paper hasn't really caught on with consumers.  Apparently, most paper consumers don't want to pay more for treeless paper when they can get pulp based paper for less.
As a result, SGD Holdings is struggling financially…
According to the company's most recent quarterly report, it has just $2,788 in cash and total current assets of $109,690.  That compares with total current liabilities of $949,062 and long-term debt of $406,700.
What's more, SGD Holdings has an accumulated stockholder deficit of over $2.4 million.
And it doesn't look like the company's financial condition will be improving any time soon.
Over the first nine months of 2013, SGD Holdings has generated revenue of just $76,417.  To make matters worse, the company has produced a net loss of $237,362 over that same time. 
Those disappointing numbers follow losses of $268,764 in 2012 and $718,276 in 2011.
While SGD Holdings has a unique business idea that clearly benefits the environment, it remains to be seen if they can turn it into a profitable venture.  My view is that it will be very difficult to grow this business while pulp-based paper remains less expensive than treeless paper.
As such, I recommend you steer clear of SGDH. 
The only reason the stock is making any sort of upward move now is because of the promotion campaign.  It's only a matter of time before the stock plunges back to where it was prior to the campaign if not lower. 
Other Penny Stocks Being Pumped This Week
Megola Inc. (OTCPINK: MGON) – 16 promoters with 122 newsletters have been paid more than $60,000 this month to hype MGON.
Refill Energy, Inc. (OTCPINK: REFG) – 22 promoters with 51 newsletters have been paid over $60,000 in November to plug REFG.
As you know, penny stocks are a great place to invest your money.  You just have to do your due diligence to stay away from all the schemes and scams out there these days!
Profitably Yours,
Robert Morris
Category: Pump & Dump Alerts