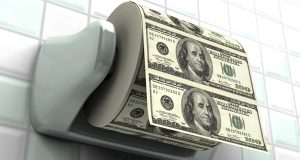 Welcome to Pump and Dump Friday, our weekly feature where we identify potentially "bogus" promotions going on in penny stocks.
Today we're exposing one of the most extensive penny stock pump and dump campaigns of the week:  Medical Care Technologies (OTCPINK: MDCE).
If you don't know how these schemes work, be sure to check out our free report that exposes the whole thing.
Without further ado, here is today's disaster waiting to happen:
Medical Care Technologies (OTCPINK: MDCE)
MDCE is one of the most heavily hyped penny stocks of the past week.  According to our sources, 12 promoters have pumped the stock through more than 56 newsletters since Sunday.  And over $45,000 has been paid to many of these promoters for their services.
What does the company do?
Medical Care Technologies is a development stage company that hopes to develop a network of children's health facilities in the larger urban areas of China.  The company's goal is to provide healthcare services to children aged 3 to 16 from rising middle class families.  In addition, it intends to source and sell pharmaceuticals, neutraceuticals, over the counter medicines, herbal remedies, and personal care products.
These are bold plans to say the least. 
But do you really want to invest your money in a Chinese company that is merely in the planning stages of its business?   
A review of the most recent quarterly report (September 2013) reveals that Medical Care Technologies hasn't generated a penny of revenue since its inception in February 2007.  Furthermore, it has zero cash on hand, and its only current asset is $23,129 that is owed to it by a third party.
In other words, this company has almost no short-term liquidity.
What's more, MDCE has been racking up huge net losses for years.  Over the first nine months of 2013, it generated a monster net loss of $4.3 million.  And since inception, the company's net losses have grown to a whopping $11.3 million. 
As the company itself admits in the report, there is "substantial doubt about the Company's ability to continue as a going concern."
But penny stock promoters are not about to let the facts get in the way of a juicy promotion campaign.  They've been awful busy over the past several weeks pumping the shares to their email subscribers.
And the campaign has had some success…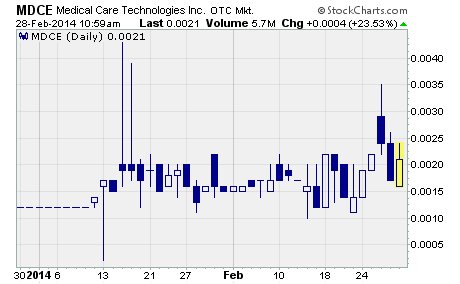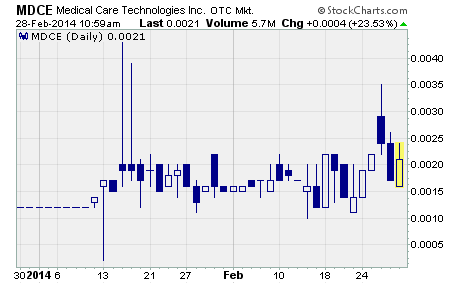 As you can see, the stock climbed last week from a low of $0.0011 to a high of $0.0035 for a stunning 218% gain.  But the rally didn't last long.  Since hitting that high two days ago, MDCE has dropped 40%!
Looks like the sellers couldn't wait to unload their shares as soon as the stock showed some life.
If you like gambling on Chinese penny stocks that have a development stage business with heavy debts and almost zero liquidity, then MDCE is a perfect fit.  However, if you prefer to invest your money, then I suggest you look for a higher quality penny stock.
Profitably Yours,
Robert Morris
Other Penny Stocks Being Pumped This Week
Everlert (OTCPINK: EVLI) – 12 promoters with 143 newsletters have been paid over $65,000 this month to hype EVLI.
Tanke (OTCPINK: TNKE) – 38 promoters with 117 newsletters have been paid more than $65,000 in February to plug TNKE.
Category: Pump & Dump Alerts