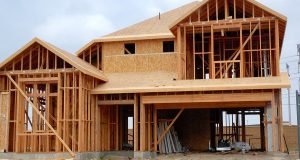 Homebuilder stocks had a rough summer to say the least.  Ever since a 20-month uptrend ended in May, these stocks have been moving lower in a sharp downtrend.
Take a look at the following chart…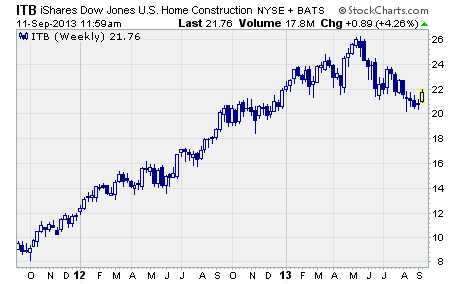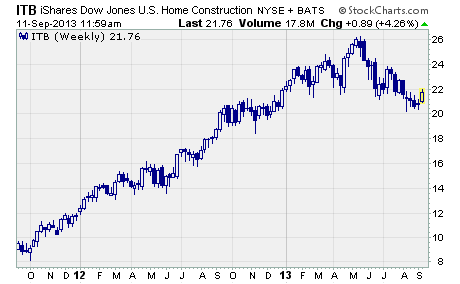 The iShares US Home Construction ETF (NYSE: ITB) set a 52-week high of $26.21 on May 20th.  In fact, it was the highest price for homebuilders since the early days of the financial crisis in 2007. 
That high capped a phenomenal 219% gain off the October 2011 low of $8.21 per share. 
However, it proved to be the end of the line for the nearly two-year old uptrend.  As you can see, homebuilder shares declined steadily over the next four months.  And on September 5th, ITB closed at just $20.52 per share.
At that level, the homebuilder ETF was down more than 21% from the 52-week high set just a few months earlier.           
Investors began dumping shares of US homebuilders in May after the Fed indicated it may soon begin tapering back on its monthly bond purchases.  Many believed then that the Fed's announcement signaled the beginning of a rise in mortgage rates which would depress home sales.
And it turns out they were right.
The 30-year fixed rate has increased from 3.59% in early May to around 4.75% today.
What's more, the rapid rise in mortgage rates has led to a sharp drop in sales of new homes.  After rising 8.3% in June, new home sales plunged 13.4% in July.  And early indications are that they fell again in August.
But things may not be as gloomy for homebuilders as these data suggest.
One penny-sized homebuilder, Hovanian Enterprises (NYSE: HOV), reported decent third quarter numbers yesterday. 
Revenue increased 23.6% year-over-year to $478.4 million.  Earnings rose from a loss of 5 cents in the year ago quarter to a profit of 6 cents per share.  And the value of the company's contract backlog jumped 26.8% year-over-year to $1.03 billion.
More importantly, the small homebuilder had some positive things to say about the housing market. 
It noted that "interest rates are still below historical levels and housing is still very much affordable."  The company also said management believes the effect of higher interest rates will be short-term.
As such, Hovanian expects "to achieve further profitability in fiscal 2013, on the back of increasing housing demand, solid backlog position, and rising home prices."
There's no question that homebuilder stocks have performed poorly over the past several months.  But if Hovanian is right, the recent weakness could be a just a short-term pause in the longer-term uptrend off the October 2011 lows.  In that case, HOV may be worth a closer look.
Profitably Yours,
Robert Morris 
Category: Penny Stock Alerts