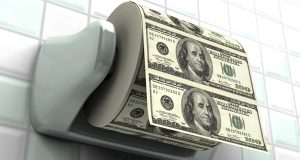 Welcome to Pump and Dump Friday, our weekly feature where we identify potentially "bogus" promotions going on in penny stocks.
Today we're exposing one of the most extensive penny stock pump and dump campaigns of the week:  Bayside Corporation (OTCPINK: BYSD).
If you don't know how these schemes work, be sure to check out our free report that exposes the whole thing.
Without further ado, here is today's disaster waiting to happen:
Bayside Corporation (OTCPINK: BYSD)
BYSD is one of the most heavily hyped penny stocks of the past week.  At least 30 different promoters have pumped the shares through 158 newsletters.  And over $40,000 has been paid in July so far to plug the stock.
And all that pumping… 158 newsletters strong… has finally paid off.
Take a look at the chart…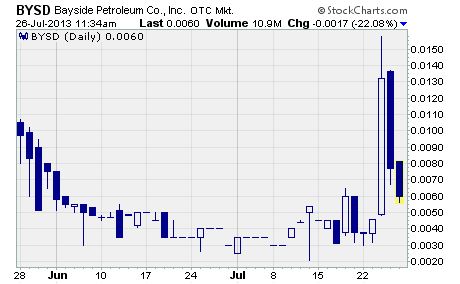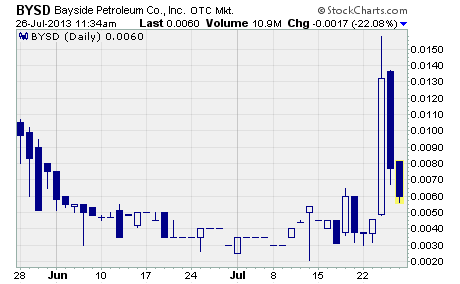 As you can see, BYSD soared on Wednesday.  The stock shot up from the prior day's close of $0.0046 to a high of $0.0158 before finishing the day at $0.0132. 
That's a one-day gain of 187%.  And at the peak price of $0.0158, the stock had an intra-day gain of 243%. 
What's going on?
BYSD took off after the company issued an extraordinary press release. 
The press release claims the company has received a purchase order to supply 1.2 million metric tons of heavy fuel oil.  And it goes on to say the contract is worth $1.9 billion annually to the company.
If true, it would be an amazing turn of events for Bayside and its shareholders.  After all, the company's market cap prior to the announcement was just a miniscule $4.2 million.
However, there is some confusion about the actual terms of the deal.  The text of the press release states the purchase order is for 3.6 million metric tons of heavy fuel oil annually.
To me, that's a red flag. 
I would expect Bayside to get the details of the most important deal in its history 100% correct in the press release… especially a press release that is less than 100 words.
But that's just the first of my concerns.
My gut tells me this supposed deal is too good to be true.  And after some digging, I find it very hard to believe this deal is on the up and up.
I'll explain why in a moment, but first a few words about the company.
According to the most recent annual report (December 2012), Bayside is an early stage oil and gas development company based in Dallas, Texas.  It claims to have a portfolio of 9 oil and gas properties with 50 total wells throughout Texas, Louisiana, and Mississippi.
But here's the really interesting part…
The report says the company's goal is to reach net proven reserves of 10 million barrels of oil and natural gas equivalent within 12 to 18 months.  And upon completion of work needed on its fields, the company expects to have future net revenues of approximately $100+ million.
So in December, management believed its properties could support oil production worth $100+ million in 12 to 18 months.  But in July, they're supposedly signing a deal to supply $1.9 billion worth of oil per year?
That just doesn't add up.
What's more, it's not clear how Bayside intends to cover the cost of producing all this oil. 
According to the financial statements, the company has not engaged in any business whatsoever.  The most recent statement of operations show the company has produced zero revenue, zero net gain/loss, and zero earnings per share.
And the balance sheet shows just $130,000 held in certificates of deposit compared to total current liabilities of $585,504.
Now, in a press release issued last Wednesday, the company suggests it will finance its operations through a joint venture with C-Trade Group, a petroleum logistics and finance company.  According to the press release, C-Trade Group will provide monthly bank guarantees for Bayside in the amount of $160,500,000.
Of course, C-Trade Group is a privately owned company so it's impossible to verify that it has the financial wherewithal to provide the supposed bank guarantees.  How convenient.
Clearly, there are a number of unanswered questions about Bayside's oil production contract.  Until those questions are answered, I suggest you steer clear of Bayside shares.
By the way, you can see from the chart above that it didn't take long for the dumping to start.  The very next day after the huge one-day gain, BYSD shed 42% of its value.  And the stock is down another 20% today as I write.    
 Other Penny Stocks Being Pumped This Week
Innocap (OTCQB: INNO) – 34 promoters with 116 newsletters have been paid over $100,000 so far this month to hype INNO.
Nyxio Technologies Corp. (OTCQB: NYXO) – 17 promoters with 73 newsletters have been paid $40,000 in July to plug NYXO.
As you know, penny stocks are a great place to invest your money.  You just have to do your due diligence to stay away from all the schemes and scams out there these days!
Profitably Yours,
Robert Morris
Category: Pump & Dump Alerts