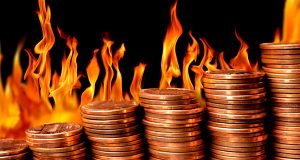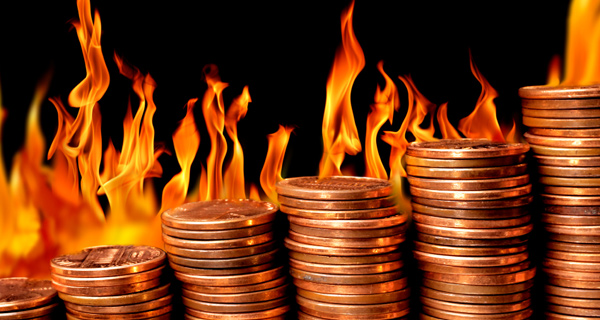 It's an exciting time for penny stocks, especially Emisphere Technologies (EMIS), MagneGas Corporation (MNGA), and Neutral Tandem (IQNT).  Let's take a closer look at these three hot penny stocks…
Emisphere Technologies (OTCBB: EMIS)
EMIS soared 92% last week!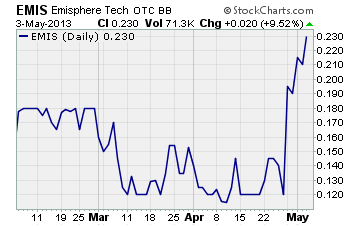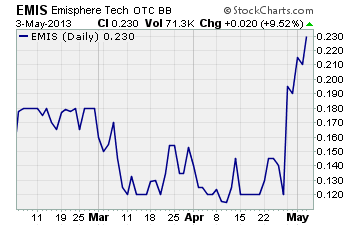 This exciting microcap biotech focuses on the delivery of therapeutic molecules, nutritional supplements, and pharmaceutical compounds using its Eligen technology.  The company's product pipeline includes Eligen B-12, a medical food for B-12 deficient individuals, and GLP-1, a treatment for Type 2 diabetes.
Why is the stock surging?
Emisphere made two major announcements last week. 
First, the company said on Monday it has restructured $35 million in past due or payable on demand debt owed to MHR Fund Management LLC.  The debt, which matured on September 26, 2012, will now mature on September 26, 2017.
Second, the company told investors on Wednesday it has modified its agreement with Novo Nordisk (NYSE: NVO) for the development of GLP-1.  Under the modified agreement, Novo Nordisk will make a $10 million prepayment for future development milestones. 
This payment was originally scheduled to be paid upon commencement of phase 2 and phase 3 testing of GLP-1.
EMIS has already received a $5 million upfront payment from Novo under the original agreement.  And the tiny biotech could still earn another $52.5 million in milestones plus royalties on any future sales of GLP-1.
Shares of EMIS skyrocketed on these two news items.  After closing the prior week at $0.12 per share, the stock climbed to a high of $0.25 before ending the week at $0.23.
MagneGas Corporation (NASDAQ: MNGA)
MagneGas is a cutting-edge alternative energy company.  With its patented Plasma Arc Flow process, the company converts liquid waste into a clean burning hydrogen-based fuel that is essentially interchangeable with natural gas.  MagneGas can be used for metal working, cooking, heating, powering bio-fuel automobiles and more.
Over the past week, MNGA has surged 54%!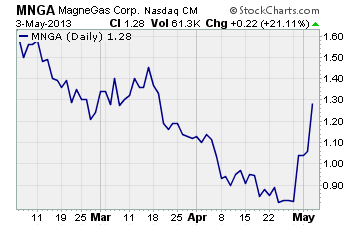 Here's why…
The company announced last week that Chief Scientist Dr. Ruggero Santilli has resigned his position with MagneGas and will now serve as a consultant.  The big news, however, is why Dr. Santilli resigned.  He's moving on because he believes his contribution to the industrial advancement of the MagneGas technology is now complete.
Dr. Santilli said, "I feel that the MagneGas technology has reached its utmost industrial maturity and is ready to achieve worldwide success."
He will be replaced by his protege, Dr. Yun Yang, one of the world's leading experts in Plasma Technology.  Dr. Yang has worked under Dr. Santilli since last year.  And prior to joining MagneGas, he was a Senior Research Engineer at Atlantic Hydrogen, which develops ways to reduce greenhouse gas emissions connected to natural gas production.
In addition to Dr. Yang's promotion, MagneGas has also bolstered its management team in other ways.  The company has added several new members to its Board of Directors.  These individuals are leading experts from the metal cutting, oil and gas, and military industries.
MNGA surged last week from $0.83 to a high of $1.35 before closing out the week at $1.28 per share.
Neutral Tandem (NASDAQ: IQNT)
Neutral Tandem, doing business as Inteliquent, provides voice, internet protocol (IP) transit, and Ethernet telecommunications services on a wholesale basis in the US and internationally.   The company provides its services using an all-IP network, which enables it to deliver global connectivity for various media, including voice, data, and video.
Shares of this exciting company jumped 51% last week!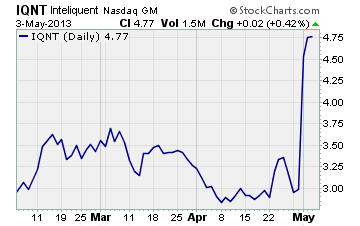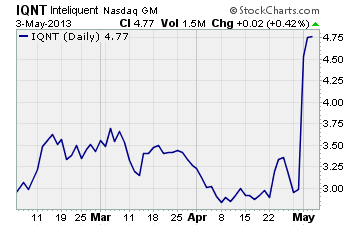 What's going on?
The company announced first quarter numbers that beat analyst estimates.  While revenue declined 1% year-over-year to $69.7 million, it exceeded Wall Street's target of $65.7 million.  Earnings of $0.21 per share were the same as the year ago quarter, but crushed analysts' estimates for a loss of $0.01.
IQNT also announced the sale of its global data business to Global Telecom & Technology for $54.5 million.
The sale is being well received by investors as it allows the company to focus exclusively on its voice business.  The sale also significantly bolsters Inteliquent's balance sheet by raising its cash balance to $85 million.
CFO David Zwick summed up the quarter this way…
"The initiatives that we began 6 months ago to re-focus the organization on profitability and cash flow are taking hold… The company has been stabilized and we are moving forward in the right direction again."
Investors clearly liked the quarterly numbers and appear to agree IQNT is once again on the right track.  The shares surged from $3.16 to a high of $4.99 before settling at $4.77 for the week.
Profitably Yours,
Robert Morris
Category: Hot Penny Stocks