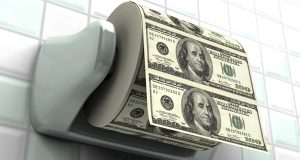 Welcome to Pump and Dump Friday, our weekly feature where we identify potentially "bogus" promotions going on in penny stocks.
Today we're exposing one of the most extensive penny stock pump and dump campaigns of the week:  Great Rock Development Corp. (OTCPINK: GROC).
If you don't know how these schemes work, be sure to check out our free report that exposes the whole thing.
Without further ado, here is today's disaster waiting to happen:
Great Rock Development Corp. (OTCPINK: GROC)
Our research indicates that GROC is one of the most hyped penny stocks of the past week.  At least 10 different promoters have pumped the shares through 81 newsletters.  And many of them have received or expect to be paid a small fortune for their services.
Here's a short list of the top promoters and their actual or expected paydays…
Penny Stock SMS Publisher… hauled in $50,000
Penny Stocks Guru… pocketed a cool $30,000
Penny Stocks VIP… received $30,000
Of course, these are just the promoters spearheading the campaign.  There are others involved who have received anywhere from $2,500 to $50,000 for their efforts.
So, what's the story on Great Rock?
In 2011 and 2012, the company provided consulting services in the renewable energy sector to clients of Forest BioProducts Inc under the name Grid Cloud Solutions.  Through these efforts, Grid Cloud helped generate sales of tank-less hot water systems, photovoltaic systems, and energy retrofits in Canada.
And as the pumpers point out, the company had some success in this business.  In 2012, Grid Cloud Solutions generated a profit of $14,934 on sales of $101,404. 
But what the pumpers fail to mention is that these numbers were down significantly from the prior year.  In 2011, the company had reaped a profit of $185,659 on sales of $492,275. 
So last year, revenue actually declined by a stunning 79% and profits plunged by a whopping 92%!
Management, however, has an excuse for this horrible performance.
They explain in the annual report that the company's business shifted toward junior mining interests last year.  In fact, the company acquired gold mineral rights for 4,200 acres in the Cobequid Highlands of Nova Scotia in February 2012 and changed its name to Great Rock Development Corp.
In other words, investors are expected to trust this management team to successfully lead the company in an entirely new business after driving the old one into the ground.
Here's the key…
Great Rock is a long way away from pulling any gold out of the ground (assuming there is any).  At this time, they're only in the planning stages for doing an aerial survey of the area.  Once that's done, the next step is to begin ground exploration.
It could take years to find any actual gold through this painstaking process.
In the meantime, Great Rock is sure to rack up huge expenses along the way.  And with only $7,200 in cash on the books, the company will have to either increase its debt load or further dilute its stock by issuing more shares. 
Either scenario is a negative for investors.
As much as GROC wants you to think it's poised to strike gold, the reality is quite different.  It could be years before the company finds any yellow metal.  And odds are, it won't find any at all.
Stay away from these shares.  You're better off heeding the warning attached to the bottom of the company's many press releases:  "Shareholders and investors are strongly cautioned against placing undue reliance on information set forth in these communications in making any investment decisions concerning our securities."
Other Penny Stocks  Being Pumped This Week
Kabe Exploration (OTCQB: KABX) – 10 promoters with 158 newsletters have been paid up to $25,000 to hype KABX.
Enviro-Serv (OTCPINK: EVSV) – 45 promoters with 238 newsletters have been paid up to $40,000 to plug EVSV.
As you know, penny stocks are a great place to invest your money.  You just have to do your due diligence to stay away from all the schemes and scams out there these days!
Profitably Yours,
Robert Morris
Category: Pump & Dump Alerts