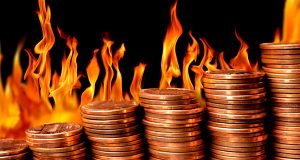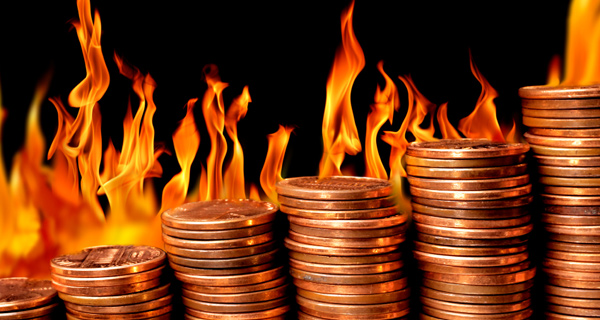 It's an exciting time for penny stocks, especially Digital Angel (DIGA), Retractable Technologies (RVP), and Cyclacel Pharmaceuticals (CYCC).  Let's take a closer look at these three big movers…
Digital Angel (OTCQB: DIGA)
DIGA soared to a new 52-week high last week!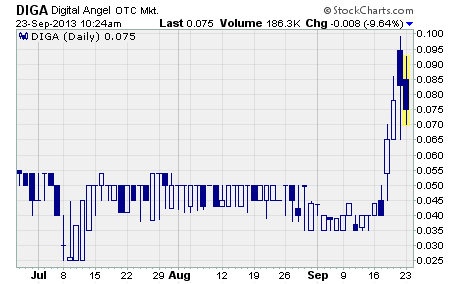 The stock climbed steadily from the prior week's closing price of four cents to nearly a dime on Friday before finishing the week at 8 cents per share.  The move provided shareholders with a stunning one-week gain of 107%!
Digital Angel, through its VeriTeQ subsidiary, develops innovative, proprietary RFID technologies for implantable medical device identification.  In fact, the company offers the world's first FDA cleared RFID microchip technology that can be used to identify implantable medical devices, in vivo, on demand, at the point of care.
DIGA took off last week on news that it had filed two new patents for its RFID microchip, which it calls "Q Inside Safety Technology."  The patents help protect the company's position as a leader in breast implant identification and safety technologies.
VeriTeQ is working with medical device makers to incorporate its "Q Inside Safety Technology" within breast implants and other medical devices. 
The chip provides for quick and safe identification of implanted devices from outside the body.  And it enables device manufacturers to comply with the FDA's proposed rule for unique device identification.
In light of the past recalls of breast implants, there is strong global demand for VeriTeQ's RFID chip technology.  And with over 1.2 million breast augmentation procedures performed worldwide in 2011 alone, the company stands to make a huge profit from this trend.
Retractable Technologies (NYSE: RVP)
RVP is another small medical device maker that benefited from big news last week.  A Texas jury returned a favorable verdict for the company in its litigation with Becton, Dickinson and Company (NYSE: BDX).
The verdict vindicates Retractable's claims that industry giant BDX engaged in anti-competitive conduct in the safety syringe market and false advertising under the Lanahm Act.  And the jury award of over $113 million in damages could be trebled under a Federal statute.
No question about it, this is a huge win for RVP, which has a market cap of just $75 million.
Retractable manufactures VanishPoint® and Patient Safe® safety medical products. 
The VanishPoint® syringe, blood collection, and IV catheter products are designed to prevent needlestick injuries and product reuse by retracting the needle directly from the patient.  Patient Safe® syringes are uniquely designed to reduce the risk of bloodstream infections resulting from catheter hub contamination. 
As you can imagine, RVP skyrocketed on the news…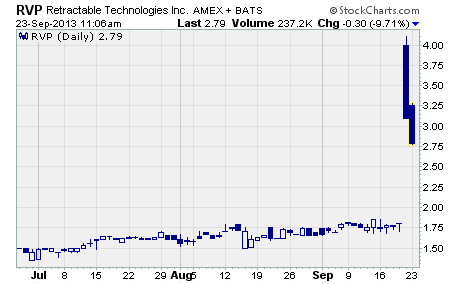 The stock spiked to an intra-day high of $4.10 on Friday for a brief one-day gain of 127%.  And although the stock gave back some of those gains, RVP finished the week at $3.09 for a gain of 67%.
Cyclacel Pharmaceuticals (NASDAQ: CYCC)
The medical device industry wasn't the only area of the healthcare sector producing big penny stock winners last week.  Let's now turn our attention to the red hot biotech industry and tiny Cyclacel Pharmaceuticals.
CYCC is developing drugs that target various phases of cell cycle control for the treatment of cancer and other serious diseases. 
The company's leading drug candidate is Sapacitabine, an orally available nucleoside analogue.  It's currently being evaluated in a phase 3 trial as a front-line treatment for acute myeloid leukemia (AML).
But that's not all… 
Sapacitabine is also being tested in several phase 2 studies as a treatment for myelodysplastic syndromes (MDS), cutaneous T-cell lymphoma (CTCL), chronic lymphocytic leukemia (CLL), small lymphocytic lymphoma, and non-small cell lung cancer.  What's more, Cyclacel is evaluating sapacitabine's potential to treat solid tumors, including breast, lung, ovarian, and pancreatic cancer.
On Friday, CYCC jumped to its highest price level since early April.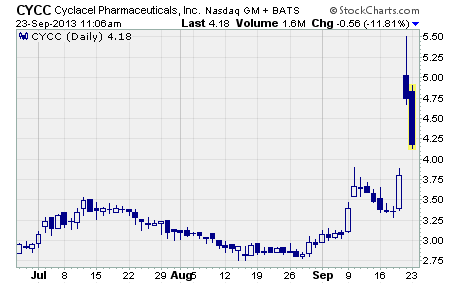 As you can see, the stock surged more than 44% intra-day to a high of $5.50 per share.  And although it failed to hold that high, CYCC finished the week at $4.74 for a gain of 36%.
What's going on?
Cyclacel reported stunning news late Thursday afternoon that sent investors on a buying binge Friday. 
The company provided new data showing that sapacitabine has strong anti-tumor activity against ovarian cancer.  The data show that the drug was active against 75% of primary ovarian cancer samples taken from patients. 
In contrast, cisplatin (a chemotherapeutic agent known as the penicillin of cancer) was active in less than half of the samples.
What's more, Cyclacel provided other data that showed sapacitabine has potential to treat platinum-resistant ovarian cancers as well.  These are ovarian cancers that have relapsed and for which the front-line therapy (platinum chemotherapies) is no longer effective.
Clearly, this is big news for Cyclacel and for patients suffering from ovarian cancer.  And the move higher by the stock could be just the beginning.  Cyclacel is expected to report results from other sapacitabine trials next year.
Profitably Yours,
Robert Morris
Category: Hot Penny Stocks