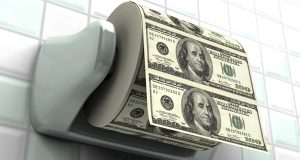 Welcome to Pump and Dump Friday, our weekly feature where we identify potentially "bogus" promotions going on in penny stocks.
Today we're exposing one of the most extensive penny stock pump and dump campaigns of the week:  Solar Thin Films (OTCPINK: SLTZ).
If you don't know how these schemes work, be sure to check out our free report that exposes the whole thing.
Without further ado, here is today's disaster waiting to happen:
Solar Thin Films (OTCPINK: SLTZ)
SLTZ is one of the most heavily hyped penny stocks of the past week.  According to our sources, 13 promoters with 129 newsletters have been paid more than $100,000 to pump the stock.
It's been a pretty aggressive campaign to say the least.
But SLTZ is no stranger to the stock promotion game.
The current campaign is the second in as many months for the stock.  And SLTZ was the subject of pumping campaigns in January 2012 and December 2011 before this one.
So, how has the stock performed this time around?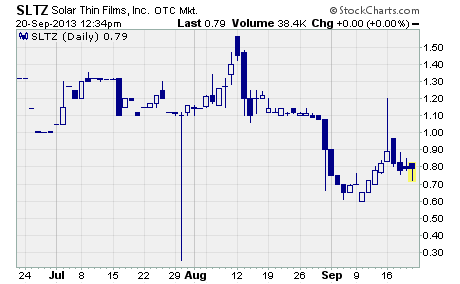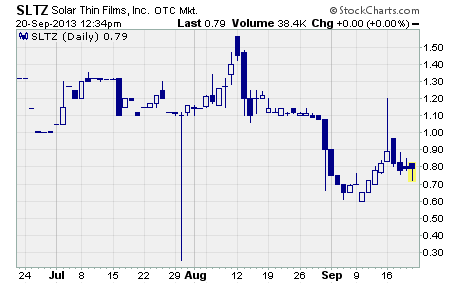 As you can see, SLTZ has dropped significantly since the early August promotion campaign.  After hitting a high of $1.56 on August 12th, the stock plunged more than 60% to a low of $0.60 per share on September 10th.
But then the second campaign commenced, and SLTZ registered a quick double off the low.  Nevertheless, it couldn't hold on to those gains either, and the stock has since pulled back to around $0.79 per share.
All in all, SLTZ is currently down 49% from the early August high.
And it has plummeted more than 80% from a high of $4.00 per share set in February of this year.
This chart is yet another perfect example of the risks involved with trading penny stocks that are hyped through pumping campaigns.  While promoted stocks may deliver some quick gains, you never know when the bottom is going to drop out.
However, if you had taken the time to research this company, you would have discovered it lacks sound fundamentals.
Let me explain…
Solar Thin Films operated in the solar energy industry from 2006 to 2010.  It offered turn-key manufacturing solutions to companies seeking to produce thin film solar modules.
But after racking up over $10 million in losses and defaulting on several million dollars in loans, Solar Thin Films closed its doors in 2010.  In fact, the company did not engage in any business for over three years.
But now, Solar Thin Films is back on the scene with a new business plan.
Management says the company is going to make shipping containers using its patented Fiber Reinforced Plastics (FRP) technology, build housing using FRP technology, and develop waste to energy and solar energy projects.  All of these operations will be conducted through the company's subsidiary, Quality Resource Technologies, Inc.
Of course, the company's reemergence was accompanied by a press release announcing a huge new business deal.  The company said it has an "agreement in principle" with Tri-State Solar/Wind Energy LLC to build three photo-voltaic solar fields in West Virginia.
And get this… the deal will supposedly generate $124 to $160 million in revenue for Solar Thin Films.
Before you get too excited, I'd like to turn your attention to the key words of the press release… "agreement in principle."  It's a dubious phrase that means the two companies have an agreement to potentially do a deal in the future. 
In other words, this $100+ million project is no done deal for Solar Thin Films.
Lots of penny sized companies, especially those involved in stock promotion campaigns, tout agreements in principle as reasons to buy their stock.  However, a good number of these agreements in principle fail to ever reach the final contract stage.
And it's hard to tell if this deal will ever reach fruition. 
According to the press release, Tri-State is responsible for obtaining financing to complete the three projects.  As it's a private company, there's no public information that I could find regarding Tri-States' ability to secure the large amount of funding needed to complete such a huge project.
Given Solar Thin Films' past failures and the heavy amount of uncertainty surrounding this newest business venture, I recommend you stay away from these shares.  There are many other penny stocks available that offer better investment potential.
Other Penny Stocks Being Pumped This Week
UOMO Media (OTCPINK: UOMO) – 22 promoters with 276 newsletters have been paid $40,000 so far this month to hype UOMO.
Building Turbines (OTCPINK: BLDW) – 34 promoters with 163 newsletters have been paid over $60,000 in September to plug BLDW.
As you know, penny stocks are a great place to invest your money.  You just have to do your due diligence to stay away from all the schemes and scams out there these days!
Profitably Yours,
Robert Morris
Category: Pump & Dump Alerts