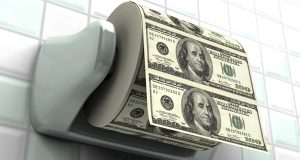 Welcome to Pump and Dump Friday, our weekly feature where we identify potentially "bogus" promotions going on in penny stocks.
Today we're exposing one of the most extensive penny stock pump and dump campaigns of the week:  Telecorp (OTCPINK: TLNUF).
If you don't know how these schemes work, be sure to check out our free report that exposes the whole thing.
Without further ado, here is today's disaster waiting to happen:
Telecorp (OTCPINK: TLNUF)
TLNUF is one of the most heavily hyped penny stocks of the past week.  According to our sources, 24 promoters with 296 newsletters have been paid more than $80,000 to pump the stock.
But it's not doing much good…
Since the campaign began last Sunday, TLNUF has dropped from $0.124 to $0.02 per share.  That's an 84% plunge in just four trading days. 
Looks like the dumpers forgot to wait for the pumpers to drive up the stock price.
Or perhaps penny stock investors are finally wising up and not biting on these campaigns like they used to.  After all, a mere cursory examination of Telecorp reveals the company offers little that could justify a rally in the stock.
Telecorp is a Canadian company that provides customer relationship management and client contact software solutions.  It hopes to compete with industry giants SAP, Oracle, and Salesforce.com by offering their services at a deep discount.
So far, Telecorp is not having much success…
According to the most recent quarterly report (June 2013), the company had zero revenue and generated a net loss of $31,299.  That follows 2012's horrible year of no revenue and a net loss of approximately $91,000.
Nevertheless, Telecorp has put together a well organized promotion campaign. 
They've recently issued financial projections, a company presentation, an executive summary, and a brand new business plan.  What's more, the company has issued several press releases touting its new relationship with The Retail Merchants' Association of Canada (RMAC).
All of these documents, by the way, were released just in time for the stock promotion campaign.  Fortuitous coincidence or master plan? 
I'll let you decide. 
The press releases are the usual exaggeration we typically see from the companies we cover here.  The headline says, "Telecorp Inc. Enters Into Multi-Million Dollar Sales Agreement." 
However, the partnership with RMAC merely provides the company with access to RMAC's membership.  Telecorp still needs to close at least one deal with a member before it can truthfully claim it has signed any kind of revenue producing agreement.
Last but not least, no promotion campaign is complete without at least one research report. 
And Telecorp has one from none other than Murphy Analytics.  But just how objective can the report be?   After all, the report's disclosure statement says Murphy Analytics was paid $5,000 by a third party investor to publish the report.
I think you get the picture.
At best, Telecorp is a start-up company with grand plans, but one that has no financing, no revenue, and no profits.  At worst, this is a carefully orchestrated pump and dump campaign.
You be the judge.
Other Penny Stocks Being Pumped This Week
Green Endeavors (OTCQB: GRNE) – 31 promoters with 127 newsletters have been paid over $19,000 so far this month to hype GRNE.
Metrospaces (OTCQB: MSPC) – 14 promoters with 76 newsletters have been paid over $37,000 in October to plug MSPC.
As you know, penny stocks are a great place to invest your money.  You just have to do your due diligence to stay away from all the schemes and scams out there these days!
Profitably Yours,
Robert Morris
Category: Pump & Dump Alerts