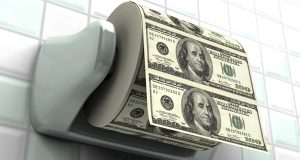 Welcome to Pump and Dump Friday, our weekly feature where we identify potentially "bogus" promotions going on in penny stocks.
Today we're exposing one of the most extensive penny stock pump and dump campaigns of the week… Orofino Gold Corp (OTCPINK: ORFG).
If you don't know how these schemes work, be sure to check out our free report that exposes the whole thing.
Without further ado, here is today's disaster waiting to happen:
Orofino Gold Corp (OTCPINK: ORFG)
ORFG is one of the most heavily hyped penny stocks of the past week. Our sources indicate the stock has been pumped by 30 promoters through more than 70 newsletters. And over $100,000 has been paid to many of them for their services.
But despite these efforts, investors have largely ignored the stock.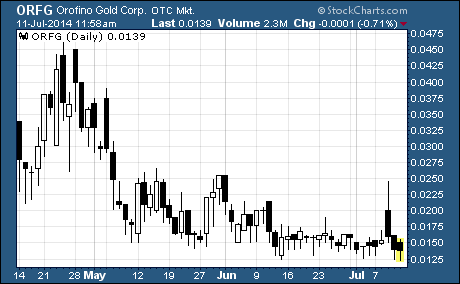 As you can see, the stock quickly jumped to a high of $0.0245 on Wednesday when the promotion began. But it didn't hang on to those gains for long. The stock finished the day at $0.016 and has now fallen to $0.0139.
In other words, ORFG has plunged 43% from the high it set just two days ago.
According to a disclosure statement filed on April 22, 2014, Orofino is a Nevada-based gold producer that currently operates producing mines in Colombia. However, that same document states that the company's headquarters are in Dalian, China.
I didn't realize that Dalian has now become part of Nevada.
But I digress…
Based on the flurry of press releases issued in 2014, it appears the company is changing its focus from gold mining to the oil and gas business. In March, management announced the company had officially changed its name to Bakken Energy Corp.
However, the company is still listed under its old name and ticker symbol on OTCMarkets.
Also in March, the company acquired Nations Oil & Gas Corp, a newly formed Nevada-based company that supposedly has major lease holdings in the Uinta Basin of Utah. Then in April and May, the company said it had signed letters of intent to acquire two different oil refineries.
There's been no update since those announcements as to whether these acquisitions have actually closed.
But the really big news came in June…
The company announced it has "started negotiating transactions with key players in the Uinta Basin to bring increased revenues to the company." The press release is quite vague, but it claims Orofino/Bakken Energy is "working on a deal to bring two companies together in the sale of major oil assets and plans on retaining a portion of the profits."
The icing on the cake is management's claim that the company will generate a profit of $10 million from the deal.
Of course, this is the hook that promoters are using in the current pump campaign.
While this would be a huge deal for Orofino/Bakken Energy, the company's market cap is just $1.9 million, investors don't seem to think it will happen. The stock actually dropped 16% on the day the news was announced. And it has declined by another 20% since then.
Our view…
Don't touch this stock with a ten-foot pole. ORFG has been the subject of numerous penny stock promotions dating back to at least December 2010. And with a pump campaign ongoing, it's hard to take anything the company says seriously.
Profitably Yours,
Robert Morris
Other Penny Stocks Being Pumped This Week
V Group (OTCPINK: VGID) – 14 promoters with nearly 60 newsletters have been paid over $38,000 this month to hype VGID.
O2 Secure Wireless (OTCPINK: OTOW) – 12 promoters with more than 50 newsletters have been paid nearly $30,000 this month to hype OTOW.
Category: Pump & Dump Alerts