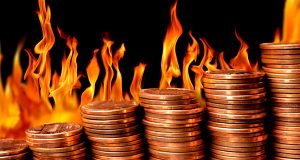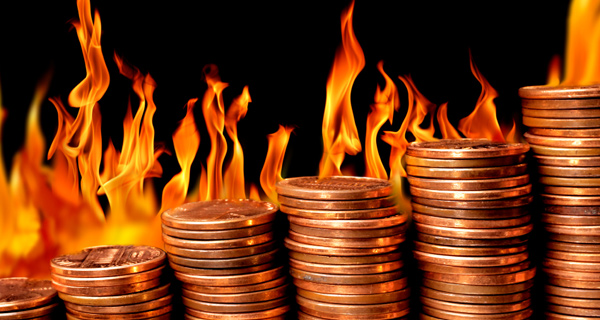 It's an exciting time for penny stocks, especially hot penny stocks like Chelsea Therapeutics (CHTP), ThermoGenesis (KOOL), and Netlist (NLST)…
Chelsea Therapeutics (NASDAQ: CHTP)
CHTP is rising rapidly on surprising good news!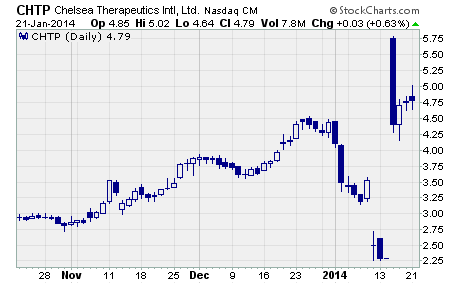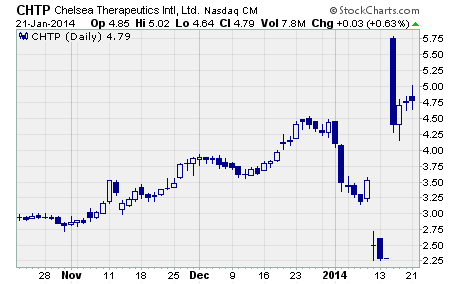 Just nine days ago it looked like CHTP was down for the count.  The stock had plunged more than 49% in a two-week span.  And it closed at a six-month low of $2.30 per share.
But then something amazing happened…
An FDA advisory panel recommended approval for Northera, Chelsea's new drug for the treatment of symptomatic neurogenic orthostatic hypotension.  And the stock took off as a result.
CHTP is now up more than 108% over the past four trading days. 
The market was clearly expecting the panel to recommend against approval as evidenced by the stock's plunge prior to the decision.  But with a near unanimous vote of 16 to 1 in favor of approval, the panel gave Northera a healthy vote of confidence. 
Now, the FDA isn't required to follow the panel's recommendation, but it usually does.  According to a recent Thomson Reuters study, the FDA follows the advisory panel's recommendation about 90% of the time.
The FDA is scheduled to issue a decision on Northera on February 14, 2014.  As the stock is continuing to move higher, it appears the market is now betting that Northera will be approved.      
ThermoGenesis (NASDAQ: KOOL)
ThermoGenesis is a medical device company based out of Rancho Cordova, California.  The company focuses on developing and manufacturing automated blood processing systems and disposable products that enable the separation, preservation, and delivery of cell and tissue therapy products.
In July 2013, the company announced it will merge with TotipotentRx Corporation.
TotipotentRx is a private cellular therapy research and therapeutics organization.  It focuses on developing rapid bedside autologous cellular therapies for cardiovascular and orthopedic indications.
The combined company will be called Cesca Therapeutics.  And it will offer clinically validated, commercially scalable, point-of-care autologous cell therapies for major therapeutic markets.
Just yesterday, the two companies announced results from their co-sponsored phase 1b study of TotipotentRx's Critical Limb Ischemia Rapid Stem Cell Therapy (CLIRST).  The trial sought to evaluate the safety and efficacy of CLIRST as a treatment for no-option patients suffering from critical limb ischemia. 
And the results were great.
The trial achieved both its primary and secondary efficacy endpoints, reaching statistical significance in five key areas.  And there were no serious adverse events related to the therapy.     
Of course, KOOL's rocketing higher on the news.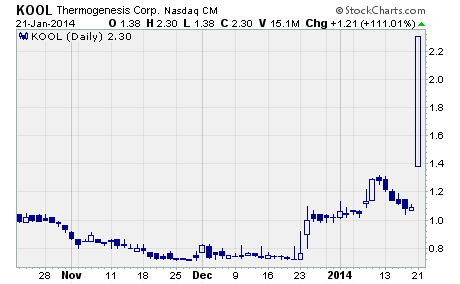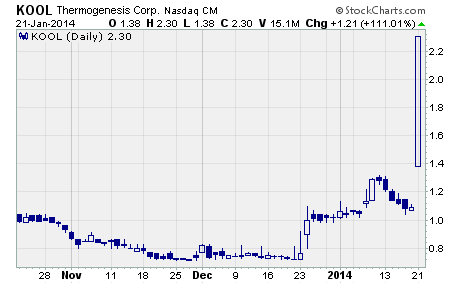 The stock more than doubled in value in heavy trade yesterday.  And it's now up nearly 89% over the past week.
KOOL carries a median analyst price target of $4.25 per share.  At a recent price of $2.30, the stock has potential upside to the target of 85%.
Netlist (NASDAQ: NLST)
NLST is another stock moving higher in a hurry.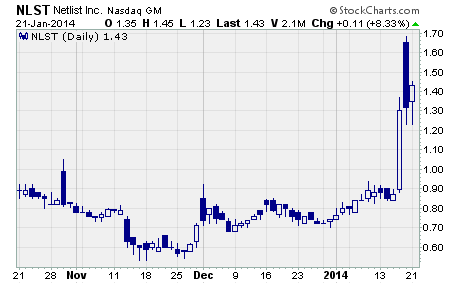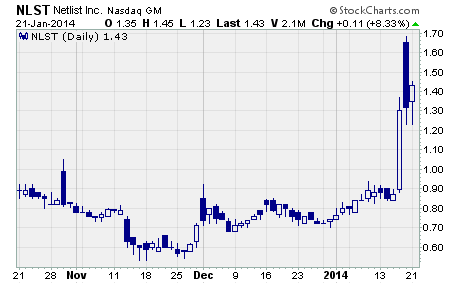 As you can see, the stock has climbed from just $0.87 a week ago to its current price of $1.43 per share.  That's a 62% gain in short order.  And just yesterday, the shares hit $1.68 to set a new 52-week high. 
Netlist designs and manufactures high-performance, logic-based memory subsystems for server and storage applications for cloud computing.  The company's customers are original equipment manufacturers that design and build tower, rack-mounted, and blade servers, high-performance computing clusters, engineering workstations, and telecom equipment.
Why is this stock surging?
The company announced last Thursday it has received new patents covering core aspects of hybrid memory systems that combine DRAM and Flash memory technologies.  Hybrid memory systems are a component of enterprise flash storage solutions, which are expected to grow into an $8 billion market by 2017.
While NLST still has upside to its median price target of $2.25, you may want to wait for a pullback before establishing a position.      
Profitably Yours,
Robert Morris
Category: Hot Penny Stocks