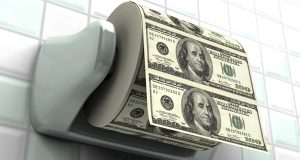 Welcome to Pump and Dump Friday, our weekly feature where we identify potentially "bogus" promotions going on in penny stocks.
Today we're exposing one of the most extensive penny stock pump and dump campaigns of the week:  Hokutou Holdings International (OTCPINK: HKTU).
If you don't know how these schemes work, be sure to check out our free report that exposes the whole thing.
Without further ado, here is today's disaster waiting to happen:
Hokutou Holdings International (OTCPINK: HKTU)
HKTU is one of the most heavily hyped penny stocks of the past week.  According to our sources, 15 promoters have been paid over $150,000 this month to pump the stock through more than 180 newsletters.
And so far, the campaign appears to be working.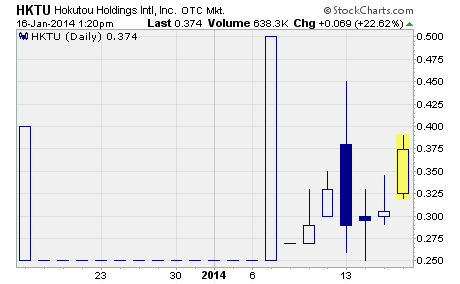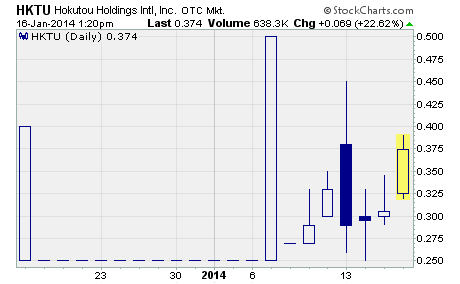 As you can see, the pump got off to a fast start with HKTU doubling in a single day of trade.  However, it dropped just as quickly the following day back to $0.27.  Since then, the stock has climbed its way back to around $0.37 per share. 
That's a nearly 50% rise in just three weeks time.
The pumpers are making a lot of hay about the company's recent change of direction.  After failing to get its nutraceutical business off the ground in 2011 and 2012, Hokutou decided to get into the online gaming business. 
So, in November 2013, the company purchased Platinum Pari-mutual Group. 
Platinum owns and operates an online gaming hub and plans to offer "stock-racing" games to its customers.  Of course, the games offered in the US market will be just "for fun" because online gambling is still mostly illegal.
While Hokutou may have adopted a new business angle, it still retains its rather horrible financial situation. 
According to the most recent quarterly report (September 2013), the company has zero assets, over $30,000 in total liabilities, and a cumulative deficit of over $1 million.  What's more, the report indicates that Hokutou hasn't generated a single penny of revenue.
This is one track record that certainly fails to inspire any confidence.
In addition, as part of the company's makeover, management recently completed a massive 1 for 1,063 reverse stock split.  That transaction reduced the company's share count from nearly 1.1 billion shares to just over 1 million.  And it boosted the share price from $0.0007 to $0.74 per share.
Now, if you're thinking of gambling your own money on this online gambling penny stock, keep this in mind… 
You could be walking straight into a buzz saw.  When HKTU was pumped last year, it didn't hold up for very long.  In fact, the stock plunged from around $0.08 per share to under a penny in a little over a month.
My advice is to look for higher quality penny stocks with some history of success.  A novel idea is great.  But a stock isn't worth the paper it's printed on if management can't find a way to eventually turn the idea into a money making enterprise. 
Other Penny Stocks Being Pumped This Week
Suburban Minerals (OTCPINK: SUBB) – 28 promoters with 66 newsletters have been paid more than $120,000 so far this month to hype SUBB.
Virtual Sourcing (OTCPINK: PGCX) – 27 promoters with 58 newsletters have been paid over $90,000 in January to plug PGCX.
As you know, penny stocks are a great place to invest your money.  You just have to do your due diligence to stay away from all the schemes and scams out there these days!
Profitably Yours,
Robert Morris
Category: Pump & Dump Alerts