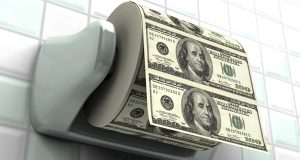 Welcome to Pump and Dump Friday, our weekly feature where we identify potentially "bogus" promotions going on in penny stocks.
Today we're exposing one of the most extensive penny stock pump and dump campaigns of the week… RealBiz Media Group (OTCQB: RBIZ).
If you don't know how these schemes work, be sure to check out our free report that exposes the whole thing.
Without further ado, here is today's disaster waiting to happen:
RealBiz Media Group (OTCQB: RBIZ)
RBIZ is one of the most heavily hyped penny stocks of the past two months. 
According to our sources, over $35,000 has been paid to a good number of the 29 promoters who have pumped RBIZ through more than 50 newsletters this month.  And that's on top of the $55,000 paid to more than 20 promoters to push the stock in March.
Nevertheless, the campaign appears to have failed miserably.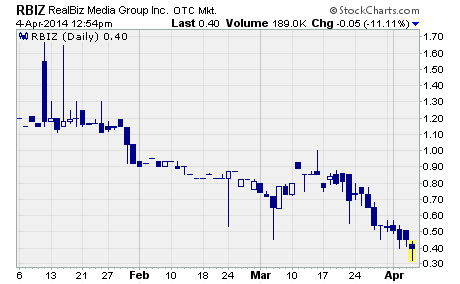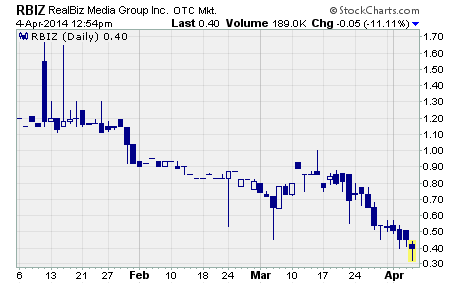 While RBIZ initially jumped 17% on the campaign's opening day, the rally ended just as quickly as it began.  After hitting that high, the stock rapidly retreated to the prior day's closing price for no gain. 
Clearly not the huge upside pop many promoters were calling for.
What's more, the stock's late day slide began what would become a three-week downtrend.
With RBIZ now changing hands at just $0.40 per share, the stock has dropped 53% since the campaign began.  And it's down 60% from the high of $1.00 it touched on the campaign's first day.
I can't say I'm surprised the promotion has failed to ignite the stock. 
Take a look at the company's most recent quarterly numbers…
Revenue fell 10% year-over-year to $246,054.  Net loss mushroomed from $278,637 to a stunning $1.5 million.  And while net loss per share improved from ($1.13) to ($0.03), the improvement was due to the number of shares outstanding increasing from just 383,651 to over 54 million.
Had the share count remained constant, the company's net loss would have expanded to a gut-wrenching ($4.09) per share.
And as you might expect, the balance sheet is not in any better shape.
At the end of January 2014, the company had just $166,327 in cash and total current assets of $232,168.  Those figures are down from $1.3 million and $1.38 million respectively in the year ago period.  And total current liabilities of $1.8 million are nearly eight times larger than total current assets.
The only thing keeping this company afloat is its ability to raise capital through the issuance of stock and debt instruments.
RealBiz provides digital media and marketing services for the real estate industry.  It currently generates revenue from advertising, real estate broker commissions, and referral fees.
While the company is targeting a huge market opportunity, it is going up against stiff competition from Zillow, Realtor.com, Trulia, and Homes.com.  It remains to be seen if RealBiz will be able to grab meaningful market share from these larger, more established players in the industry.
Profitably Yours,
Robert Morris
Other Penny Stocks Being Pumped This Week
Global Equity International (OTCQB: GEQU) – 12 promoters with 114 newsletters have been paid over $70,000 this month to hype GEQU.
Rewards Nexus (OTCPINK: ERNI) – 19 promoters with 86 newsletters have been paid nearly $40,000 in April to plug ERNI.
Category: Pump & Dump Alerts